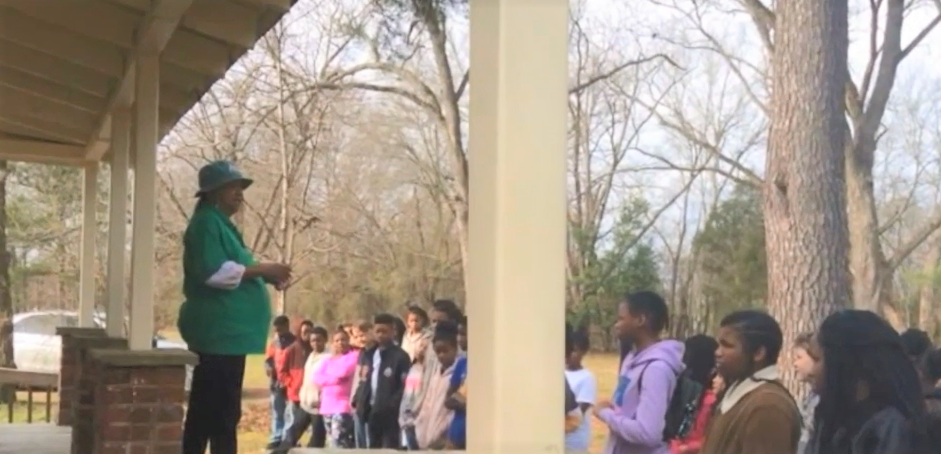 Fifth Graders Reveal the Roots of Their Community in South Carolina
The history of Hopkins, South Carolina, has roots that run through the grounds of the Harriet Barber House, a place that preserves memories of family life encompassing the Reconstruction Era to present day. In order to connect young people to the significance of this historic site, Marie Adams and Mary Kirkland, descendants of emancipated slaves Samuel and Harriet Barber, collaborated with Principal Audrey Garner at Hopkins Elementary School when the exhibition Crossroads visited town earlier this year.
Fifth grade students linked their studies of post-Civil War Reconstruction to explore the effects of this tumultuous time on their Lower Richland community. They toured the Barber House which is on land purchased by the Barbers in 1872. They also interviewed George Wilson, a former member of the South Carolina House of Representatives, who shared personal and historic stories about the Lower Richland area.
On June 3rd, students premiered what they learned to over two-hundred people! Watch the stories that they produced about how their hometown has been part of American history.
A Historical Perspective in Our Backyard: An Interview with George Wilson
A Historical Perspective in Our Bachyard: The Harriet Barber House, South Carolina
This is a Stories: YES project which is made possible with internal Smithsonian funds through the Youth Access Grants Program.
#StoriesYES #RuralCrossroads