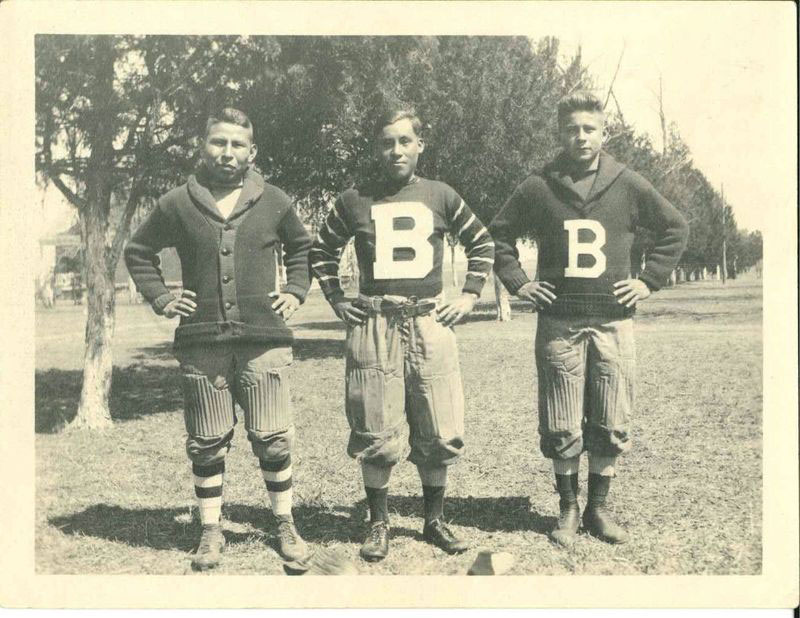 Muskogee's Multi-Cultural Hometown Team History
Muskogee, Oklahoma--the stomping grounds of Negro American League pitcher Nelson Dean and two-time Super Bowl champion Don Chandler--is a summer destination for our Hometown Teams exhibit.
Both of these athletes began their careers in Muskogee, OK. Don Chandler, a star kicker for the Green Bay Packers in the 1950s and 1960s, punted as far as 90-yards in a game and shares the record for most field goals scored in a Super Bowl. Years before becoming a professional football player, Chandler was a college athlete at Muskogee's Bacone College, home of the Warriors.
Bacone College, established in 1880, is Oklahoma's oldest center for higher education. Founded on Christian principles, the college aimed to educate American Indians in a multi-cultural setting. Both American Indians and non-Indian students attended. Below is an image of three of Bacone's football players and another image of the entire football team in 1952. Bacone College also became the backdrop for the film, Jim Thorpe--All-American, on the life of football legend Jim Thorpe.
Today, the Bacone Warriors are one of Muskogee's vibrant hometown teams. Curious about the history of the communities other teams? Visit the Hometown Teams exhibit on display in Muskogee from June 7th through July 17th at The Five Civilized Tribes Museum.