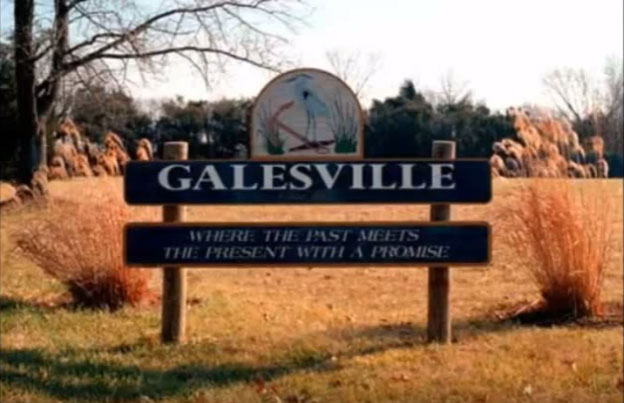 Hometown Heroes: Galesville, Maryland Youth Access Grant Projects
Galesville, Maryland is a small town situated on the West River about 15 miles south of Annapolis. A mostly working class town with a strong African American community, Galesville and the surrounding area has retained its small town character in a region becoming more and more subjected to suburban sprawl. During the last century, Galesville has drawn its fair share of outsiders—whether they be pleasure boaters, baseball enthusiasts, or ordinary tourists—but many of its current residents were born and raised in the town and are descendants of a community that developed as far back as the 1880's.
As part of their STEM Community Challenge, six students from South River High School in Edgewater, Maryland conducted interviews with Galesville residents as the latest in a series of ongoing efforts to preserve Galesville's history for heritage tourists. These interviews were facilitated by members of Anne Arundel County's Cultural Resources Division, Lyndra Marshall (née Pratt), Acting Chair of the Maryland Commission on African American History and Culture, the Maryland Office of Tourism Development, and Gertrude Makell of the Galesville Community Center. The purpose of the interviews was twofold: first, to provide the students with what they'd need to put together exhibit panels highlighting the history of Galesville, and second, to instill in them a sense of what makes small towns matter and how they fit into an increasingly modernized world (the objective of their STEM Community challenge). The exhibit panels, which are an integral part of the local exhibit that will accompany the Smithsonian Hometown Teams when it opens at the Community Center in two weeks, feature information, photos, and graphical themes developed by the students with guidance from Brett Arnold, an archaeologist and historic research specialist, and Heather Ersts, a public relations liaison and museum exhibit designer.
Each video was edited by the South River High School students from raw footage totaling between 2 and 4 hours, and highlights a certain part of Galesville's unique history. Of course, in a town of less than 700 people, many of the memories are intertwined and enthusiastic residents showed up multiple times to talk about their experiences with several of the students' topics. In the first video, residents share their experiences with the Rosenwald School, which still stands on West Benning Road (one of the town's two cross streets) and served as the segregated school for Galesville's African American children from 1929 to 1956. The second video chronicles the residents' relationship with the water, which surrounds the town on three sides and provided both jobs, in the form of fishing and processing shellfish, and entertainment, in the form of pleasure boating, in equal measure. The third video records memories of the Galesville Hot Sox, a local baseball team and community fixture that provided a reason for the community to gather and have fun together most Sundays between 1915 and 1977.
Together, these videos offer a brief glimpse of growing up in Galesville and how Galesville's past is ever in the forefront of residents' engagement with their community. A more complete version of the story—which continues as local and state government institutions ally with nonprofits to preserve and restore Galesville's heritage—can be seen in the companion exhibit to Hometown Team: How Sports Shape America, open July 25-September 12, Thursdays and Fridays 2:00-8:00 PM and Saturdays and Sundays 11:00 AM-8:00 PM in the Galesville Community Center.
Hometown Teams has been made possible in Galesville, MD by the Maryland Humanities Council. Hometown Teams is part of Museum on Main Street, a collaboration between the Smithsonian Institution and State Humanities Councils nationwide. Support for Museum on Main Street has been provided by the United States Congress.