World War II Journeys: Wayne Collins, Texas
Bryan, Texas
Story Narrative: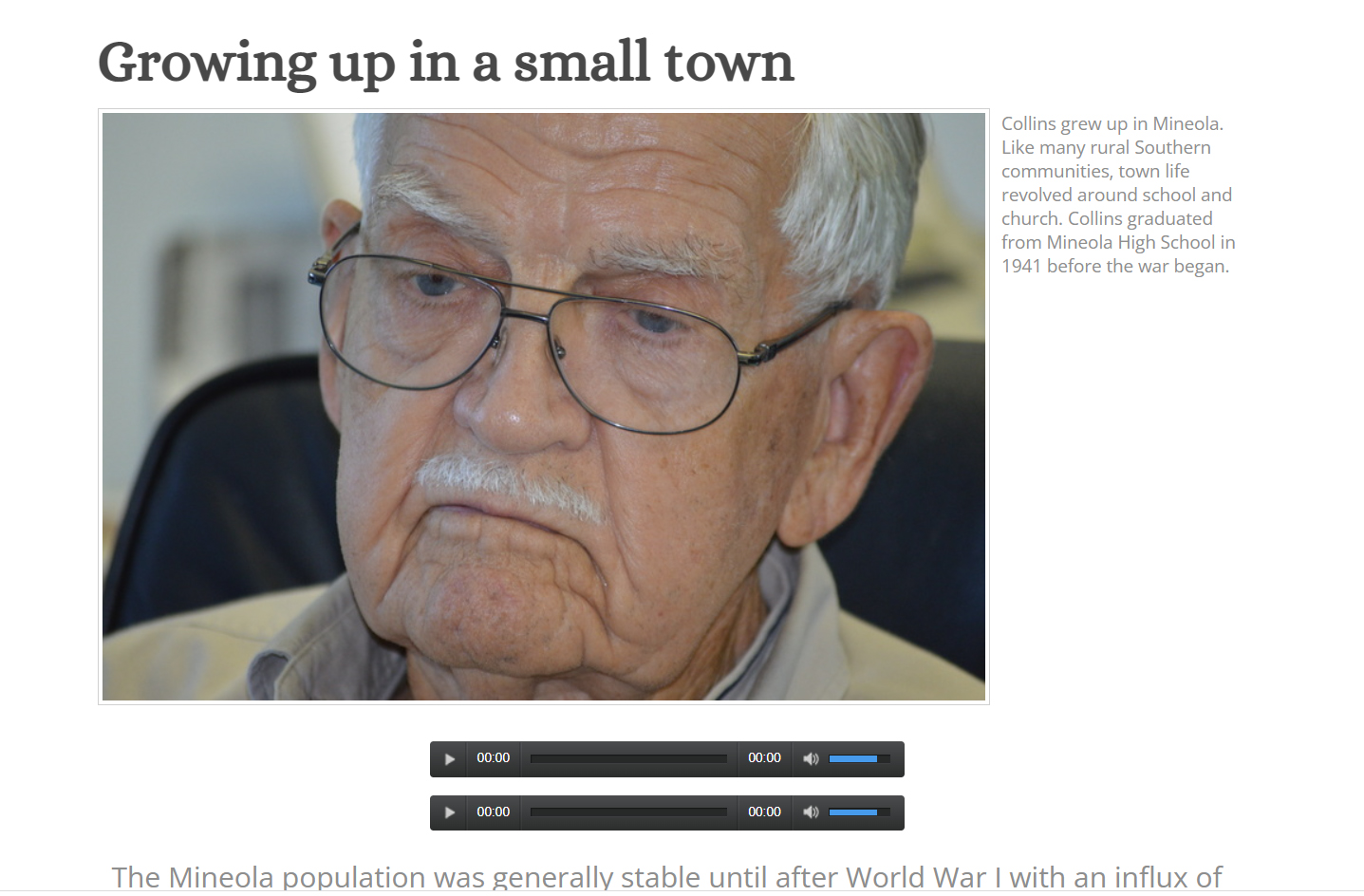 Students at Mineola Middle School in Texas, developed content-rich websites that explored "journey stories" in their community. Participating students interviewed family, friends, and other local residents as part of their official Youth Access Grant local history projects, supported by Museum on Main Street in 2013-14.
In this example, a student researched an area World War II veteran, Wayne Collins. The content below is extracted from the student's website. Transcripts for an interview with Collins are included with the media files.
World War II Journeys: Wayne Collins
Collins was born in 1924 in Mineola, Wood County, Texas. His parents were Thomas Aubrey and Kathryn Collins. They had been farmers and became downtown business owners with the purchase of Holbrook Cleaning and Processing on South Johnson in 1922. He graduated from Mineola High School in 1941 and then attended Rice University. He joined the U.S. Navy ROTC and served during World War II. He is married to the former Frances McBride and they have four children.
Beginning Journey
By the time his parents, T.A. and Kathryn married in 1917, they had already traveled by wagon and train. His parents traveled by wagon in East Texas before settling in Wood County in 1922. The early 1900s brought many changes to East Texas. What had been a frontier after the Civil War became settled with the coming of the railroad. Mineola was established with the junction of the Texas & Pacific Railway Co. and the Houston & Great Northern Railroad in 1873.
Growing Up in a Small Town
Collins grew up in Mineola. Like many rural Southern communities, town life revolved around school and church. Collins graduated from Mineola High School in 1941 before the war began. The Mineola population was generally stable until after World War I with an influx of railroad families and oil field workers. Texas students attended 11 grades at this time. After graduation, Collins entered Rice University in Houston, a contrast to small town Mineola.
Dec. 7, 1941: The War Begins
During the early 20th century, most of Texas remained rural. With slim job opportunities during the Great Depression, Mineola struggled through tough times. The Texas & Pacific Railway Co. moved its terminal from Longview to Mineola in 1929 which helped the local economy. When Pearl Harbor happened, the Great Depression begins fading away causing a spark in the work force. As job opportunities increased, the Texas economy grew with war production. He served on the USS Todd from its commissioning in 1944 until it was decommissioned in 1946. Collins served in the South Pacific. From the USS Todd, Collins watches the signing of the surrender of Japan on Sept. 2, 1945 in Tokyo Bay.
Taking to the Air
Mr. Collins' interest in aviation began in college. The GI Bill afforded him the opportunity to gain his college education and pursue his passion for flying. Collins continues to fly. He started Bonanzas to Oshkosh in 1990 and it is the world's largest formation of civilian aircraft. It is a celebration of aviation. Visit Bonanzas to Oshkosh at: https://www.b2osh.org/web/B2Osh/default.asp
Bibliography
Bruner, Ora Pritchett. Mineola and Its Mayors 101 Years. Marceline, MO, 1976. Print.
Jones, Lucille. History of Mineola. Quanah, Texas, 1973.
Mineola Centennial Corporation. Mineola: The First 100 Years. Mineola, Texas, 1973, print.
Mineola Monitor, Vol. 68, No. 48, Feb. 24, 1944.
Proctor, Ben H. "WORLD WAR II," Handbook of Texas Online (http://www.tshaonline.org/handbook/online/articles/npwnj), accessed June 3, 2014. Uploaded on June 15, 2010. Modified on January 23, 2014. Published by the Texas State Historical Association.
---
Asset ID: 2022.33.03.a-g
Themes: Veterans, World War II, Navy, service, military, aviation, college, education
Date recorded: 2013-14
Length of recording: 0:07:42
File Type: Website / Photos / Audio
Related traveling exhibition: Journey Stories
Sponsor or affiliated organization: Mineola Middle School in conjunction with Brazos Valley African American Museum and the Texas State Historical Association
More information: https://theeagle.com/news/local/smithsonian-exhibit-at-local-museum-on-american-diversity-causes-record-attendance/article_8093becc-830c-58f1-baac-f8f60b4ee845.html