Working at the Polls: Kacie Cassar, Maryland
As told by Kacie Cassar
Salisbury, Maryland
Story Narrative: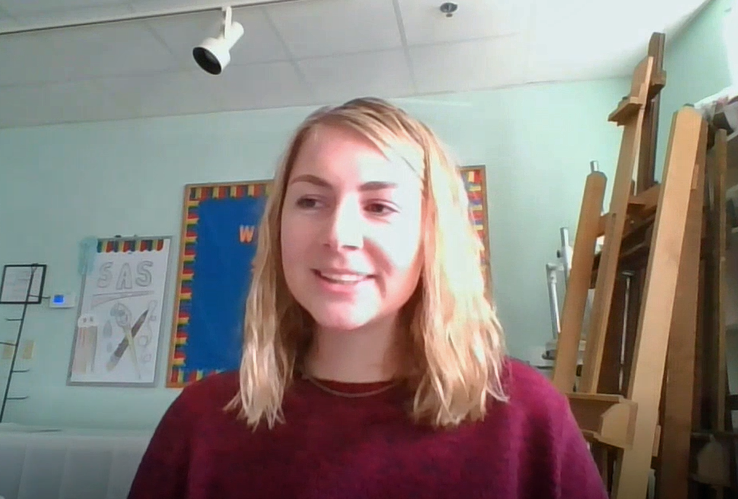 This snapshot was gathered in conjunction with the Maryland Voices initiative at Maryland Humanities, specifically to supplement the "Voices and Votes: Democracy in America" traveling exhibition from the Smithsonian's Museum on Main Street program. This collection, made up of stories of first-time voters between the ages of 18 and 24, showcases the experiences of young people as they wrestled with the 2020 presidential election, issues around social justice, the environment, immigration, and the pandemic.
Kacie Cassar (00:00): My name is Kacie Cassar, I am originally from Lansdale, Pennsylvania. I currently go to school at Salisbury University down on the Eastern shore in Maryland. I am a current graduate student studying history. My focus is on public history, as well as I am the graduate assistant for PACE, which is our Institute of Public affairs and Civic Engagement here at Salisbury University.
Kacie Cassar (00:23): So, this past election was actually my first election I voted in. As much as I was eligible in previous years, I did not vote, but this year was a really cool experience for me because besides being my first time voting in a presidential election, I also ended up working as a poll worker in my district back in Pennsylvania. So, it was really cool experience to see the other side of the elections as well as participating in them. We were in a very cramped little space, but we made it work on there, we did a whole setup, and tons of people were coming through.
Kacie Cassar (00:58): I was there just doing a lot of disinfecting the materials, as well as kind of guiding people if they had questions, helping with check-in. So, I did a little bit of everything in the roles, as well as trial and error for them too, learning to use these machines. So, I was just as new to that as some of the people who've been working the polls for a long time have been. We had really no issues.
Kacie Cassar (01:22): There is, of course, some people out there, as like any polling place, were trying to do the last-minute campaigning for their representatives they were interested in, but overall it was a really nice day. Extremely long day, but I definitely felt really rewarding after doing it, because I felt like I was being a part of something bigger, especially since this election was so contested in such a tight race, and everyone had so many thoughts and inputs towards it. So, it definitely felt as if I was a part of something bigger happening.
---
Asset ID: 2021.03.12.c
Themes: Voting, civic engagement, impact, civic responsibility, elections, poll worker, participation, COVID-19
Date recorded: January 28, 2021
Length of recording: 01:58 m
Related traveling exhibition: Voices and Votes: Democracy in America
Sponsor or affiliated organization: Edward R. Nabb Research Center, Salisbury University, in partnership with Maryland Humanities
More information: https://www.mdhumanities.org/programs/museum-on-main-street/2021-2022-tour/