Women Mind the Water Podcast Series: Michelle Provencal, Maine
As told by Michelle Provencal
Waldoboro, Maine
Story Narrative: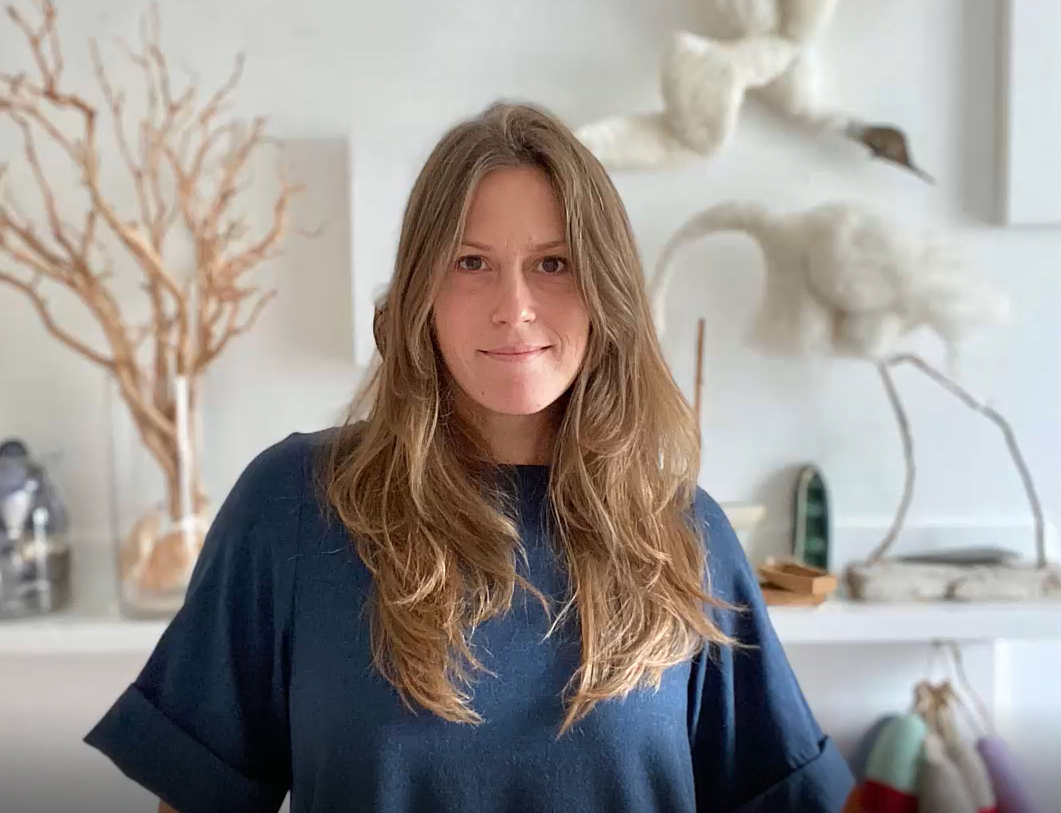 Submitted as part of the Women Mind the Water (WMW) digital stories project produced by Pam Ferris-Olson, in conjunction with Stories from Main Street and the traveling exhibition "Water/Ways." This story is one in a series created for a podcast in 2020, featuring regional artists whose inspiration blends conversation, activism, science, and water. Find earlier stories from the WMW initiative by searching for "Women Mind the Water" on this website.
A graduate of Pratt Institute with a degree in Industrial Design, Michelle Provencal is a fiber artist. While she once worked as an in-house designer for such well-known brands as Pottery Barn and Anthropologie, she now creates felted sea creatures inspired by her experiences along the Maine coast.
Pam Ferris-Olson (00:00): The Women Mind The Water podcast engages artists in conversations about their work and explores their connection with the ocean. Through these stories, we hope to inspire and encourage action to protect the ocean and its creatures. Today, I am speaking with Michelle Provencal. Michelle has an Industrial Design Degree from Pratt Institute in New York. She has worked as an in-house designer for such well-known and diverse brands as the Pottery Barn and Urban Outfitters. Michelle left the corporate world in 2016 and moved to Maine. In Maine, Michelle founded Thirdly and Company. Among many things, Thirdly is a home for Michelle's ocean inspired needle felted designs. Welcome, Michelle. Let me start by asking about your journey. How did you become an artist?
Michelle Provencal (00:58): Well, I consider myself to be one of the lucky ones. I always knew that I wanted to pursue art. I was into it a lot at a very young age and was lucky enough to have a grandfather who was an artist as well. And he taught me a lot of things when I was a little girl. You don't expect to learn perspective and how to draw when you're three or four years old, but I was really lucky to have him and always looked forward to the time we spent together where we were able to sit down and draw it together.
Michelle Provencal (01:47): And then when it came time to picking schools, my mom and dad encouraged me to follow that passion. And I went to Pratt Institute in Brooklyn. From there, decided to focus on industrial design. Industrial design is a pretty broad field. For what I do, I focus more on product design, so designing specifically home furnishings. But industrial design covers a lot of other things, designing transportation, cars, motorcycles, vehicles, designing. Every item you see on your tabletop or on your desk was designed by someone. So industrial designers, they might design your toilet. They might design your silverware.
Michelle Provencal (02:48): Well, I think the art that I'm doing now is pretty recent for me. About four years ago, I left my corporate job and moved to Maine and decided instead of designing or making things for other people, for other companies, I decided I wanted to start making something for myself and focus on what inspires me and what gets me happy and excited. And I wanted to try something in a new medium for me, a new technique, something I had not actually done before, just so that I wasn't restrained by the restrictions of the material or techniques. I really had no idea about felting. I was familiar with felted items. I just had never done it before. And I thought that would be really good because I'm very knowledgeable on hard materials and hard goods, but not so much with fiber. So, for me, it was completely new. It allowed me a bit more creative freedom because I did not know the restrictions. And I chose to focus on seashells, really. I started felting seashells because that's something that was really special to me, and I started felting and just haven't stopped since I really love it.
Michelle Provencal (04:36): Coming home to Maine was a big thing for me. My husband and I had always wanted to return back to the East Coast, probably settle in Maine. And we ended up doing that a little sooner than we had anticipated after my mom passed. And my connection to Maine has always been strong. As a child, I was lucky my great-grandmother had a cottage in Southern Maine on the water, and it was a really special place in the family. Three generations were able to spend their summers there and it's just the memories are magic. It's something that just sticks with you. And I feel like a lot of people who visit here feel that way. It holds a very special place in people's hearts, and it did in mind. So when we moved back to Maine,
Michelle Provencal (05:37): I was looking for comfort in a lot of things. Like I said, my mother had just passed, and one of the things that made me happy was thinking about the time we spent on the beach and those memories of being a kid and kicking up seashells, being a grown up and walking with my mom and picking up seashells. So that's why I chose that. It was purely personal and sentimental, really. The piece I want to talk about is the mussel shells that I've been felting. I don't know, I hadn't seen anybody who had felted mussel shells before, and they are so beautiful to me. They're something that I always am just fascinated at. Each one is so different when I find them on the beach. They can have stripes or they can have barnacles. They're just beautifully layered in their finishes.
Michelle Provencal (06:49): And as a kid, like I said, we spent a lot of time on the beach, and in front of the cottage that we had at low tide, the bay would empty out and there was a bar of mussel shells just nestled and on rocks. And it was a pathway basically that went out to the island in front of the cottage, and it was entirely made of mussel shells so it was a pretty special thing. It's not there anymore. Funny enough. But the mussel shells that I make are needle felted. They are modeled after the real thing in terms of the color and texture. They're felted wool. You create the shape by needle felting. I don't use a mold or anything like that. A lot of people ask me if I felt over a real shell. And I don't, it's all just sculpted through needle felting, and then the color application on top is also wool incorporated with the needle.
Michelle Provencal (08:02): And I start from light to dark and give that bright white spot at the tip that you often see where the sand has washed off the color from the shell, when you get that pearlized under layer. And then from there, fading from salt washed, sun bleached blues into rich indigo, and some really beautiful natural browns and blacks. And I try to use domestic and local wool. We have some great resources here and a lot of the wool I use in my muscle shells is Maine grown, actually. So I'll do all the shapes of the bodies first and then go back and do all the color. And then at the end, I go in and I hand sow little beads and mirrored glass beads and small sequins just to give it that shine, that sparkle that you see when you pick one up on the beach where it's got the shiny water reflections.
Michelle Provencal (09:26): So yeah, in the end, it takes about two hours to do one. I do spend a lot of hours felting, but because I'm felting with a needle it's dangerous to distract yourself with TV or movies that you haven't seen before. So I do tend to watch things I've seen a million times. Let's see, Murder She Wrote, for example, is a big one. Working with natural materials is really important to me. Working with sustainable materials is really important to me. And working on a much smaller scale than I have been for most of my career working with large companies just making mass product. I prefer making smaller quantities that just feel a bit more special and meaningful, rather than more, more, more. Less can be more.
Michelle Provencal (10:47): I hope that people enjoy them in the way that I do where it just really evokes these memories of the coast, of a beach walk that you took with someone special, a shell that you picked up that maybe was too brittle and broke but when you found it, it was so special. And I hope that my pieces connect with people and their memories of those special times. And since COVID, I haven't done any shows, but over the past few years, I've really enjoyed selling at shows and having people watching them interact with my pieces and they really do search out the one that is special to them. And I love watching that connection happen.
Pam Ferris-Olson (11:42): I have been speaking with Michelle Provencal for the Women Mind The Water Podcast Series. This series can be viewed on womenmindthewater.com. An audio only version of the podcast is available on the Woman Mind The Water website and on iTunes. This is Pam Ferris-Olson. Thank you for listening.
---
Asset ID: 2020.01.04
Themes: Women Mind the Water, art, artists, nature, craft, design, environment, COVID, memories, family
Date recorded: October 9, 2020
Length of recording: 12:03 m
Related traveling exhibition: Water/Ways
Sponsor or affiliated organization: Women Mind the Water
More information: https://womenmindthewater.com/