Urban Renewal in Morristown, Tennessee
As told by As told by Youth Storytellers in Morristown
Morristown, Tennessee
Story Narrative: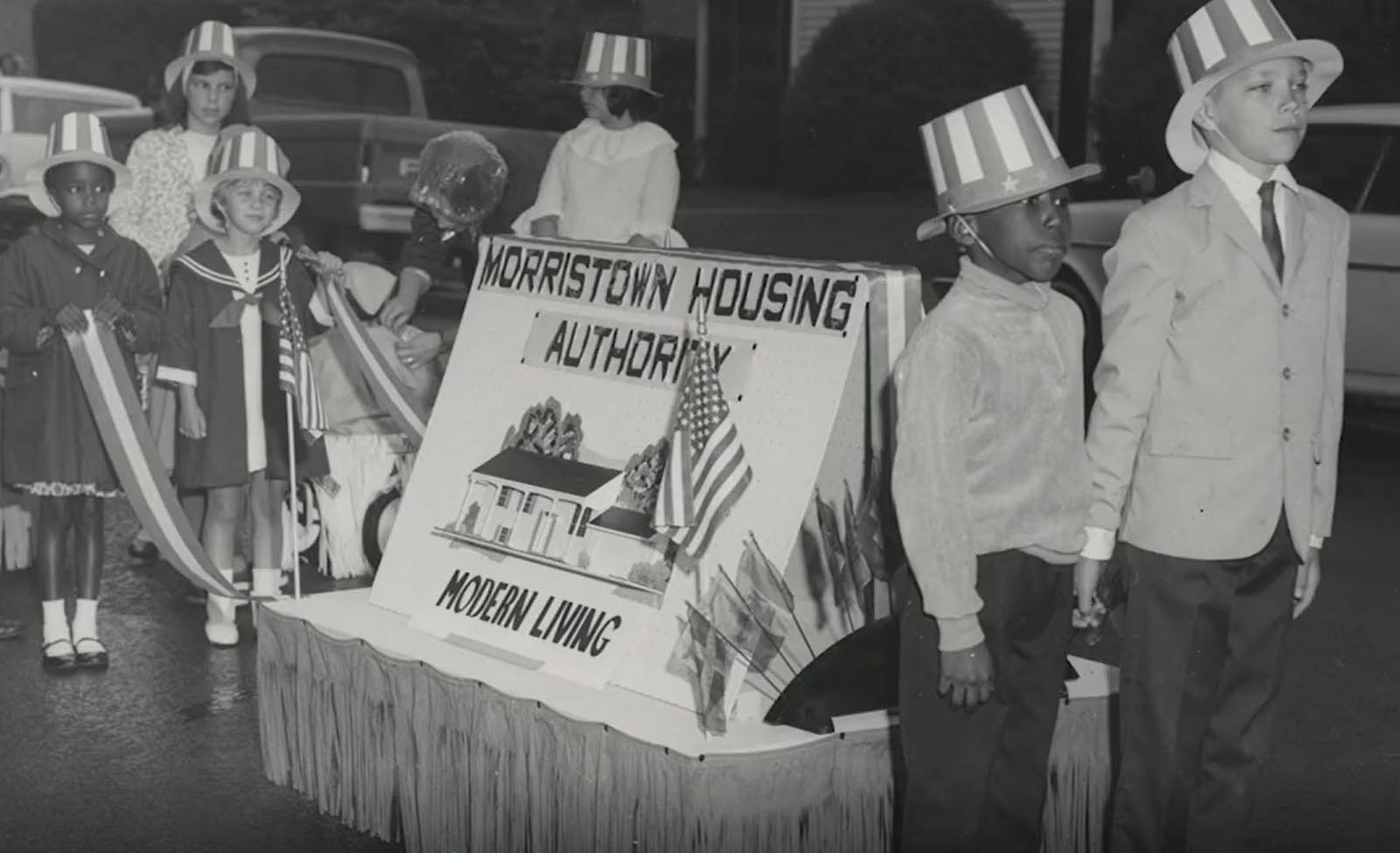 Students working with Girls, Inc. of Hamblen County, in Morristown, Tennessee, helped produce this story about urban renewal and downtown planning in mid-century Morristown, Tennessee. This story was created in conjunction with the Museum on Main Street Stories: Yes project. Student producers included Morristown Media Peoples: Production Team: Artica Eylen, Samantha Gorghis, Rory Stapleton, Kaydence Walton, Addison Young, Mia Smith, Amira Rankins, Marlee Kinster, Elyanna Rick, Maddie Lane, Zarivah Oxendine, Jumi Ducey, Olivia Templin, Isabella Templin, Morgan Eddington, Mary Ward, Morgan Harris, Alexis Williams, Alivia Jackson, Dayla Smithson, Kyla Isbell, and Laurel Housch. The film wass a partnership between Rose Center, East Tennessee PBS, Girls, Inc., and the Hamblen County Archives.
Speaker 1 (00:00): Morristown, Tennessee is located in the Northeastern corner of our state. With a population of almost 30,000, the town has always been a commercial hub for the Appalachian region. If you visit downtown Morristown, you may notice something unique, overhead sidewalks. We have so many questions, when were these built but, more importantly, why?
Jim Claborn (00:28): 1960s, downtown Morristown was really crowded, especially on Saturdays. People came from White Pine, and Bean Station, and Russellville, and Whitesburg, they all came to together in the town. It was normally really, really crowded on nights and on weekends. The early stores in Morristown were formed up on the hill, near Rose Center, right down where the library is, because that Turkey Creek, sometimes it would flood. Even when I was a teenager, like you all, it flooded one time and the water came up, in some of the buildings downtown, up to my chin.
Jim Claborn (01:09): And I remember going through town and they were having sales because everything in the store had been soaked. And you could buy a pair of pants or a shirt for 10 cents. They were just trying to get rid of it. Most everybody came to downtown to do their shopping. Stores would stay open late at night and all the store windows would be all decorated for holidays, and so the downtown part was just a big shopping center. And then here comes Radio Center and they take away some of that business. And then other shopping centers like Crescent Center, and then another one, we call it the Sky City Shopping Center, and these shopping centers were stealing away the business.
Speaker 3 (01:58): To encourage economic development in and around downtown, Morristown followed other cities with its own urban renewal program. In the 1960s, this federal program included their recreation of the downtown area in large part by Morristown Housing Authority.
Jim Claborn (02:18): Urban renewal. We had down where Morris Boulevard is, the street that Girls Club's on, we had some real bad structures, they were in bad condition, and some stores where the parking lot is in Morristown now that were in bad condition. So they took those houses and some of the stores down to make the town more attractive. We built new homes for folks that really couldn't afford to buy a house and we tore down a lot of stuff that just looked unappealing. You build a project, you have to tell the people that live in the houses around here, they have to pay more taxes, and they had to convince everybody that it was a good idea to keep people wanting to come to downtown. So there was some opposition, yeah.
Speaker 4 (03:21): Morristown's overhead sidewalks or Sky Mall became part of the urban renewal of the downtown area. The Sky Mall was designed by architect [inaudible 00:03:35], who got the idea from an older business district in Chester, England.
Jim Claborn (03:41): The idea for the overhead sidewalks was to put those new stores on top and have a sidewalk where everybody could walk without being rained on. It's like they were trying to turn it into a mall.
Speaker 5 (03:59): Urban renewal funding also allowed the city to address the flooding of Turkey Creek.
Jim Claborn (04:10): Well, if you go into one of the stores now, they've got a trap door and you can see a tunnel. It looks like on another planet. Underneath Main street, where we had a creek running right across the middle of Main Street called Turkey Creek, and they built this tunnel to carry that creek while they built the overhead sidewalks to hold up the overhead sidewalks. It provided a lot of companies, a lot of construction companies, a lot of concrete companies, a lot of steel companies, and it offered a lot of jobs for local people because it takes a lot of people to do a big project like that.
Speaker 5 (04:51): Construction on this unique project began in September of 1963 and was completed in May of 1967.
Speaker 6 (04:58): The city hosted several days of celebrations around the opening of the Sky Mall. Regional in-state politicians were there, as well as Dolly Parton and Porter Wagoner. There were parades, speeches, and high hopes for downtown Morristown.
Jim Claborn (05:20): I remember when they were building the ramps up, I rode a bicycle up those ramps the day they completed it just so I could make my own history. I think they were excited because it was so new and I think they were excited because there's only one other town in the world that's got it, and that's a town in England. They were excited because we were unique and they were excited about the possibility of what might have happened. The architects had designed it so that we could build stores upstairs on the sidewalks as well as downstairs. Now, a few stores did build up there, but right now it's largely a lot of apartments. With the big mall coming in, and Walmart, and all that, actually it didn't seem to help that much.
Jim Claborn (06:12): Downtown, even with the sidewalks, started having some difficulties and then we got some new people in that put in new stores, you see the new stores downtown that picked it back up, and they started cleaning the town up, but the sidewalks didn't have the effect that the people had planned on. Right now, the elevated sidewalks are getting about over 50 years old and everything, including myself and Rose Center here, everything decays somewhat in time. And some people are concerned about what's going to happen if the sidewalks decay. Are we going to have to take them down or repair them? That's a big issue because either one is expensive.
Speaker 7 (07:00): 54 years after the urban renewal, Morristown's downtown continues to reinvent itself. As the next generation of leaders, we're excited to see what can be done here over the next 50 years.
Speaker 7 (08:01): (silence).
---
Asset ID: 2022.10.01
Themes: Commerce, downtown, urban planning, 1960s, flooding, shopping, urban renewal, design, architecture, overhead sidewalks, engineering, jobs, construction, economy, Dolly Parton, development, Walmart
Date recorded: 2021
Length of recording: 08:03 m
File Type: Video
Related traveling exhibition: Crossroads: Change in Rural America
Sponsor or affiliated organization: Rose Center, East Tennessee PBS, Girls, Inc., and the Hamblen County Archives
More information: https://www.citizentribune.com/arts_and_entertainment/local-youths-to-premiere-film-at-rose-center/article_00209780-e0d1-11eb-9ecc-dbef13e2683b.html