A Trek to Freedom: Chin Van Du, Texas
As told by Jennifer
Bryan, Texas
Story Narrative: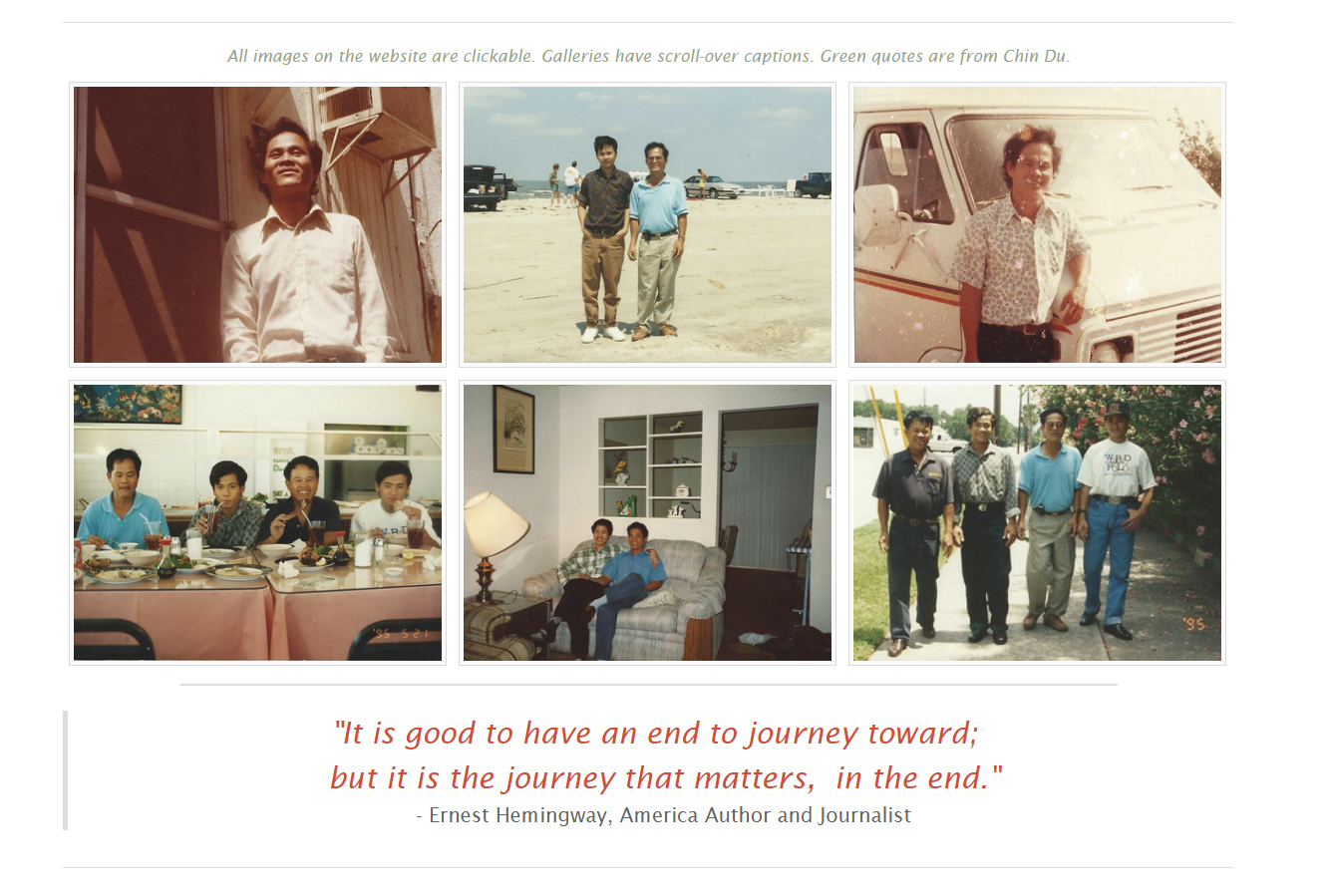 Students at Navasota High School in Texas, developed content-rich websites that explored "journey stories" in their community. Participating students interviewed family, friends, and other local residents as part of their official Youth Access Grant local history projects, supported by Museum on Main Street in 2013-14. The following text is excerpted from the website:
A South Vietnamese lieutenant comes to America in the 1980s to escape the communist turned country. He searches for freedom, a family, and a new life. The story begins when he was drafted into the army - where he started his journey in search for liberty.
In Vietnam
"[I] lived in a nation on the way to war. That means when you grow up, you go to war."
Chin Du was drafted to the South Vietnamese army in 1967, one year after his entrance to a law university in Saigon (Ho Chi Minh). He knew the war was approaching and he would be eventually drafted in, everyone knew. It wasn't a question whether he knew when the war was coming, everyone just knew.
In America
"In the unlikely story that is America, there has never been anything false about hope."
- Barack Obama, 44th US President (2009-Present)
After coming to America, he reconnected to some family members and friends, bought a house, and lived quietly as a maintenance worker in Houston, Texas. Du remarried and had a daughter. Needing more money, he invested in a small store in Plantersville, Texas, and continued to live his days out silently.
"A day wasted on others is not wasted on one's self."
- Charles Dickens, English Writer and Social Critic
Childhood
Chin Du was born in August 31, 1945 in Ben Tre Province, South Vietnam. He was the second youngest to a family of four children. His family was well-off and there was rarely a time when money became a problem. He doesn't speak much about his childhood, partly because he was a sickly kid.
Young Adult
"Your father was very smart, he always knew the answer."
- Van Luong, wife
Du was very smart for his age, bragging that he proved the teacher wrong many times. He was a part of the higher top of his class and was gifted in drawing and mathematics. As a boy he knew that he would be drafted to the army at any possible time. He and his friends were all ready to fight for their country.
Adulthood
At 22 he was enlisted into the Army of the Republic of Vietnam (AVRN). He was a law student at the time and knew the day was coming for him to be drafted. Chin Du became a lieutenant for his home town and was happy to lead the company. He was 30 at the time the war ended and was in a prisoner-of-war camp until he was 36. Du had to endure many hardships before he came to America in 1981. Even after his journey to the "land of the free," he had to surpass many obstacles to be able to live a "normal life."
"No event in American history is more misunderstood than the Vietnam War. It was misreported then, and it is misremembered now."
- Richard M. Nixon, 37th US President (1969-74)
Duties as a Soldier
As a soldier, he had to go to various operations and battles. They had two operations per week in attempt to defend against the enemy. The troops awaited the communist (North Vietnamese) Viet Cong who came into town and the proceeded to try to get rid of the intruders.
"Vietnam drafted all young men to go to the army, all students, teachers, professionals. [They] must be drafted to go to war."
Leader of a Group
Being a lieutenant, he lead a local company in the Ben Tre Province, his hometown. His company had around one-hundred twenty people. The company had one American adviser who met the company during operations. On a normal day he was in his office. The company had to talk to him by a translator.
"In matter of style, swim with the current, in matters of principle, stand like a rock."
- Thomas Jefferson, 3rd US President, (1801-09)
Responsibility as a Lieutenant
"[1] stayed in camp for six years and went through labor everyday."
Because he was a higher ranking officer, he had to stay in a prison-of-war camp. Du stayed in prison from 1975 to 1981. His first wife left him and he was alone until he escaped. After the Americans withdrew all of their troops from South Vietnam and the Republic of South Vietnam failed, all officers had to go to
"re-education" camps.
Traveling
"All that is gold does not glitter, Not all those who wander are lost."
- J.R.R. Tolkien, Author of The Fellowship of the Ring
Chin Du escaped Vietnam by a small boat traveling to Malaysia. There was fourteen other people in the little boat who was also looking for freedom. After staying for three months in Malaysia, he flew to St. Petersburg, Florida where he lived in a small refugee apartment that housed seven to eight other people.
"[I was] on a 6 days and nights [voyage] on the sea to to reach a small island called Pulau Bidong in Malaysia."
A New Home
Du drove to various states in a small Toyota truck after his short stay in Florida. He went to Texas, Oklahoma, and Tennessee to look for work in a "big company." Because he couldn't find work in Oklahoma or Tennessee, he went back to Texas where he found a maintenance job and bought a house there.
"[I] worked, saved money, and buy old house. And repaired by myself."
"An old friend called me from other state - Boston, Massachusetts. He's a veteran too."
- (When speaking about Phuoc)
He worked in Houston around ten years before his elder brother (Tam) came to the United States in 1995. His childhood friend's relative who lived in California contacted Du to tell him about his friend. Phuoc met Chin Du twenty-seven years after the war. Du's son came to America in 1992 and lived with him for two years and then went to live with his mother, Chin Du's first wife.
A New Life
"I married her because she was the only pretty one."
After finding a house in Houston, he proceeded to meet Van Luong who was a Vietnamese refugee in Thailand. Du's older brother introduced her to him and they wrote letters and sent pictures. Chin Du was able to fulfill his promise to her and bring her to America and freedom. The two married a few weeks after she came and had a daughter.
Van Luong, Dreamer
Luong was the eldest of six children. She was born on November 16, 1954 in Saigon. She was also to become a lawyer like Chin, already finishing one year of university. She became a Vietnamese boat person and traveled to Thailand where she stayed for two years. She lived in two camps, Phanat Nikhom and Sikhiu. She dreamed of coming to America and finding freedom. Du's brother told her that his brother could do that and introduced her to him.
"I married him because I wanted to go to America."
- Van Luong, Wife
Storeowner
"Life is a journey, not a destination."
- Ralph Waldo Emerson, American Essayist, Lecturer, and Transcendentalist Poet
Chin Du needed a way to make more money so he looked through the newspapers and found that there was a store for sale in Plantersville, Texas, an two hours away from where he currently lived. He and his wife bought the store but continued to live in Houston where they left their daughter to a babysitter. Because of the inconvenience, they brought their daughter to the store and lived in the garage of the shop for a couple of years.
---
Asset ID: 2022.32.13a-i
Themes: Immigration, migration, Vietnam War, business, law, family, education, nationalities, culture, rights, marriage, veterans
Date recorded: 2013-14
Length of recording: N/A
File Type: Website / Photos
Related traveling exhibition: Journey Stories
Sponsor or affiliated organization: Navasota High School, Navasota, Texas, in conjunction with Brazos Valley African American Museum and Texas State Historical Association
More information: https://theeagle.com/news/local/smithsonian-exhibit-at-local-museum-on-american-diversity-causes-record-attendance/article_8093becc-830c-58f1-baac-f8f60b4ee845.html