From the Sooner State to the Lone Star State, Texas
As told by Esther
Marshall, Texas
Story Narrative: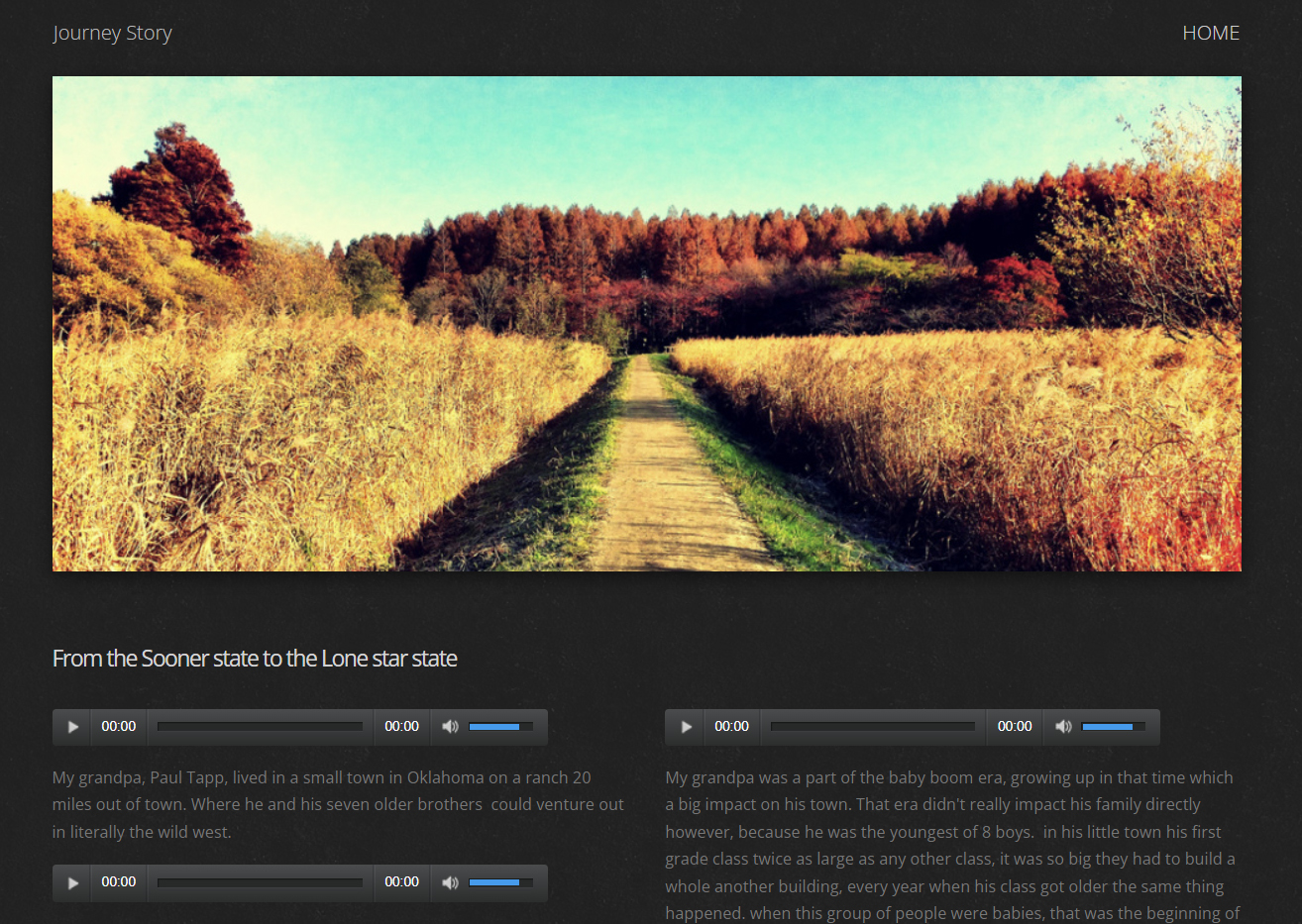 Seventh grade students in Marshall, Texas, worked in coordination with the Texas State Historical Association and National History to create multimedia websites that includes interviews with family, friends, and local residents. The work was supported by Museum on Main Street's Youth Access Grants in 2013-2014. In this project, a student interviews her grandfather about his career in music and his life growing up on a farm. She also created a companion website to host her work.
Of the project, Esther writes, "My grandpa, Paul Tapp, lived in a small town in Oklahoma on a ranch 20 miles out of town. Where he and his seven older brothers could venture out in literally the wild west . . . Chores in his time aren't at all like ours, all we have to do is take out the trash, or maybe even walk the dog around the block. his chores included, feed and water the cattle, and feed the horses before school even started. If it froze in the night he had to go chop the ice off of the stock tags so that the animals would have a place to drink."
Esther (00:01): Where did you grow up?
Paul Tapp (00:03): I grew up on a ranch in the western tip of the Oklahoma Panhandle. Part of our property extended up into Colorado, so we were far Western Oklahomans.
(00:17): In fact, we had a kind of an economic area all of our own called the Five State Area, which involved Colorado, Kansas, Oklahoma, New Mexico, and Texas because we were all encircling that Oklahoma Panhandle area there.
(00:32): Rode the school bus 70 miles a day, every day. So I had to get up early. I had chores to do before I caught the school bus and sometimes chores to do when I got home from school.
Esther (00:47): What kinds of chores did you do?
Paul Tapp (00:51): Well, we had to feed in water cattle. My early morning chores, I had to go feed the horses before their day started. And if in the night the stock tanks had frozen over, I had to chop the ice off the stock tanks so that they could have water to drink at the beginning of the day.
Esther (01:11): What did it feel like being a part of the baby boomer era?
Paul Tapp (01:16): Well, at the time we did not know that we were members of the baby boom. That was a phenomenon that they begin to recognize after the fact. The baby boomers are those who are born between 1946 and 1964. It's an 18 year spread. Soldiers returning home from the war are wanting to start their families, and so that was when the swelling of population began to happen right about that time.
(01:45): That was not the case in our family because I was the youngest of the eight boys, so I was not really "a product of the baby boom," although I was involved in it. But it was so real that in our community, our class was twice as large as any of the other classes that had gone through our school, and so they had to build a new first grade building for us and we were the first class to use that building. And then of course every year thereafter, there were two second grades, there were two third grades, there were two fourth grades, and so forth all the way through.
(02:23): As they begin to market specifically to these groups, when we were babies, that was the beginning of the Mattel and Hasbro toy companies and Johnson and Johnson baby products. Those industries were definitely impacted that year that we were born. And then as you go on the toy industry and then later on when televisions came out, it began to impact there. And then as this group continued to grow and they became teenagers, then the Ford Mustang and the Chevy Corvette, those cars were created specifically for our class. And then all the way through, and of course by the time they got ready to go to college, this was in 1964, there was a massive increase in college enrollments all across this country.
(03:24): Then there were more weddings and then there were more babies being born. And as this whole group went through, somebody said it was kind of like a watermelon going through a garden hose. It was just a big bulge of people coming down the pike and it stretched the economy, every area of the economy that it touched, it enlarged. Building homes, all of that is related to that.
Esther (03:48): What brought you to Marshall?
Paul Tapp (03:53): Well, you've probably heard this story before, but a good friend of our family, Mrs. Evelyn Lineberry, had made me a frequent guest in her home. Every summer I spent time on the ranch with Evelyn Lineberry or down in Midland, Texas. She had a particular interest in East Texas Baptist University. In fact, she had helped build this campus. She built, I think, or had a hand in building at least seven buildings on the campus at ETBU. And because I knew that she was interested in this school and I wanted to go to a Christian school, it seemed very reasonable that I should try East Texas Baptist.
(04:38): And so I packed up and got on an airplane and came to East Texas site unseen, landed at the airport in Longview, and was not aware that Texas had trees. I always thought that pine trees were in the Rocky Mountains. I did not know that I would find pine trees in East Texas, so that was a big surprise to me.
Esther (05:05): When you left Marshall, what influenced you to come back?
Paul Tapp (05:11): I left here in 1969, and so it would've been 33 years later that I came back. When I left here it was my intention to have a career in church music, which I did and I thoroughly enjoyed. It was privileged to be the Minister of Music, the second largest Baptist church in New Orleans. I had 14 music organizations in my program there. I took young people on numerous choir tours. I established the first puppet ministry in the state of Louisiana. I had the first clown ministry in the state of Louisiana. We did the first Backyard Bible Clubs after that curriculum first was developed and my discipleship ministries with those young people were very, very rewarding.
(06:21): Continued that work in Jackson, Mississippi. We lived there for five years, very similar situation. And after that, then our family moved to Ruidoso in New Mexico where I worked with the Home Mission Board as a Christian Service Corps volunteer. There we owned and operated a motel. I was minister of music at First Baptist Church of Ruidoso and we helped basically in a struggling pioneer mission area to start a significant work at First Baptist Church with young people, particularly with children, children's ministry, and strengthened their congregational singing and gave that church a real sense of purpose and mission, which they were lacking, certainly when we got there. There's no question about that.
(07:20): So anyway, then we came to Fort Worth. I finished my master's program, continued to be involved in church work there for about 17 years, and then in April, May of 2001, the university called to see if I would come back here to do the work with their alumni, I became director of Alumni Relations.
(07:55): And I've had often thought it would be fun to be able to work at the university level. I thought perhaps I might teach music at a university level at some time or another, but that was not possible for me unless I had my doctorate degree. That time I was a little too old to go back and get a doctorate degree, so I just decided to come and be a part of the university family and do what I could to make life a lot easier for the students here financially.
Esther (08:30): Yeah.
---
Asset ID: 2022.32.07
Themes: Family, baby boomers, post-war, commerce, economy, farming, memories, ranch, East Texas Baptist University, music, faith, religion, ministry, journey stories
Date recorded: 2013-14
Length of recording: 08:33
File Type: Website/Audio
Related traveling exhibition: Journey Stories
Sponsor or affiliated organization: Texas Historical Association in conjunction with National History Day
More information: https://www.marshallnewsmessenger.com/news/journey-stories/article_d2114c08-8e5d-5416-9d4a-d7652498bc08.html