Our Generation: Reeve Kennedy, Maryland
As told by Reeve Kennedy
Frostburg, Maryland
Story Narrative: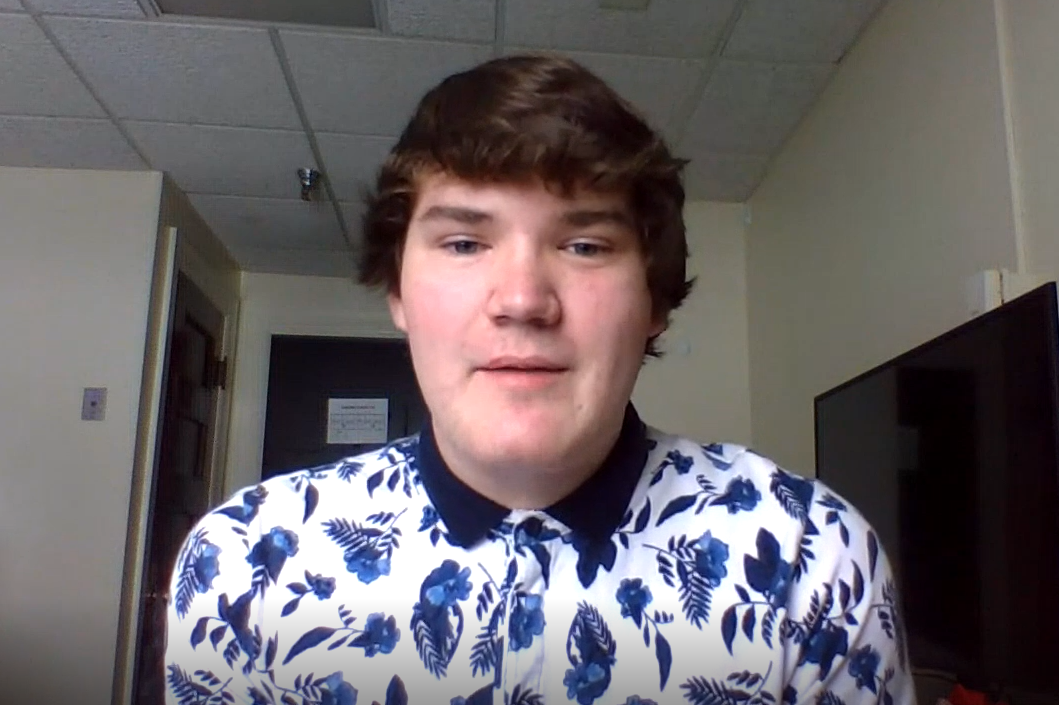 This snapshot was gathered in conjunction with the Maryland Voices initiative at Maryland Humanities, specifically to supplement the "Voices and Votes: Democracy in America" traveling exhibition from the Smithsonian's Museum on Main Street program. This collection, made up of stories of first-time voters between the ages of 18 and 24, showcases the experiences of young people as they wrestled with the 2020 presidential election, issues around social justice, the environment, immigration, and the pandemic.
Reeve Kennedy (00:00): I'm Reeve Kennedy. I'm 18 and I go to Frostburg University. I have a double major in English with a literature focus, and law and society with a legal studies focus, so democracy and voting is kind of my thing, really.
Reeve Kennedy (00:13): I don't know. Something about our generation and the power we hold, I think it's more so just that it's normalized at this point. I don't think everyone in our generation cares, and a lot of people don't. I know a lot of people my age who voted for the right and don't care about social change, but I also know a ton of people who do care about it and care more now. And I feel like it's a mix of different things. For instance, the social media, it's more accessible to us now. For a lot of the older generations, sure, you had the newspaper, but whatever the newspaper wrote, that was the opinion you've read.
Reeve Kennedy (00:41): And there's so much bias. Even in non-biased media, there is something that is biased in there. We're human beings. It's a fault of ours. We have opinions. And of course, while you can still give facts, there's going to be something behind it. There always is. And so the good news of having TV, social media, Google, all of these things... At least for me, I can read both sides. I may be on the left wing and some of the right wing stuff, it does annoy me, it grinds my gears, truly, but I read it anyways because I want to see the discrepancies between the two. What is really the fact here? What is the bias? And I feel like it's something our generation is getting really good at. We're good at the whole, what is real? What is fake?
Reeve Kennedy (01:16): But a lot of the older generations, it's sort of a learning curve. Like, "I didn't grow up with this. What am I doing now?" And of course, while some people have mastered it, some people haven't. And also just the fact that a lot of things are more normalized now. We discuss racism a lot more. We discuss homophobia. It's sort of normalized that I can openly say I'm gay. I don't have to hide that, like a lot of people did in past times. And that all feeds into politics, really.
Reeve Kennedy (01:43): Politics is only part policy, part social work. It's, where do you stand socially? Who do you care about? What groups do you want to protect? And our generation as a whole, of course, now I can't speak for everyone, in general, though, we care more about minority groups. We care about our planet because we know it's going to be our future. And while past generations may have doomed some of those things and have policies in place that can damage our environment, can damage minority groups, it's our job now to fix that and move forward.
---
Asset ID: 2021.03.14.g
Themes: Dialogue, Gen Z, social media, technology, race, homophobia, LGBTQ, politics, social policy, climate
Date recorded: February 1, 2021
Length of recording: 02:13 m
Related traveling exhibition: Voices and Votes: Democracy in America
Sponsor or affiliated organization: Allegany Museum, in partnership with Maryland Humanities
More information: https://www.mdhumanities.org/programs/museum-on-main-street/2021-2022-tour/