Our Generation: Kacie Cassar, Maryland
As told by Kacie Cassar
Salisbury, Maryland
Story Narrative: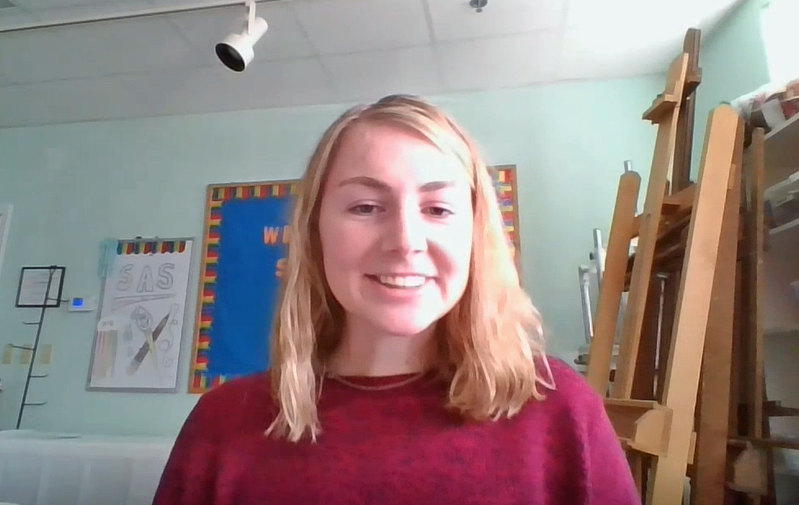 This snapshot was gathered in conjunction with the Maryland Voices initiative at Maryland Humanities, specifically to supplement the "Voices and Votes: Democracy in America" traveling exhibition from the Smithsonian's Museum on Main Street program. This collection, made up of stories of first-time voters between the ages of 18 and 24, showcases the experiences of young people as they wrestled with the 2020 presidential election, issues around social justice, the environment, immigration, and the pandemic.
Kacie Cassar (00:00): My name is Kacie Cassar. I am originally from Lansdale, Pennsylvania. I currently go to school at Salisbury University, down on the Eastern shore in Maryland. I am a current graduate student studying history. My focus is on public history, as well as I am the graduate assistant for PACE, which is our Institute of Public Affairs and Civic Engagement here at Salisbury University.
Kacie Cassar (00:23): I think a lot of things play into why my generation is working so hard, and being more involved, and not everyone is, and we're getting there, and I think we're starting to learn the importance of being involved, which is amazing. We are, at the click of a finger, could be in touch with so many people across our country. With that, it makes it easier to connect, to form these bonds with people you would initially not be able to since they're not right next to you, or in your town, or even in your state. But as my generation, we are seeing a lot of things happen that are hurting people, are upsetting people, are not okay. Because we have these connections, and we are able to have these communications, we're using them.
Kacie Cassar (01:09): I think there's a variety of things. I think part of it is how we are educated; we're becoming a more progressive education, trying to push students to be their best, to get more involved, to do more. As well as, simply, I think there's a lot of times the things that are going on in our government and our country is upsetting, and really affecting people in my generation. They're finding the support they need, and the networks they need, to go out and make those differences, whereas older generations are... That's how things have been there. It was more seeing how life is, and it's like, "That's life." But my generation doesn't want to accept that, and with that, they go on, and they do great things, and make those changes they feel is right for them, and people like them.
---
Asset ID: 2021.03.12.e
Themes: Voting, change, Gen Z, empathy, status quo, generations, making a difference, empathy, policy
Date recorded: January 28, 2021
Length of recording: 02:01 m
Related traveling exhibition: Voices and Votes: Democracy in America
Sponsor or affiliated organization: Edward R. Nabb Research Center, Salisbury University, in partnership with Maryland Humanities
More information: https://www.mdhumanities.org/programs/museum-on-main-street/2021-2022-tour/