Our Expanded World: Cleottice Greer Walton and Mathew Greer, Texas
Bryan, Texas
Story Narrative: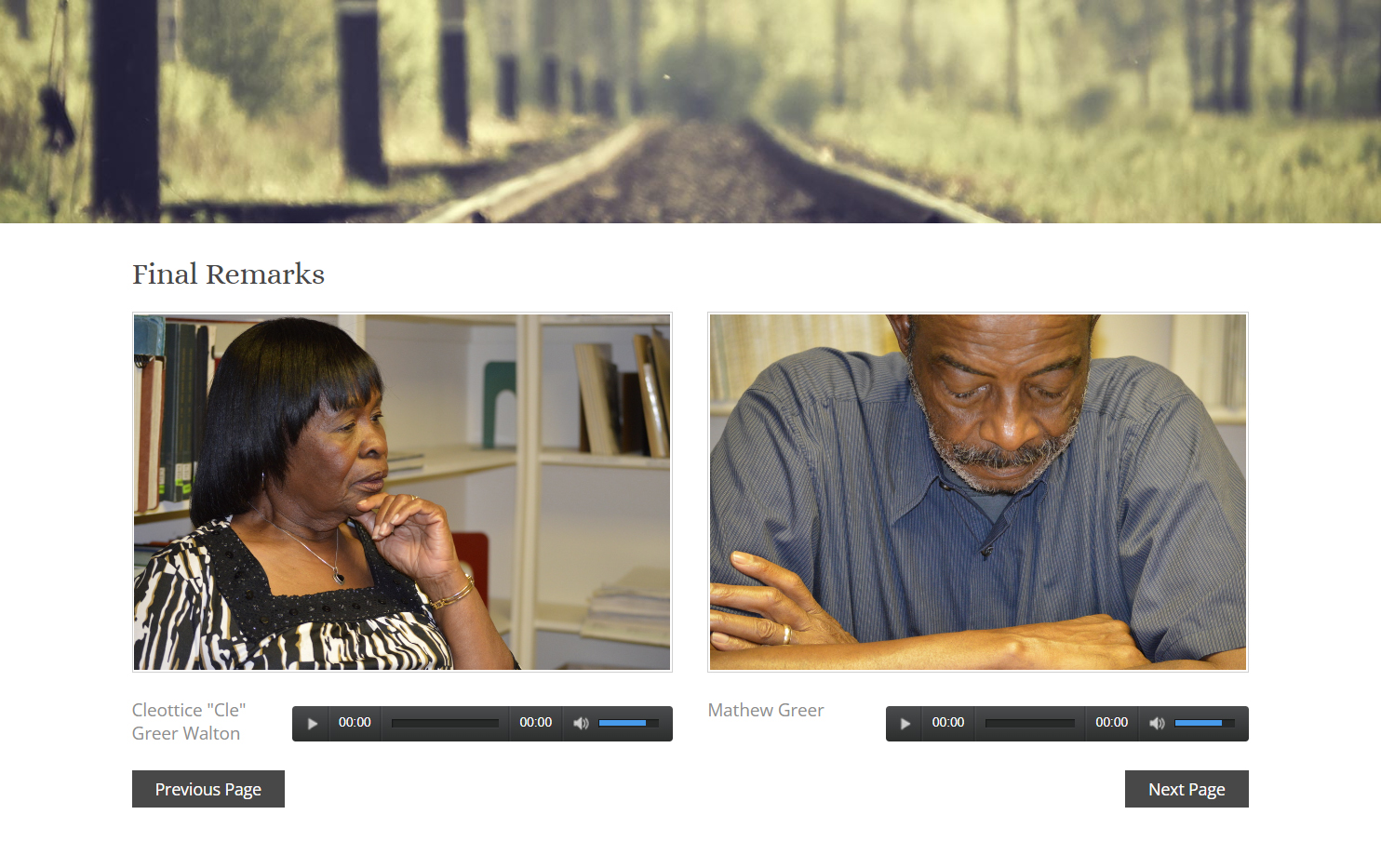 Students at Mineola Middle School in Texas, developed content-rich websites that explored "journey stories" in their community. Participating students interviewed family, friends, and other local residents as part of their official Youth Access Grant local history projects, supported by Museum on Main Street in 2013-14.
In this example, a student spoke with Mineola residents who had moved back to their hometown after years away. The content below is extracted from the student's website. Transcripts for the interview with Cleottice "Cle" Greer Walton and Mathew Greer are included with the media files.
Our Expanded World
Cleottice "Cle" Greer Walton and Mathew Greer
The siblings were born in Fouke, Wood County, Texas. Their father worked for the Texas & Pacific Railway Company. Later they moved to Mineola where they graduated from McFarland High School, an African-American during segregation. [Cleottice] graduated in 1958 and [Mathew] graduated in 1961.
Cleottice's Journey
After graduation Cleottice moved to Marlin, Texas; Rahway, New Jersey and Jackson, New Jersey. She married and has a daughter. While in New Jersey she was an administrative assistant at Community Medical Center in Toms River. She eventually returned to Mineola where she was named woman of the year in 2008. She is a long time Lions Club member and was president and involved in the district level, and was zone chairman and regional chairman in New Jersey. In Texas she won an international award for her service.
Mathew's Journey
Mathew instead joined the Air force after graduation. He served from October 1961 - September 1965. He was an Airman Second Class. He was in the 3960th Strategic Wing in Yigo, Guam. Mathew lived in San Francisco, Oakland, Houston, and New York City. During his years away he worked in theater. He also married and has two daughters. He also returned to his native Wood County where he now resides in Mineola.
Childhood in Wood County
The South was a segregated society. Even though rural children may have played together, their life was separate at school and in town.
Segregation
The South was largely unchanged in its racial attitudes until the Supreme Court decision in Brown vs Board of Education (1954). It ended the "separate but equal" era and caused legal segregation to fade away.
Cleottice's Journey
An unplanned full circle took Cleottice to New Jersey and returned her to her hometown in a different era.
Mathew's Journey
Mathew's journey took him to both coasts before a trip to his hometown to help family turned into a stay for life.
---
Asset ID: 2022.33.04.a-h
Themes: Railroads, segregation, school, education, life, life lessons, journeys, teaching, theater
Date recorded: 2013-14
Length of recording: 0:19:15
File Type: Website / Photos / Audio
Related traveling exhibition: Journey Stories
Sponsor or affiliated organization: Mineola Middle School in conjunction with Brazos Valley African American Museum and the Texas State Historical Association
More information: https://theeagle.com/news/local/smithsonian-exhibit-at-local-museum-on-american-diversity-causes-record-attendance/article_8093becc-830c-58f1-baac-f8f60b4ee845.html