Nan Awaya Heritage Farmstead, Oklahoma
As told by EAST Students at Poteau KTC
Poteau, Oklahoma
Story Narrative: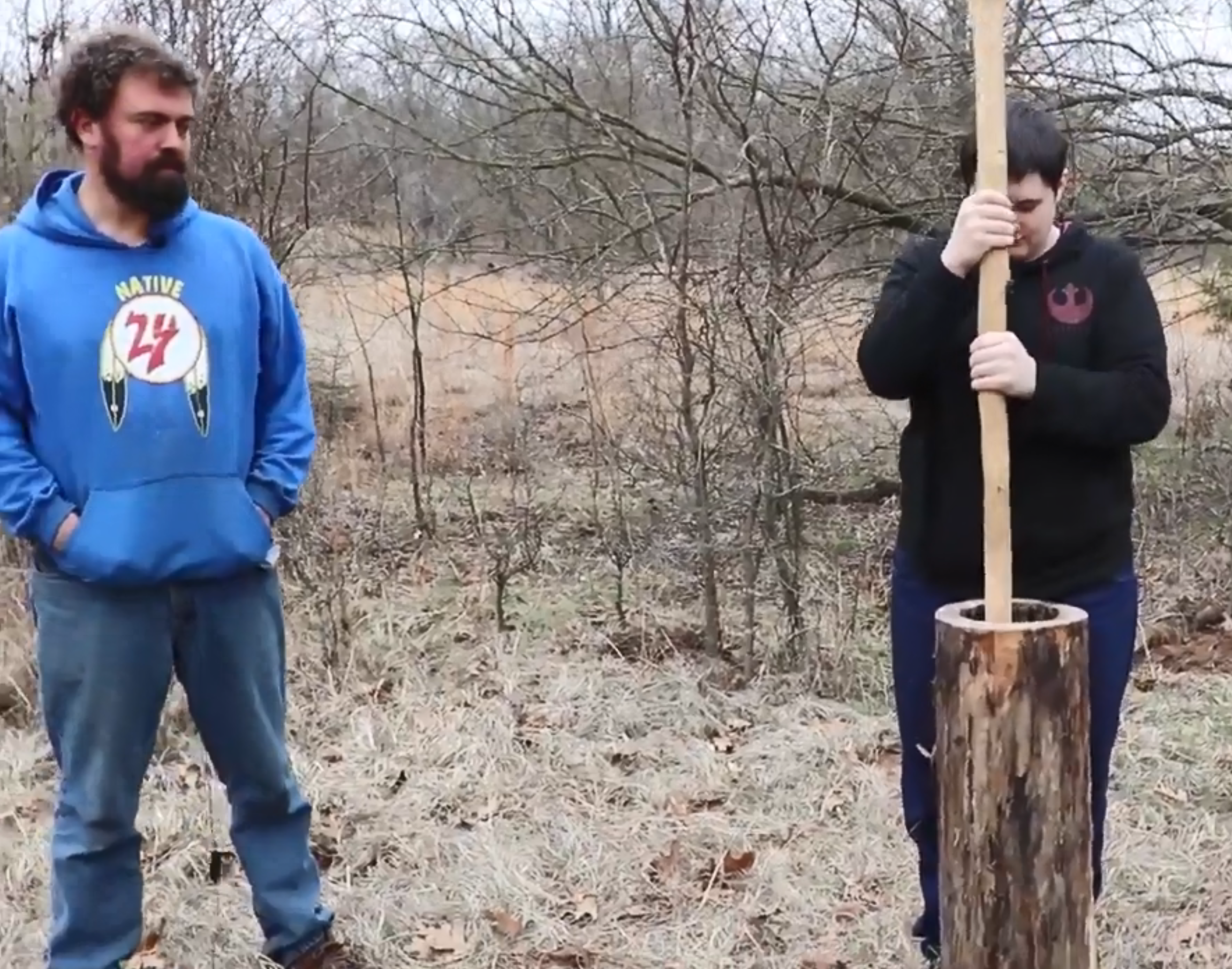 EAST students at Kiamichi Technology Center in Poteau, Oklahoma visited the Nan Awaya Heritage Farmstead to learn from Dr. Ian Thompson about living off the land. Dr. Thompson is the Tribal Historic Preservation Officer for the Choctaw Nation in Oklahoma and students made Native Choctaw foods during their visit. In addition to creating this story for MoMS' Stories: YES program, students also developed an exhibit at the LeFlore County Museum at Hotel Lowrey with support from the Choctaw Nation of Oklahoma. Read more about the project here on our blog.
Speaker 1: I would say my overall experience while we prepared our meal was a new experience. I had never made a meal over a fire before or from scratch. [00:00:30] I've never had to go through the process of grinding corn and steaming the berries, but at the end it was pretty good and I had a great time. To say that the work that we did, cooking wasn't hard per se, but you have to be accustomed or suited to that lifestyle. It's going to take you some time to move towards living [00:01:00] like that every day. You can't just start out of nowhere. It does take a lot of effort and dedication. I wouldn't throw myself into it right away. I'd ease myself into living that sort of lifestyle, but once you do move towards that lifestyle, it will be very beneficial for your health.
Speaker 2: I had never tried native chopped up foods before. [00:01:30] I think it was cool. It tasted really good.
Speaker 3: What you do is you take the corn and you put it in a giant clay pot where it caramelizes the corn with the coals from the fire. And then you take the caramelized corn and smash it in a giant log, and then you boil the blackberries in the clay pot and you take the blackberries out and you smash it up with the corn, make patties out of it. And then you boil the blackberry dumplings.
Speaker 4: [00:02:00] For more information about the Nanawaya heritage farmstead, please visit www.nanawaya.com That's www.nanawaya.com.
---
Asset ID: 8534
Themes: Choctaw, Stories: Yes, student projects, culture, food, Key Ingredients, foodways, Native American
Date recorded: 2019
Length of recording: 2:18
Related traveling exhibition: Key Ingredients: America by Food
Sponsor or affiliated organization: EAST (Education Accelerated by Service & Technology) Kiamichi Technology Center, Poteau, Oklahoma