My Journey Story Project: Whittie Dorsey, Texas
As told by Colton
Marshall, Texas
Story Narrative: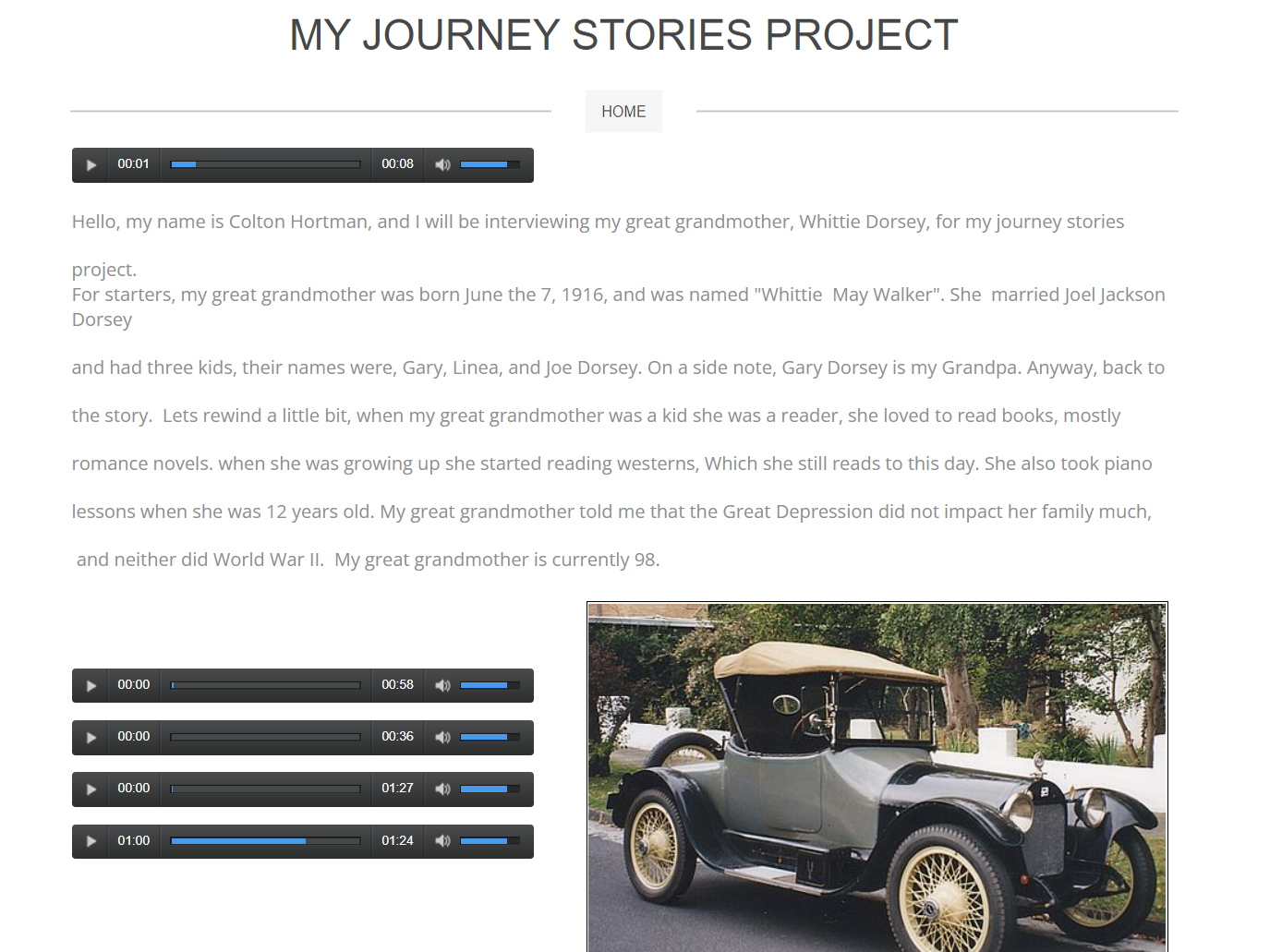 Seventh grade students in Marshall, Texas, worked in coordination with the Texas State Historical Association and National History to create multimedia websites that includes interviews with family, friends, and local residents. The work was supported by Museum on Main Street's Youth Access Grants in 2013-2014. In this project, a student interviews his great grandmother about her childhood and meeting her husband.
Colton Hortman (00:01): When were you born?
Whittie Dorsey (00:03): I was born on June the 7th, 1916. Papa ran a saw mill, he and his brothers, and we lived... I remember the place we lived most, out at Walker's Mill. I grew up out there. Started school at a little country school called Central, about 10 miles from Hallsville, Texas. When I left Central in the grade of... I believe the 7th grade, and went on into high school in Hallsville. That's where I went to school out there, in Hallsville, Texas. Hallsville, Texas school went to the 11th grade. Nowadays it's the 12th. But that's when I was through. But I never did follow it up and go to college or anything like that.
(01:34): I was tickled to death to know, when I was in Hallsville High School, they had a library, a lending library. The students could get the library books, check them out and take them home, keep them so many days. Of course, I was a very fast reader, always have been. And I'm a very avid reader. So I would read my books. I can remember my sister, Ruth, which I call Baby, fussing because she had to help mama wash dishes and things when I was up in the pasture, up in a tree reading a novel. It comes back to me every once in a while to [inaudible 00:02:30].
(02:32): I got married in '36. I met a boy. He was two years older than I was. He played baseball with my brother, Gaston. He was a pitcher and my brother, Gaston, was a catcher. I never got to see him play a game. I think I saw him play at Hallsville one time when school let us out to watch the game. And one day when I was about 12, 13, somewhere, I went to school to visit with a friend. And I remember even the dress I wore. It was a red silk dress. And that was the day he saw me and he told me later, after we had gotten married, that he told someone that, "That's the girl I'm going to marry," which I was the sister to his friend, Gaston.
(03:39): So we got married in '36. I don't think we dated very much. And of course, dating back there was different from what it... You know. Good Lord, 36? In 36? Good Lord. But anyway.
Colton Hortman (03:59): Grandpa said you were alive during the... You were a teenager during the Great Depression.
Whittie Dorsey (04:05): Oh yes, I was. I remember even when I got married, it was the Depression. I got married in 1936. Yeah, when I was growing up, it was during the Depression, but I thought I was doing fine because we didn't know the difference, you know.
---
Asset ID: 2022.32.11
Themes: School, education, library, reading, Great Depression, books, baseball, marriage
Date recorded: 2013-14
Length of recording: 04:35
File Type: Website/Audio
Related traveling exhibition: Journey Stories
Sponsor or affiliated organization: Texas Historical Association in conjunction with National History Day
More information: https://www.marshallnewsmessenger.com/news/journey-stories/article_d2114c08-8e5d-5416-9d4a-d7652498bc08.html