My First Voting Experience: Reeve Kennedy, Maryland
Frostburg, Maryland
Story Narrative: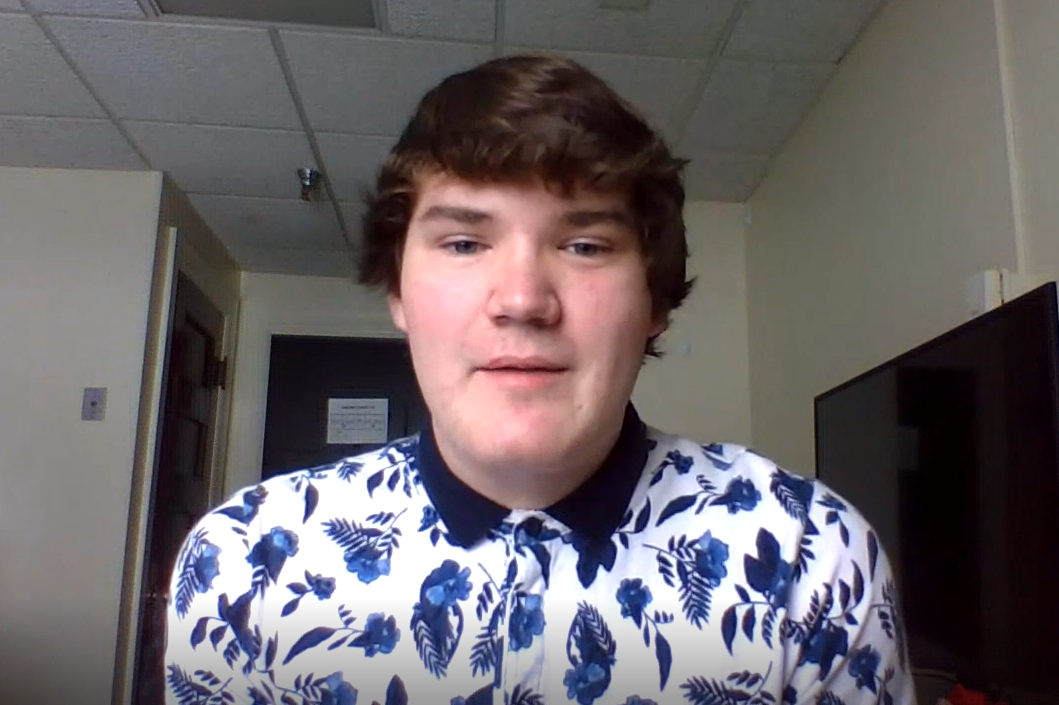 This snapshot was gathered in conjunction with the Maryland Voices initiative at Maryland Humanities, specifically to supplement the "Voices and Votes: Democracy in America" traveling exhibition from the Smithsonian's Museum on Main Street program. This collection, made up of stories of first-time voters between the ages of 18 and 24, showcases the experiences of young people as they wrestled with the 2020 presidential election, issues around social justice, the environment, immigration, and the pandemic.
Reeve Kennedy (00:00): I'm Reeve Kennedy, I'm 18, and I go to Frostburg University. I have a double major in English with a Literature focus, and Law and Society with a legal studies focus. Democracy and voting is kind of my thing really.
Reeve Kennedy (00:13): Yeah, so this was the first time I was able to vote actually. It was kind of stressful, because of Covid-19 and everything, I didn't have a... I was registered and I got my ID and everything, but other than that, there was still a lot of stuff. I did a lot of paperwork, and it was kind of rushed like, "Okay, what do I do now?" Eventually, we got it all together. Especially, since I'm at school three hours away from home, and the ballots were for home, it was just like, "Okay, what do I do?"
Reeve Kennedy (00:38): I ended up going home after trying to do a mail-in ballot here. It didn't go through for some reason. I went home, I voted in-person on election day. Honestly, it didn't feel real at that point. It was freezing cold, tons of wind, but there was tons of people there. Me and mom were like, "We're not gonna have other people here, people aren't gonna want to come out and vote." That's what's so cool at American Democracy, is that people are willing to come out and vote. I think it was 20-something degrees, it was really cold there. We had at least 50, 60 people outside in this line, all socially distanced, everyone had their masks on.
Reeve Kennedy (01:13): It was like, are people going to follow these procedures, are people going to come vote? Despite a lot of things people hear about America on the shocks, everyone did and it went well. I got my vote in, first time, Biden/Harris, and I was on the winning side for this election. It honestly felt great. I've always wanted to vote, probably since Obama's second term, just from then, just when I was interested in it. I've known what I wanted to do career-wise for a long time. I'm lucky on that front, a lot of people don't. I'm 18, and I have my entire life planned out in front of me.
Reeve Kennedy (01:46): Whether it will go that way I have no clue, but it definitely was empowering to be able to vote, know where my heart is, where my head was at. This election was easy for me, I didn't need the whole social media telling you where to vote. Just based on my morals and where I stand politically, it really was an easy election.
---
Asset ID: 2021.03.14.c
Themes: Elections, voting, COVID-19, social distancing, mother, Joe Biden, Kamala Harris, Barrack Obama, Mail-in voting, politics
Date recorded: February 1, 2021
Length of recording: 02:03 m
Related traveling exhibition: Voices and Votes: Democracy in America
Sponsor or affiliated organization: Allegany Museum, in partnership with Maryland Humanities
More information: https://www.mdhumanities.org/programs/museum-on-main-street/2021-2022-tour/