My First Time Voting and Voting by Mail: Amber Dukeman, Maryland
As told by Amber Dukeman
Frostburg, Maryland
Story Narrative: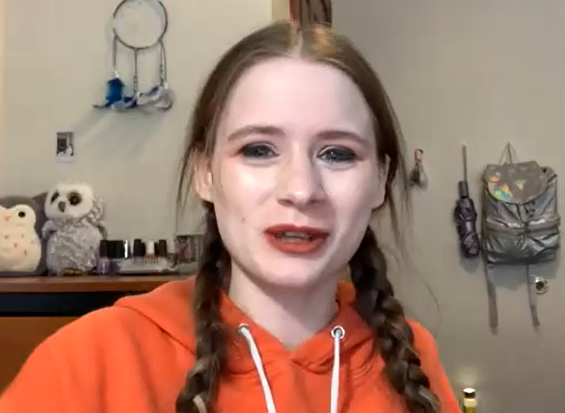 This snapshot was gathered in conjunction with the Maryland Voices initiative at Maryland Humanities, specifically to supplement the "Voices and Votes: Democracy in America" traveling exhibition from the Smithsonian's Museum on Main Street program. This collection, made up of stories of first-time voters between the ages of 18 and 24, showcases the experiences of young people as they wrestled with the 2020 presidential election, issues around social justice, the environment, immigration, and the pandemic.
Amber Dukeman (00:00): My name is Amber Dukeman. I am originally from the Aberdeen Havre de Grace area. I've lived in both cities most of my childhood. It's a whole mess, but I currently go to school all the way out in Allegheny County at Frostburg State. I did vote for this election, yes, but I voted by mail, so I did it in the comfort of my own home. It wasn't really all that exciting. You know, it was just fill out some paper and send it in.
Amber Dukeman (00:25): It kind of did feel like a let down. It almost felt like I was missing something, and doing it on paper, it actually felt like I was doing something wrong, and it made me so nervous about it and like, "Oh man, is this actually going to do something?" So it's like... It felt empty, almost. So that's how this most recent voting cycle was like. It was just... It felt really strange.
Amber Dukeman (00:50): So, this is actually my first time voting, right? And I had this irrational fear of... Well, I still have this irrational fear of just doing things wrong, all the time, so my first time voting, I just had this little voice in my head telling me I was doing it wrong, I was doing it wrong, and that the police were coming for me, and I was so nervous, like I was genuinely scared to vote, because for some odd reason it felt like I was doing it wrong.
Amber Dukeman (01:18): But you know, growing up, we never really had that dialogue of voting, right? So I was never told, "Voting's like this. Voting's like that." No, so I'm showing up here, and it's all like alien. It's insane. I have no idea what I'm doing. I'm looking over my shoulder. I'm looking around. I'm looking so suspicious, and it's because I just felt like I was doing something so wrong. And I was out shaking. I was scared. Again, I looked so suspicious, and you know, I think how I made myself look is probably the funniest part, because in the end, yeah, I didn't do anything wrong. Obviously, I didn't do anything wrong, but I think the funniest part is just how scared I was. It's an absolutely hilarious story to tell, but man, I was so scared.
---
Asset ID: 2021.03.02.b
Themes: Voting, elections, nervousness, mail-in voting, polling places
Date recorded: January 26, 2021
Length of recording: 02:02 m
Related traveling exhibition: Voices and Votes: Democracy in America
Sponsor or affiliated organization: Allegany Museum, in partnership with Maryland Humanities
More information: https://www.mdhumanities.org/programs/museum-on-main-street/2021-2022-tour/