Matthew LeCroy: Small Town, Big Hero, South Carolina
As told by students storytellers in Anderson County District 2, South Carolina
Belton, South Carolina
Story Narrative: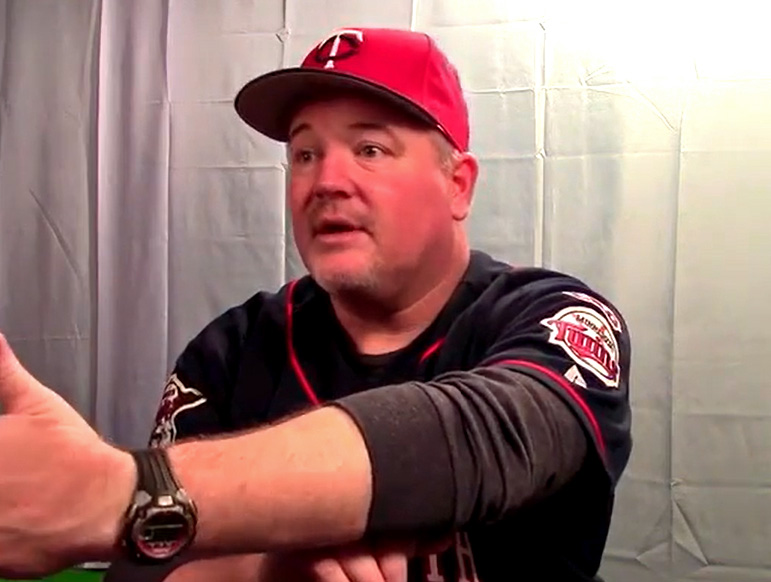 Students from Anderson County School District #2 worked with the Belton Area Museum Association in South Carolina to produce this documentary featuring oral history interviews related to the Smithsonian traveling exhibition Hometown Teams: How Sports Shape America, which toured South Carolina in 2016 and was on view in Belton.
Matthew LeCroy (00:00): Growing up in Belton, it was awesome. Small town, I had a lot of friends, I played all the sports growing up. I went to church in Belton. I had a lot of support. And then, when I became a big league baseball player, I came back and still lived here in the off season.
Speaker 2 (00:34): Matthew LeCroy has accomplished great things in sports. Olympic medalist, professional player, college hall of famer, and prominent baseball coach for one of the hottest major league baseball teams in the nation.
Speaker 3 (00:46): Playing on small town Belton recreation teams started this illustrious career.
Matthew LeCroy (00:51): We had a great athletic facility recreation department. My mother was a recreation director, so I was always around it. They gave us opportunities to play football and basketball, baseball, and tennis. I actually played tennis and won a state championship.
Speaker 4 (01:06): People are inspired to play sports for many reasons.
Matthew LeCroy (01:09): My family was all involved with sports, but the one guy that I looked up to the most was my brother. He was an athletic guy. He played football, basketball, and baseball, and he was eight years older than me. So, I kind of followed him around everywhere and got on his nerves, being a little brother. And, I was a ball boy and batboy on his baseball team. So, he was the guy that really got me started
Speaker 5 (01:30): Many kids dream about one day becoming a professional athlete. For Matthew Leroy, this dream became a reality.
Matthew LeCroy (01:37): You know, baseball was a dream of mine as a child and I wanted to play football in the NFL, wanted to play NBA basketball. I dreamed to play into the major leagues. And, fortunately I was lucky enough to be good enough to play in the major leagues.
Speaker 2 (01:52): Some might say it was luck, but LeCroy says other factors contributed to his success.
Matthew LeCroy (01:58): I really knew that I wanted to go to college and play baseball and I knew grades were important. So, baseball actually really inspired me and challenged me to do well, so I could get into college. BHP, when I was in high school, to me, challenged me both academically and athletically. It was really a great spot for me to be. And, I know it still is today, so we just got to take advantage of all the opportunities.
Speaker 3 (02:22): After helping the Belton-Honea Path High School bears win two back to back state championships, he signed to play baseball at Clemson University.
Jack Leggett (02:31): My first recollection of Matthew Leroy was, I saw him as a high school player and he just stood out. He was extremely strong, had great power, was a great leader on the field.
Speaker 2 (02:41): During his days at Clemson University, he and his teammates played in the College World Series two out of the three years he was on the team.
Jack Leggett (02:48): He goes, "I want to go to Omaha." And, that stuck in my mind. For a kid to come here, and as a freshman and sophomore, his first two years as a catcher, you go to Omaha tells you that he was a winner. He was focused on playing at the very highest level, and he was focused on the team winning.
Speaker 8 (03:05): I'll never forget we went to the College World Series when he was playing, and we went to Creighton University to take batting practice, and anytime Matthew stepped into the batter's box to take batting practice, it seemed like everybody else stopped to watch, because it always sounded different. The ball came off the bat different. He was a true power hitter in baseball.
Speaker 5 (03:28): Recognized as an outstanding non-professional athlete, LeCroy was recruited to play on the 1996 Olympic baseball team.
Matthew LeCroy (03:35): It was an awesome experience. It was in Atlanta, to be that close to home and playing the Olympics and represent the United States, was an awesome time. A lot of friendships that I made and still have today because of it. I met some of the greatest athletes in all the world.
Speaker 5 (03:54): Drafted by the Minnesota twins in 1997, he played on their minor league team for three years until pulled up to the professional level in 2000. He played major league for seven seasons as both catcher and pitch hitter.
Speaker 9 (04:09): I realized he was going to be a player when he got done playing at Clemson because I knew he had the ability to play in the big leagues. And, he did that and he was successful at it.
Speaker 3 (04:17): He retired from active play in 2008, and afterwards managed different minor league teams for the Washington Nationals. In 2013, he became the bullpen cut for the major league team.
Matthew LeCroy (04:29): If you ever go to a stadium, every stadium has a bullpen, and that's where all the relief pictures they'll come in from the game. And, I'll run that area. It's actually a pretty good seat.
Speaker 2 (04:42): For his 19 year professional baseball career, Clemson University honored him by inducting him to the Clemson University sports hall of fame.
Speaker 10 (04:51): Brought great fame to the program, through his accomplishments there, and of course played on two College World Series teams at Clemson. Matthew's very deserving of this in induction.
Speaker 3 (05:01): After only two seasons of coaching the Washington Nationals, he helped to lead the NATS to the world series in 2014.
Matthew LeCroy (05:10): Throughout my journey I've experienced some really good things and some really low things. It's just, to me, I learned a lot from my low moments in my life, to help me be become a better man and a better for person. And, my advice to any of the kids here is to really concentrate on your schoolwork, to be respectful, attend school, don't miss any classes, do the best that you can do. And, this is a great district, great school system to be in it, help me out be in a small town kid, making it to the big leagues. I'm living proof that anybody can make it even from a small town. If you pay attention. If you do the right things. Because if you do that, you get a lot of opportunities that a lot of people don't get. And, if you do all that, you'll get chances, I promise.
---
Asset ID: 2022.23.07
Themes: Sports, baseball, major league, coaching, Olympics, tennis, brother, football, College World Series, Clemson University, high school sports, Minnesota Twins, Washington Nationals, World Series, hard work, determination
Date recorded: November 2016
Length of recording: 06:21 m
File Type: Video
Related traveling exhibition: Hometown Teams: How Sports Shape America
Sponsor or affiliated organization: Anderson County School District #2, in collaboration with the Belton Area Museum Association, South Carolina
More information: https://www.southcarolinapublicradio.org/show/walter-edgars-journal/2015-05-08/on-walter-edgars-journal-hometown-teams