The Making of a Mississippi Athlete
As told by Dak Prescott, Barry Lyons, Sarah Thomas, Danny Killeen, Fred Collins, John Dane
Gulfport, Mississippi
Story Narrative: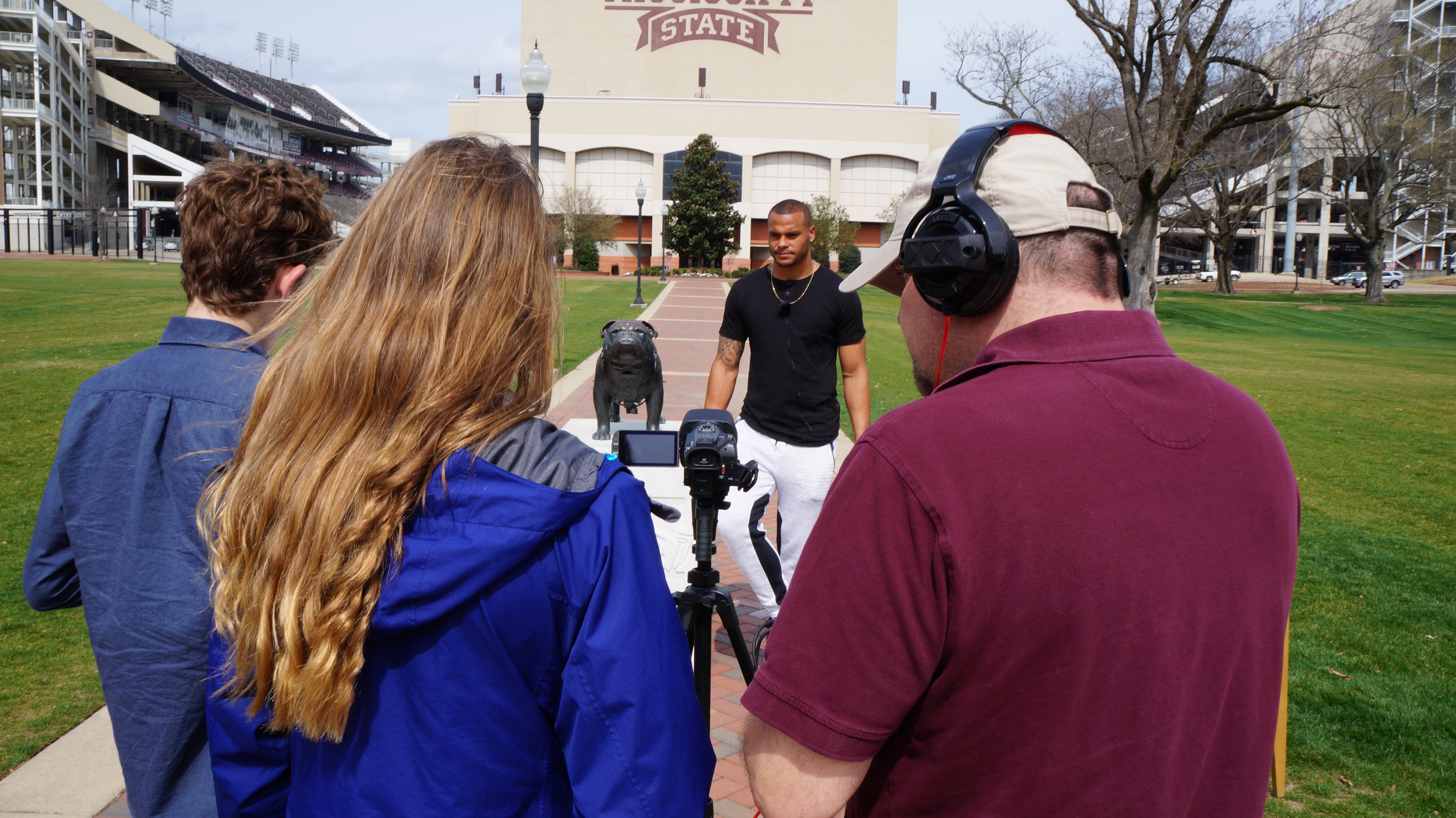 Lynn Meadows Discovery Center in Gulfport, Mississippi successfully incorporated the Stories from Main Street (SfMS) project into their WINGS performing arts program while also collaborating with elementary and middle school students. Overall, almost 200 participants helped to create the film "The Making of a Mississippi Athlete" based on interviews which they conducted with athletes across an array of sports. A highlight of the film is Dallas Cowboys quarterback Dak Prescott, who had just been drafted from Mississippi State University when he was interviewed. The kids' ask him poignant questions about the importance of sports in his life, little knowing he would soon become a huge star. Check out the video on the Lynn Meadow's Discovery Center's website.
Sarah Thomas: If you do things in life because you love it, you're going to give it your best. And people will recognize that in you.
Dak Prescott: (0:26) I'm excited to go pro. It's always been a dream of mine, and I now for it to become a reality and I have the opportunity to do that. I'm very excited for my chances.
Danny Killeen: (0:40) Sailing you can do it forever. And you don't necessarily have to do sailboat racing. You could use... It's a lifetime activity where you can go out and enjoy the water, the sunshine ...
Dak Prescott: (1:15) From an early age, I've always enjoyed playing football. Both of my brothers who are five or six years older than me, played football. So, it was just part of the household growing up. And from the time I could walk and run, I was outside playing. So, it's always been a dream.
Barry Lyons: (1:30) My dad was an outstanding athlete in his day. And as the youngest of four boys, it was imperative that I got involved in sports, as my three older brothers were very athletic. And football and baseball were the primary sports that we played.
Danny Killeen: (1:50) It was a very good thing that happened to me that I got involved in this sport. My father joined the Navy in World War II and he was assigned in the Pacific Ocean and they were preparing to invade their Islands. And so, he was not at home and my mother was at home to take care of three boys. And the eldest of which was in the seventh or eighth grade. And I was the middle son. And when he came home from being overseas and not having been around for two years, my mother said, "We need an activity that will allow us to have the family get together." And one of the beautiful things about ... And my father had sailed as a young man in his teens. And so, he knew some folks that had boats and what have you. But anyway, she said, "Tom, I think we ought to buy a boat." And of course, we all put up our hands and said, "That's a wonderful idea."
Fred Collins: (2:50) I got involved when a lot of other kids in neighborhood to play a little standout football. Then all of a sudden I wanted to play organized ball. We all got together and went and played at Northeast Elementary, which is the bus born cost down or pair through. And then we all decided to play together at the Neighborhood-ness as a team.
Sarah Thomas: (3:10) Yes, I did play sports growing up. I played softball and basketball and believe it or not I played basketball on the boys team in fifth, sixth, and seventh grade. And then I started playing for the middle school at Calmer Junior High in eighth grade.
John Dane: (3:24) My father played golf and I actually played tennis. And he came home one day when I was 10 years old and told my mother that golf was driving him crazy and he wanted to quit. So she said, "well, you got to do something, so why don't you go out to the Yacht Club and take up sailing and bring young John with you". So at 10 years old and my dad at like 32 years old, we went to the Yacht Club and took up junior sailing. And that's how it started.
Barry Lyons: (3:58) Sports in the community is so important because there's so many life lessons that can be learned through sports. I'm a little partial to baseball because that is my favorite sport and the sport that I played throughout my career and my life. But all of the sports can teach you teamwork, can teach you hard work, discipline, determination. There's so many valuable things that you learn through sports in your early ages that relate to life. And that will help you in your adult lives.
Dak Prescott: (4:41) I think sports are important to a community because it brings everyone together for one, it allows everybody to come together for one thing, and enjoy the moment and enjoy the fun, and everything that goes into it. And another is just to stay healthy and to stay active.
John Dane: (4:55) I think their way to build up the community and bring people together. You go to a football game, you look at all the people. Now they may be rival teams, but they all live close to one another. On my boat for instance, we had to have teamwork. I sailed with my son-in-law Austin Sperry and we had to be precise and that's some of the things we practice and just like on basketball or football, one person can't win it, it takes a team effort. And the other thing I like about sports, it teaches you how to lose. Because I promise you in life you're not going to win every time you need to learn to lose, be gracious and to learn from your mistakes and improve. So that's why I like sports.
Fred Collins: (5:41) I think it's a building block. It teach the kids a lot of discipline. You got to be disciplined to obey to play ball, and that's one of the main objectives there.
---
Asset ID: 2016.01
Themes: Sports, athletes, determination
Date recorded: 2016
Length of recording: 6:45 m
Related traveling exhibition: Hometown Teams: How Sports Shape America
Sponsor or affiliated organization: Lynn Meadows Discovery Center, Mississippi
More information: https://museumonmainstreet.org/blog-node/mississippis-budding-young-performers-show-technical-skills-sfms