Making a Difference: Reeve Kennedy, Maryland
As told by Reeve Kennedy
Frostburg, Maryland
Story Narrative: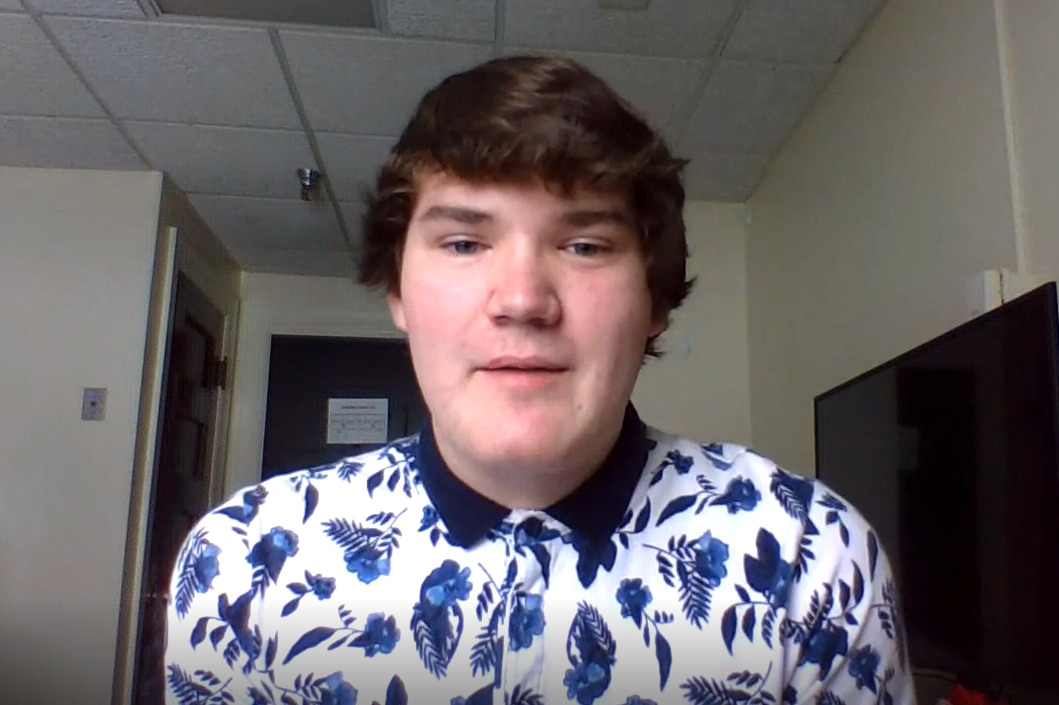 This snapshot was gathered in conjunction with the Maryland Voices initiative at Maryland Humanities, specifically to supplement the "Voices and Votes: Democracy in America" traveling exhibition from the Smithsonian's Museum on Main Street program. This collection, made up of stories of first-time voters between the ages of 18 and 24, showcases the experiences of young people as they wrestled with the 2020 presidential election, issues around social justice, the environment, immigration, and the pandemic.
Reeve Kennedy (00:00): I'm Reeve Kennedy. I'm 18, and I go to Frostburg University. I have a double major in English with literature focus, and Law and Society with a legal studies focus, so, democracy and voting is my thing really.
Reeve Kennedy (00:13): At school so far, I've only been here for one semester; this is my second semester. I'm only one week in, but within the fall semester alone, I already worked with local groups. I organized and helped work with different protests based on racial relations, our Black Lives Matter protest, specifically with Breonna Taylor and her voice and the damages that black women face in America. It's honestly the worst, and it's cruel and it needs fixed.
Reeve Kennedy (00:38): Also, I've done a lot of LGBTQ advocacy and activism through protests back at home and up here. I've actually worked with my school group.
Reeve Kennedy (00:47): There was a protest up in Allegany County. It was October of 2020. Masks, everything, a hundred percent safe, and it went really well. We had a pretty good turnout, and then I've done a lot of that stuff back home in Baltimore as well.
Reeve Kennedy (01:00): Climate change and environmental activism is also very important to me. Throughout my community back home, like Bear Creek I mentioned, we did a lot of cleanups that I was in charge of. There was a lot of different events. Giving out water bottles, people stopped using the plastic ones, the refillable ones. That's so important. A lot of that stuff goes overlooked. Why does that matter? It's cheap, whatever, but it really does impact our nation in the grand scheme of things.
Reeve Kennedy (01:25): Alongside my high school, I was the President of our Key Club, which has a lot of social activism and a lot of working in the community. I led two different successful clothing drives in my community.
Reeve Kennedy (01:36): I donated all those to women's shelters and homeless shelters. We deliver to seven within the Baltimore County area. Each got about two big bags full of stuff, winter clothing, because that's the most important really, and lots of just general stuff.
Reeve Kennedy (01:50): I definitely feel empowered in my own voice and my own activism and advocacy work. It feels good. I think you're not supposed to do those things to feel good about yourself or whatever, but just knowing that you're helping ... it's not about doing it for me. Whether I'm impacted or not. It doesn't really matter. It's that I know at the end of the day, that going out and fighting for my voice to be heard as a member of a community is not just helping me as a gay male, but it's helping other people who are insecure or facing damages based on their sexuality or their gender.
Reeve Kennedy (02:20): Going out, I may be white, but going out and fighting for racial equality is important, because I have friends, so there's other people in this country, that are being damaged by these things, and that makes me feel good that I can do that. Same with helping out with the environment. That's going to impact me. It's going to impact my kids. It's going to impact every generation moving forward. It feels good to know that I'm at least trying to combat and fix that.
Reeve Kennedy (02:42): And finally, with the clothing drives, I've led, all that sort of stuff, it just feels good knowing that someone's going to get that help that they need.
---
Asset ID: 2021.03.14.e
Themes: Gen Z, LGBTQ, social justice, climate change, women's rights, advocacy, activism, homelessness, COVID-19, race, empowerment
Date recorded: February 1, 2021
Length of recording: 02:50 m
Related traveling exhibition: Voices and Votes: Democracy in America
Sponsor or affiliated organization: Allegany Museum, in partnership with Maryland Humanities
More information: https://www.mdhumanities.org/programs/museum-on-main-street/2021-2022-tour/