The Liberty of Speaking Your Mind, Florida
As told by Pedro Gassant
Miami, Florida
Story Narrative: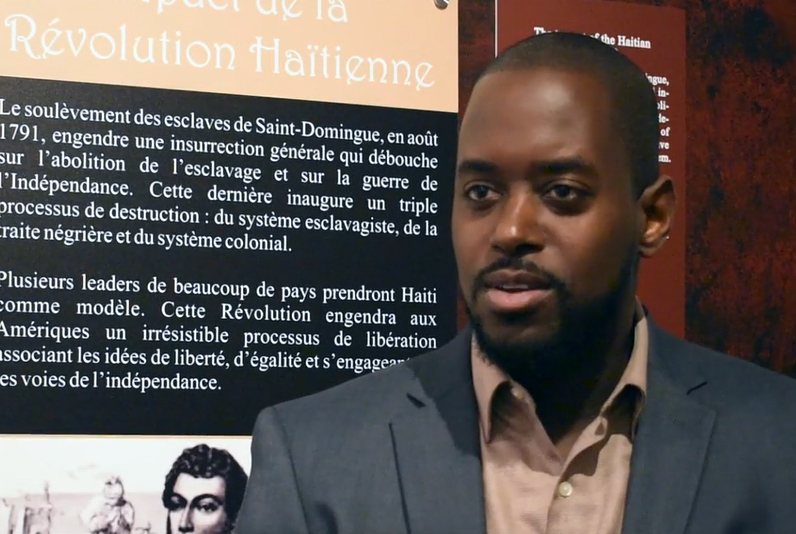 In late 2019 and early 2020 (just weeks before the pandemic), Smithsonian staff and their storytelling partners at the Peale, Baltimore, traveled to multiple states in the U.S. to ask residents of those states about voting experiences, the current state of American democracy, what issues brought them to the polls, how they made a difference in their communities, and what Americans' civic responsibilities were, among other complex questions.
What does democracy mean to you?
Pedro Gassant (00:00): So, my parents came here in 1979 from Haiti and they were escaping the Duvalier dictatorship and in Haiti, and they wanted to make sure that their kids would have a better opportunity in a world where they would be recognized based off of the efforts and the values that they were able to achieve. My parents instilled in me a very important aspect of what democracy means. And when I say democracy, I don't just mean the procedural tactic of voting, but the infrastructure of democracy and giving a platform for people to be able to voice their opinions about what they believe without being subject to being imprisoned for what they believe. And that has been something that has been very important for me here in the US, because we have the opportunity to criticize the President, or to support the President, or to criticize local elected official officials without being concerned about being locked away in prison for years and years without knowing why you're in prison and understanding what would be a situation in which you'd be released from prison.
Pedro Gassant (01:03): So, democracy, for me, has been very important because there is something to be said about the liberty of being able to speak your mind and to pursue those things that you want to pursue. But tethered to that is the fact that our values come directly from democracy in the sense that if I can pursue what I want to in the way that I think, in the way that I talk, in the way that I profess my beliefs, I can also pursue those goals if I study hard, if I work hard, if I dedicate myself to something, I can achieve whatever I put my mind to. And one of the things for Haitian families in general, and for mine in particular, is that Haitian families are really, really big on education. And my dad and my mother were on me every single day to ensure that I got an education.
Pedro Gassant (01:46): And I had only three choices: doctor, lawyer, engineer. And it didn't matter what your hobby was, it didn't matter what your interests were, you knew that you had those three things and everything else was extracurricular. But having that type of basic fundamental foundation of a community that supported me, of a family that supported me, and believe that I could achieve anything that I put my mind to without the arbitrariness of a dictatorship was very, very important for me. And it's one of the reasons why I think I am where I am today, being a lawyer in the US.
---
Asset ID: 8669
Themes: Democracy, Haiti, immigration, education, freedom of speech
Date recorded: January 9, 2020
Length of recording: 2:18 m
Related traveling exhibition: Voices and Votes: Democracy in America
Sponsor or affiliated organization: Haitian Heritage Museum, Miami, Florida
More information or related assets: https://museumonmainstreet.org/content/our-democratic-responsibilities-florida