Lawrence County Floods, Illinois: An Interview with Nicholaus Benson, Part 1
As told by Avery Kasinger
Lawrenceville, Illinois
Story Narrative: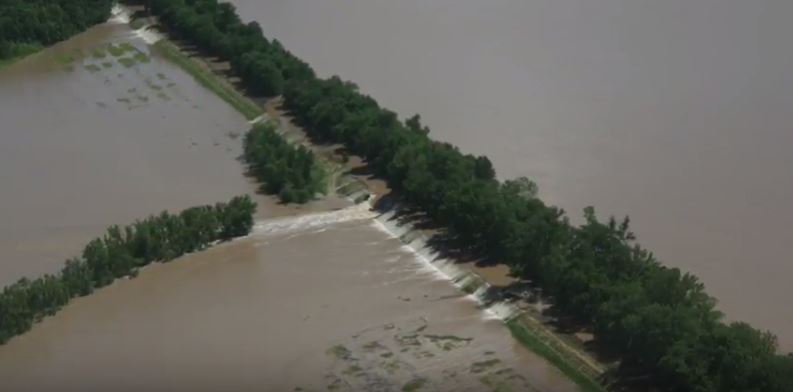 In coordination with the Lawrence County Historical Society in Lawrence, Illinois, Avery Kasinger interviews Nicholaus Benson about his involvement on the Levee Commission and the effects of the 2008 flood.
Avery Kasinger (00:06): Hello Mr. Benson. The Lawrenceville E-Media class is happy to interview you today. I'd like to begin asking you to describe your job as the Levy Commissioner.
Nicholaus Benson (00:17): My actual title for the Levy Commission is I'm the Treasurer, but that really only goes as far as I write a check, occasionally. But the biggest thing we do is we're responsible for the levees to make sure they're maintained correctly in times of flooding; that all is well structurally with them, and that people are aware of different safety concerns during times of flooding. So.
Avery Kasinger (00:45): Okay. As you are a farmer, how were your crops affected by the 2008 Flood?
Nicholaus Benson (00:50): The flood happened on June 9th. And by that time, each year, our corn is head high, or so. So the crops that were in the flood plain that are protected by the levees, so when the levees breached, we had a hundred percent loss on all crops that were planted. Not just me, every farmer out there that had crops out already. Soybeans were totally eradicated. Corn was gone. Wheat was gone. The wheat, actually, wasn't completely gone, but it was damaged beyond repair. Most of it.
Nicholaus Benson (01:21): So, but the water came out and it receded in about two to three weeks. So a lot of guys were able to get back in their fields around the 4th of July. And so that year we actually got lucky. A lot of crops were planted back in that July 4th to July 10th time period. By that time, you can only plant soybeans here. So a lot of guys got soybeans in and we had a hot, dry summer, and a lot of that ground is irrigated. So we were actually able to produce nice yields on those soybeans. So we got lucky in that aspect. But as far as what was planted, it was totally gone.
Avery Kasinger (01:55): Okay. How was your family affected by the flood?
Nicholaus Benson (02:00): Well, in 2008, we had just welcomed our second daughter, Ava. She was born in January of 2008. So I had a two year old and an infant. And our house where we lived at then ... We were actually in the process of remodeling another house to move to. But where we were residing then, it was completely surrounded by water. And so, I was working on the levees and trying to patrol those, and then the breach happened. And so we were scrambling to try to get moved out because we were completely surrounded by water. We relocated to a friend's house in Reminisce while I was finishing fighting the floods. And then once we got done with the floods and before we came back to our house, we moved in with my parents, and we were boating in and out of our house to get what we needed as were several people out there. So.
---
Asset ID: 8603
Themes: Water, waterways, floods, climate change, engineering, history, storytelling, farming
Date recorded: 2016
Length of recording: 2:55 m
Related traveling exhibition: Water/Ways
Sponsor or affiliated organization: Lawrence County Historical Society in Lawrence, Illinois
Part II of Interview: https://museumonmainstreet.org/content/lawrence-county-floods-illinois-interview-nicholaus-benson-part-2
More information: https://museumonmainstreet.org/blog-node/life-and-levees-illinois