Knox County Floods, Indiana: An Interview with Peggy Baxter
As told by Avery Kasinger
St. Francisville, Illinois
Story Narrative: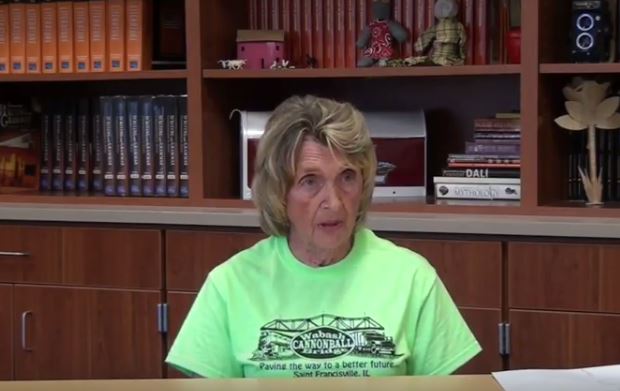 Avery Kasinger, a student at Lawrenceville High School in Illinois, interviews Peggy Baxter, a resident of St. Francisville, Illinois. She recalls her experience of the 1943 flood while living in Knox County, Indiana. Only five and half years old at the time, her whole family of six was shuttled around the area for several weeks before they could return to their house.
Avery Kasinger (00:05): Hello, Peggy Baxter, thank you for letting us interview you today. We're going to talk about the flood of '43. Where did you live at that time?
Peggy Baxter (00:16): I lived in Knox County, Indiana, down at Decker Chapel. It was between the White River and the Wabash river.
Avery Kasinger (00:26): Where are you living now?
Peggy Baxter (00:27): San Francisco, Illinois.
Avery Kasinger (00:30): What do you remember about the flood?
Peggy Baxter (00:32): Okay. My parents were farmers, and there wasn't much warning about the levy breaking, and we were levy-protected, so I don't know how the news traveled back then, I don't remember if we had radio or what, but they came and told us that the levy had broken so we knew we needed to leave because it would get in our house. So my uncle lived a little bit north of us so he came down and picked us up and took us to his house, and then it's like, it wouldn't be the Corps of Engineers, but it would be some people who were taking care of people who were caught in the water.
Peggy Baxter (01:10): And they were going to pick us up at my uncle's house and take us over across the levy which they did, and they told my mother, I was the oldest, I was five and a half. This was in the June of '43 and my birthday was September so I was five and a half, and I had a brother, four, and a brother three, two, and a baby. So there was four of us. So they told us, my mother said, "You can only take one change of clothes." And we had no idea how long we were going to be gone or anything so my mother, she could think of things. She found this baggy outfit to put on me and she just stuffed me full of underwear, for the other kids. And she said, "They'll just think you are a chubby, little girl." So they came in a boat and picked us up, took us to the levy, and then my uncle that lived in Patoka, Indiana, came up, picked us up and took us down to my grandma's house.
Peggy Baxter (02:18): And we stayed there two weeks and then the river went down, but we couldn't go back home because we had to have typhoid shots. So we had a doctor in San Francisco, Dr. Steiner, and they took us on up. I had other grandparents South Vincent's so we went up there for a week and came over to get our typhoid shots to San Francisco, and made us all sick so there my mother is, with four sick kids for another week, but we finally got back in our house, and the water had gotten in our house and what people did then was they would put barrels in the house, and put boards on the barrels and put their furniture up on top of them, which that protected your furniture, and the houses back then didn't have anything like the floors this day. They were just like plank boards. And that's what I remember of the '43 flood.
---
Asset ID: 8615
Themes: Water, waterways, floods, climate change, engineering, history
Date recorded: 2016
Length of recording: 3:11 m
Related traveling exhibition: Water/Ways
Sponsor or affiliated organization: Lawrence County Historical Society in Lawrence, Illinois
More information: https://museumonmainstreet.org/blog-node/life-and-levees-illinois