Kathleen Blackshear: The First Stroke of a Journey
As told by Austin
Bryan, Texas
Story Narrative: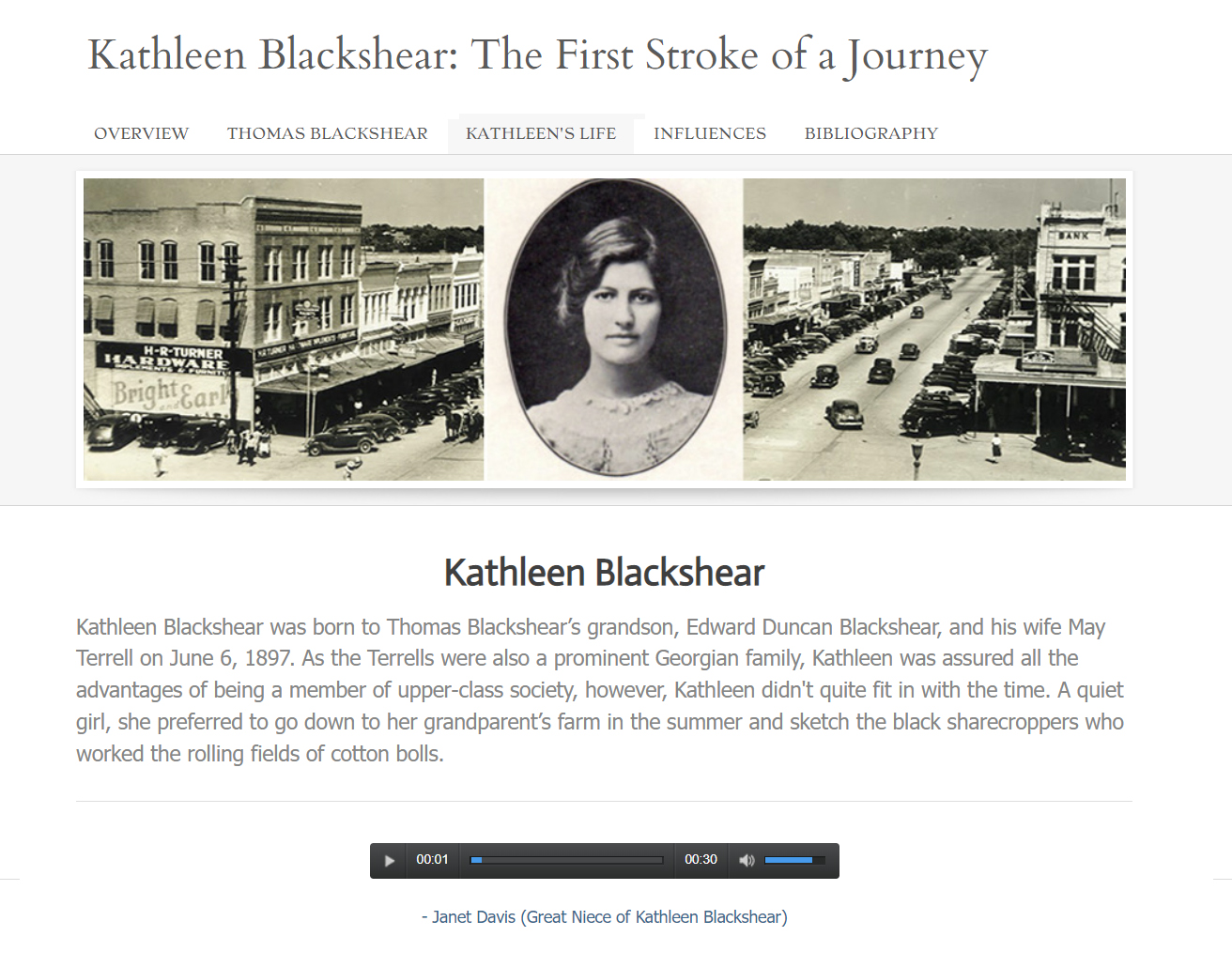 Students at Navasota High School in Texas, developed content-rich websites that explored "journey stories" in their community. Participating students interviewed family, friends, and other local residents as part of their official Youth Access Grant local history projects, supported by Museum on Main Street in 2013-14.
In this example, a student researched Kathleen Blackshear, a turn-of-the-20th-century abstract artist whose support and patronage of African-American students and artists ran contrary to her family's slaveholding past. The content below is extracted from Austin's website. Transcripts for an interview with Blackshear's great niece, Janet Davis, are included with the media files.
Kathleen Blackshear: The First Stroke of a Journey
The story of Kathleen Blackshear is one of a full-circle journey beginning with her great-grandfather Thomas Blackshear, one of the biggest slaveholders in Texas, to the portrayal of African-American subjects in her abstract painting style, as well as teaching African-American students in her collegiate art courses. In this way, Blackshear influenced future artists and through them, impacted a wide and diverse audience both at the time and in the future. By breaking Southern cultural taboos through her representation of African nAmericans in her art, the influence of which led to the creation of the first African-American museum in America, Blackshear bridged a remarkable gap between her own accomplishments and the traditional southern social norms of her great grandfather.
Thomas Blackshear
Born into a prominent Georgian family, Kathleen's great-grandfather, Thomas Blackshear, graduated from the University of Georgia in 1828. Not only active in politics, he was a prestigious plantation owner, and due to overcrowding in Georgia in the 1850s, he packed his family and slaves up and began the trek to Texas, keeping meticulous records of the move (humorously, he wrote that the last slave born in Georgia was named "George", and the first born in Texas was dubbed "Texanna"). Upon his arrival to Texas, Blackshear settled in the Brazos Valley near present-day Navasota. His plantation, worth $105,000 by 1860, was home to 123 slaves, who worked the vast fields of cotton. His real estate and the production of cotton on his 2541 acres earned him the title of one of the two wealthiest men in Grimes County.
Following the end of the "War between the States", Blackshear divided his plantation into smaller subsistence farms for sharecropping. He even published an advertisement in a Georgia paper begging farmers of overused Georgian soil to seek employment under him.
"[Freedmen] are not working so well...[they] are lothed to make contracts...a number of them have squatted about on little places to farm for themselves...A great many plantations of the richest lands...will go uncultivated, for want of laborers."
- Paper Advertisement
In 1867, Blackshear arranged a trip to Georgia to seek laborers, but was never able to make the trip. That year, yellow fever swept through Grimes County, wiping entire towns almost off the map and depleting the population of Navasota from 3,000 to 400 (including the 1500 that fled within the first 48 hours of the yellow fever reaching the city limits). One of the final yellow fever victims, Blackshear died October 21, 1867.
"One of our most valuable citizens-- a gentleman of superior intelligence and whose commanding influence in every community where he has lived, was the result of his acknowledged ability, his sound practical views and many sterling virtues and not of any effort on his part to acquire such influence."
- An obituary in the Navasota Examiner
Kathleen Blackshear
Kathleen Blackshear was born to Thomas Blackshear's grandson, Edward Duncan Blackshear, and his wife May Terrell on June 6, 1897. As the Terrells were also a prominent Georgian family, Kathleen was assured all the advantages of being a member of upper-class society, however, Kathleen didn't quite fit in with the time. A quiet girl, she preferred to go down to her grandparent's farm in the summer and sketch the black sharecroppers who worked the rolling fields of cotton bolls.
While instructing at the Art Institute, Blackshear became a mentor to many aspiring artists, and while the level of her influence varied from student to student, there were a few so impressed by Blackshear that her tutelage has remained with them throughout their entire lives, among them, Eldzier Cortor, Norman Rice, Jack Beal and his wife Sondra Freckelton, and most notably Margaret Burroughs, founder of the first black museum, Chicago's DuSable Museum, in America.
They remember Blackshear as a practical woman who approached art in a very analytical fashion. For instance, Cortor recounted a lesson in which Blackshear asked the students to identify the tool used to create a painting- brush, rag, fingers, etc. Cortor was delighted when he suddenly noticed the subtle fingerprints in a Rembrandt piece. Beal also recalled her attention to detail, and remembered an assignment in which she asked the students to paint something in the manner of an artist they had studied, not just to copy them, but to become that artist through their painting. So, Beal painted another student with whom he was displeased in the manner of El Greco, an artist whom he was also not particularly fond of.
Students never saw Blackshear's own art though, as she kept her own paintings hidden from their eyes. She did not, however, hide her affection for her students. African-American artist Burroughs told the story of how Blackshear met her walking dejectedly down the hall one day after being told that she would not be able to pass her courses as she could not afford the materials.
"When she asked me what was wrong, saying that I looked as if something terrible had happened, I told her that I didn't want to bother her with my problems. At her insistence, I explained my precarious finances and my advisor's suggestion…Miss Blackshear's comment was definite: 'Oh, no, you mustn't drop out. Just hang in there, you are a good student and I'm sure something will work out for you.' She patted me on the shoulder and that made me feel a whole lot better."
- Margaret Burroughs
Within a fortnight, an unidentified benefactor had paid for Burroughs' tuition for the following semester and left an amount that insured $25 a month for her to buy art supplies. Although Burroughs has never been able to prove it was Blackshear, she is certain that none other than her art teacher could have known her predicament. Burroughs eventually went on to establish the DuSable Museum in Chicago, and attributes her tremendous success and this breakthrough of the color barrier to Blackshear, the descendent of a family that only three generations ago was responsible for a large percentage of slaves in Texas. For the rest of Blackshear's life she remained in contact with Burroughs, seeing her for the last time in 1970.
I had been invited to lecture at Texas Southern University in Houston, some distance away from Miss Blackshear's home. Since I had a few hours to spend before boarding my flight back to Chicago, my hosts took me to see a new show at the Museum of Fine Arts. When I entered the main gallery, I looked across the room and saw my former teacher. Calling her name, I bounced across the gallery toward her. She was surprised and overjoyed to see me, too. Forgetting I was in the South and that Miss Blackshear was a white Southerner, I just did what came naturally, I threw my arms around my teacher and hugged and kissed her. Miss Blackshear ignored the cultural taboos of that area and returned my expression of affection with warmth. I spend the remaining time that I had bringing her up to date on what and how I was doing—teaching, painting, writing and developing the museum…When it came time for me to go I hugged Miss Blackshear one more time and she returned the embrace. 'Miss Blackshear, I just want to thank you.' 'For what, Margaret?' 'For everything.' Then I told her goodbye" (Tormollan).
- Margaret Burroughs
---
Asset ID: 2022.33.02.a-f
Themes: Art, artists, African American history, folk art, South, Jim Crow, slavery, farming, women's history, museums, patrons, art classes, education
Date recorded: 2013-14
Length of recording: 0:00:46
File Type: Website / Photos / Audio
Related traveling exhibition: Journey Stories
Sponsor or affiliated organization: Navasota High School, Navasota, Texas, in conjunction with Brazos Valley African American Museum and Texas State Historical Association
More information: https://theeagle.com/news/local/smithsonian-exhibit-at-local-museum-on-american-diversity-causes-record-attendance/article_8093becc-830c-58f1-baac-f8f60b4ee845.html