Journey Story: Musa Dwairi, Texas
As told by Rola
Marshall, Texas
Story Narrative: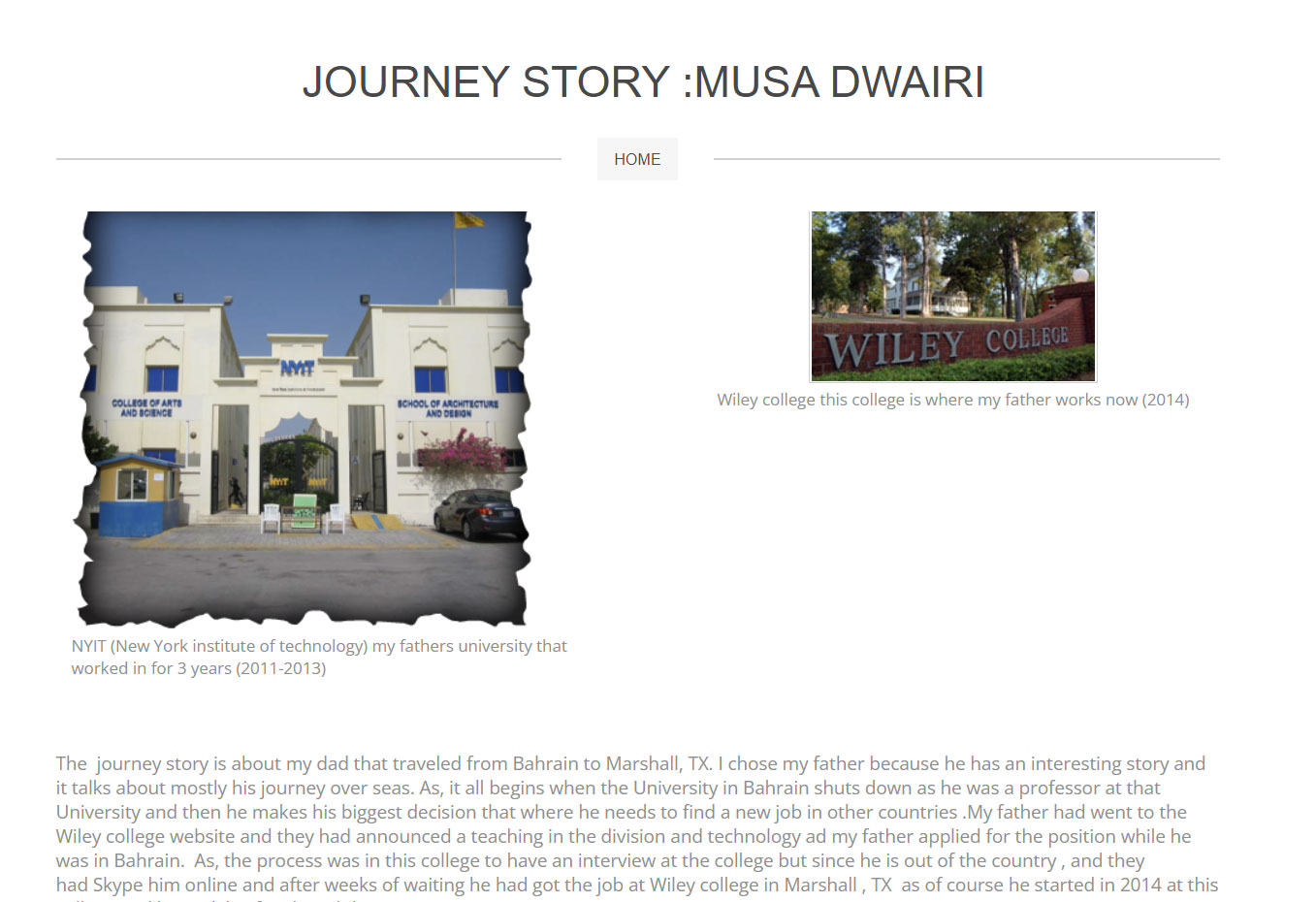 Seventh grade students in Marshall, Texas, worked in coordination with the Texas State Historical Association and National History to create multimedia websites that includes interviews with family, friends, and local residents. The work was supported by Museum on Main Street's Youth Access Grants in 2013-2014. In this project, a student interviews her father and created a companion website about her work.
She writes, "The journey story is about my dad that traveled from Bahrain to Marshall, TX. I chose my father because he has an interesting story and it talks about mostly his journey over seas. As, it all begins when the University in Bahrain shuts down as he was a professor at that University and then he makes his biggest decision that where he needs to find a new job in other countries. My father had went to the Wiley college website and they had announced a teaching in the division and technology ad my father applied for the position while he was in Bahrain. As, the process was in this college to have an interview at the college but since he is out of the country , and they had Skype him online and after weeks of waiting he had got the job at Wiley college in Marshall, TX, as of course he started in 2014 at this college and he took his family with him."
Rola (00:01): What happened that you wanted to apply to any college in America?
Musa Dwairi (00:09): Well, because after I graduated from my Bachelor degree, I was thinking to come to do my highest education in the United States. And this is back in the 1970s. When I came back and I took my Master degree, then I took my PhD from University of North Texas at Denton, Texas. Then I got a job in Grambling State University, and in the same time I went to school at the Louisiana Tech University where I got another PhD in Business Administration. And I work again with the Grambling. Then I went back to the overseas, working for seven years with New York Institute of Technology, and I work in Jordan, Bahrain, and United Arab Emirates.
Rola (01:11): Okay. When you were in Bahrain, have you ever thought that your life would change and even that your whole ways of routine would too?
Musa Dwairi (01:24): Not really because in the life of education, wherever you go you have to apply the same discipline and mostly I used to say, this is my opinion, a student is a student wherever you go. They are the same behavior, the same requirement, the same type of environment of classroom and all this kind of thing. The only thing you have to consider, which it is the type of culture. Sure, when you go to the Middle East or other part of the world, it's different culture from United State and more likely you will find different type of student and they have to adjust your way to adapt to the new culture. And fortunately, I lived enough in United States to be familiar with the American culture.
Rola (02:14): Was Marshall that first thing you thought of and why?
Musa Dwairi (02:20): Well, more likely because Wiley College and I apply and it was the first college to send me the application and acceptance or an offer for a job. And in fact, Marshall, I lived more than 15 years in Texas and I like the weather in Texas, I like the people. And then also, we lived in Boston, Louisiana-
Rola (02:51): It's a small town.
Musa Dwairi (02:52): ... which is a small town, small community, friendly community, easy to move around, easy to shop, and easy to contact the community. And no traffic. Any, what we called it, the other issue we see it in the big cities like Dallas or Houston.
Rola (03:14): Did Wiley College announce their job on the website?
Musa Dwairi (03:18): Yes, they did and we just apply and then we receive an offer from them in short of time and we just came to here.
Rola (03:29): How did they interview you?
Musa Dwairi (03:31): It was an interview, it was over the Skype and it was very friendly, very nice type of environment of interview and they were very interested in attracting me to join them and I'm glad I joined.
Rola (03:49): Why did you choose to work in Marshall?
Musa Dwairi (03:53): Well, Marshall is not a matter of choice. It is because of Wiley College and I used to be very familiar with Wiley College. They have a campus in Shreveport and I used to work in that campus before as a part time-
Rola (04:09): How many years before?
Musa Dwairi (04:10): About 19, 2005 and 2006. I am very familiar with the place and when we think to come back to United States, I contact them and they offer me a job and I'm now working in the Wiley College in the Business as a Professor of Marketing and Management.
Rola (04:36): You had lived and studied, worked too in America, but what made you think to come back?
Musa Dwairi (04:49): Well, for me, because I obtained American citizen, I consider that very interesting and I consider that's my home country. Wherever I go, I come back.
Rola (05:06): Thank you Dr. Musa.
Musa Dwairi (05:08): Okay, welcome. Thank you very much.
Rola (05:09): This is a project we're doing for school. It's a journey story and I have picked you as my father to tell me your journey story.
Musa Dwairi (05:23): Okay. Thank you very much.
Rola (05:24): Thank you very much. Have a nice day.
Musa Dwairi (05:24): Wish you good luck.
Rola (05:24): Thank you very much.
---
Asset ID: 2022.32.02
Themes: Fathers, family, college, immigration, education, migration, Journey Stories, Middle East, Bahrain
Date recorded: 2013-14
Length of recording: 05:25
File Type: Website/Audio
Related traveling exhibition: Journey Stories
Sponsor or affiliated organization: Texas Historical Association in conjunction with National History Day
More information: https://www.marshallnewsmessenger.com/news/journey-stories/article_d2114c08-8e5d-5416-9d4a-d7652498bc08.html