A Journey to Marshall with William Runnels, Texas
As told by Olivia
Marshall, Texas
Story Narrative: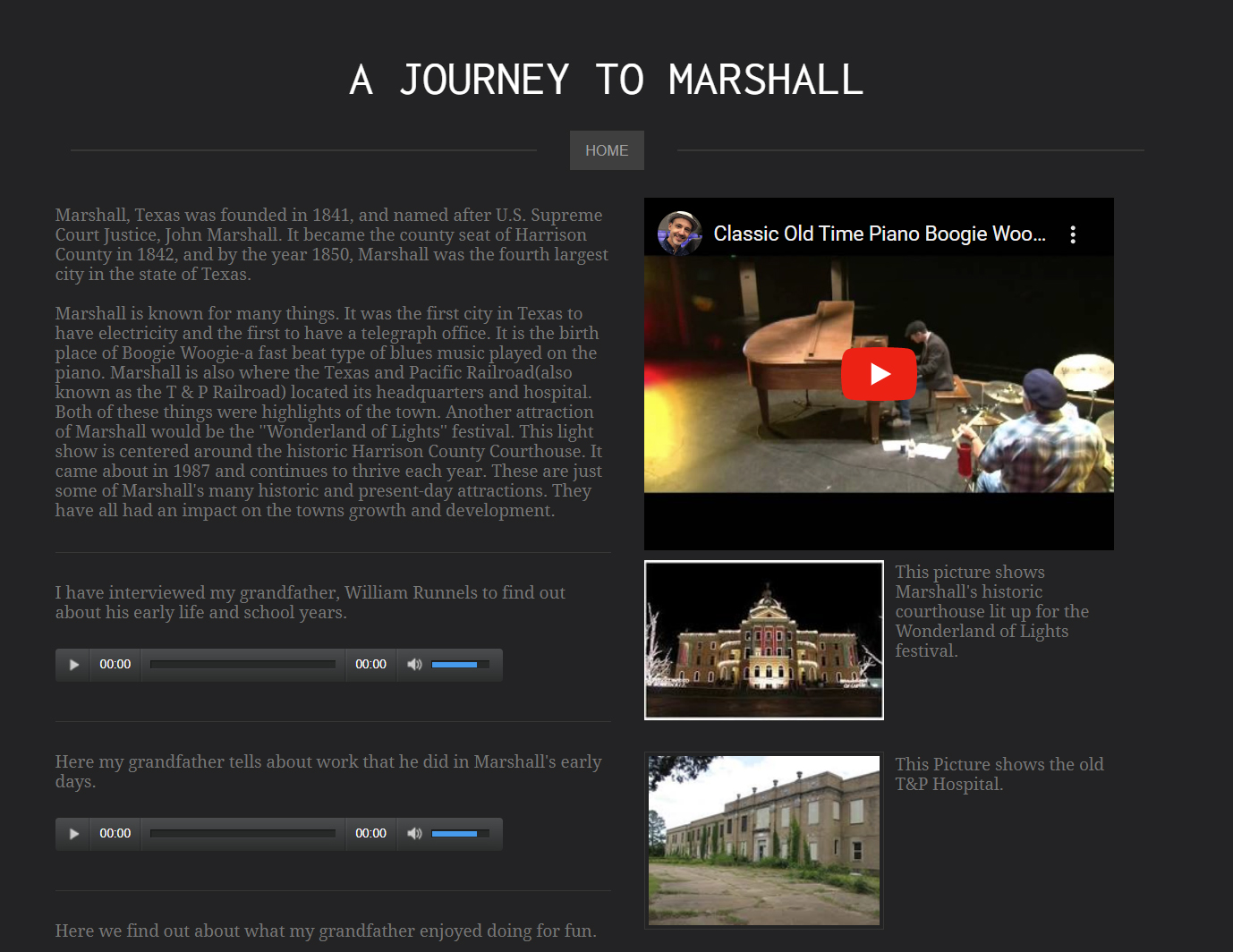 Seventh grade students in Marshall, Texas, worked in coordination with the Texas State Historical Association and National History to create multimedia websites that includes interviews with family, friends, and local residents. The work was supported by Museum on Main Street's Youth Access Grants in 2013-2014. In this project, a student interviews her grandfather, William Runnels, and created a companion website to host her work.
Olivia (00:00): When were you born?
William Runnels (00:01): I was born April the 5th, 1941.
Olivia (00:03): And were you from Marshall?
William Runnels (00:07): No, I was born in Huntsville, Texas or Walker County.
Olivia (00:10): Walker County. What brought your family to Marshall?
William Runnels (00:14): Well, when I was born, my father was a coach at Huntsville High School. And, the pastor of the First Baptist Church there became President of East Texas Baptist College at that time in Marshall. And when he came to Marshall as President, he recruited my dad to come up and teach math, and coach, that type of thing. That's how we came to Marshall. I was about two years old when we moved to Marshall.
Olivia (00:43): Wow. So you were very young. Was this a sufficient job for your family and everyone?
William Runnels (00:51): Yes, it was a work, I guess you'd say work what brought us to Marshall. My dad had a job there at the college.
Olivia (00:59): As you were growing up, what did you like to do for fun?
William Runnels (01:02): Well, we used to... My dad and I, we used to go fishing on Caddo Lake. I was probably four years old the first time he took me. And my mother would pack a lunch for us, and we'd rent a boat at Pine Island Pond and paddle around. We didn't have a boat or anything. We'd stay all day, and fish in the lake.
Olivia (01:26): What was a normal day of school like?
William Runnels (01:29): Well, a normal day of school. And you're talking about high school or grade school? I went to grade school at [inaudible 00:01:36].
Olivia (01:35): Okay.
William Runnels (01:38): And, I guess it's different than it is today because I just lived a block from the school. We had, I guess you'd consider a neighborhood school because every area of town had a grade school, which is similar to what you still have today. But, I could walk to school, and then I could walk home for lunch.
Olivia (01:59): Oh, wow.
William Runnels (02:00): And I'd eat lunch at home, and then come back to school.
Olivia (02:04): So that wasn't, nobody thought anything about that?
William Runnels (02:06): No, I would walk from our house there at the college. We lived right across from the college. I'd walk downtown by myself to go to the movie when I was older, I was probably junior high age, I guess. My sophomore year, before my sophomore year in high school. That pipeline is behind the Sonic. You probably never paid attention to it. There is a gas pipeline behind where the existing Sonic is on 59. That summer I worked cutting brush, of a survey with the pipeline. Made a dollar an hour, I think.
Olivia (02:44): Was that a hard job?
William Runnels (02:47): Well, I got a lot of redbug bites and tick bites, and it was hot down in the bottom. Really hot.
---
Asset ID: 2022.32.08
Themes: Family, coaching, teaching, education, fishing, memories, neighborhoods, downtown, work
Date recorded: 2013-14
Length of recording: 02:57
File Type: Website/Audio
Related traveling exhibition: Journey Stories
Sponsor or affiliated organization: Texas Historical Association in conjunction with National History Day
More information: https://www.marshallnewsmessenger.com/news/journey-stories/article_d2114c08-8e5d-5416-9d4a-d7652498bc08.html