Journey to America: CJ Khattra, Texas
As told by Sukhman
Marshall, Texas
Story Narrative: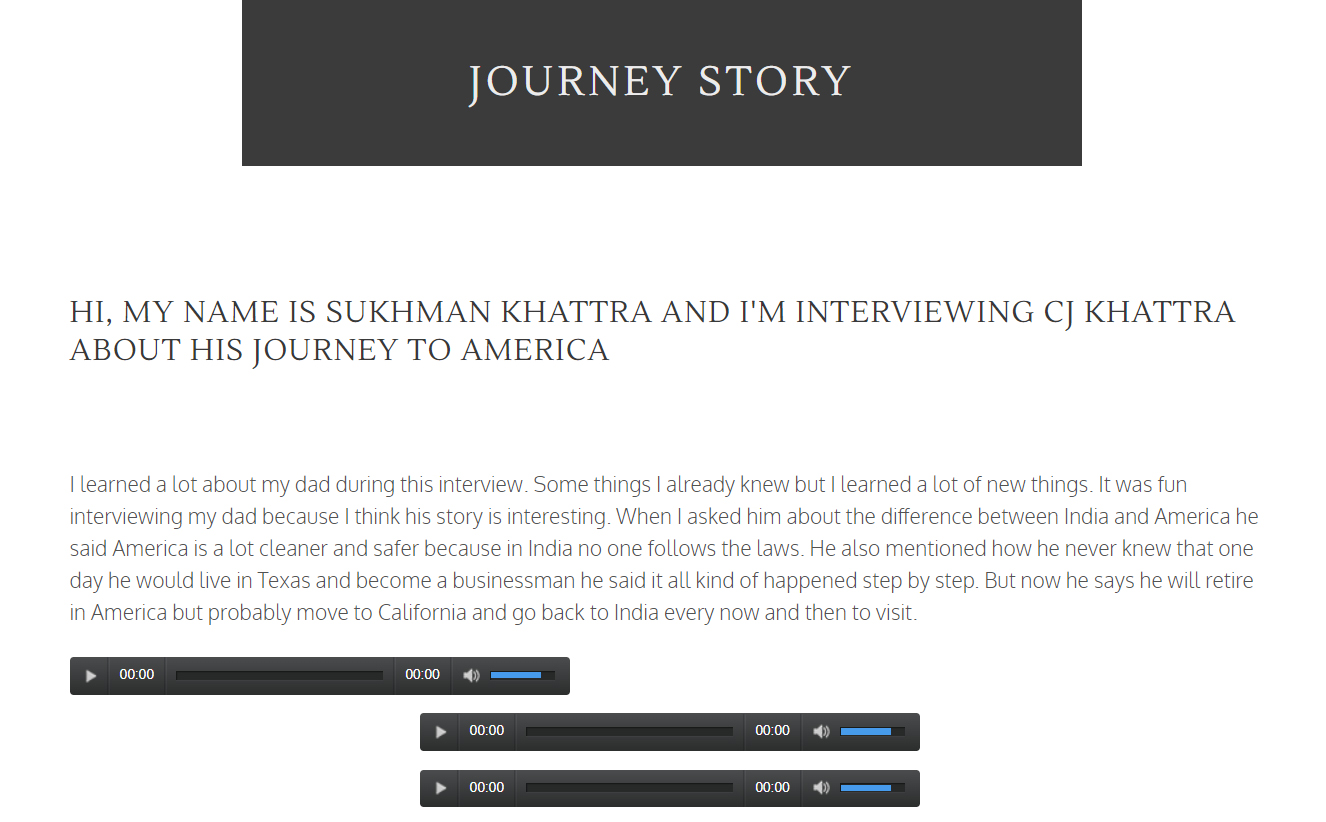 Seventh grade students in Marshall, Texas, worked in coordination with the Texas State Historical Association and National History to create multimedia websites that includes interviews with family, friends, and local residents. The work was supported by Museum on Main Street's Youth Access Grants in 2013-2014. In this project, a student interviews his father about coming to America and created a companion website to host his work.
Sukhman (00:00): When and where were you born?
CJ Khattra (00:02): In a small village called [inaudible 00:00:05] in Punjab, India, on 1973.
Sukhman (00:11): Why'd you come to America?
CJ Khattra (00:13): Job. For a better future.
Sukhman (00:20): Did you plan to be a businessman?
CJ Khattra (00:23): Not.
Sukhman (00:26): Did you ever think that you were going to be rich?
CJ Khattra (00:30): No, I never think, but I start my career with the furniture delivery. We load the truck in the morning and deliver the furniture into the houses and then I start driving cab and then my friend told me to go in the trucking. Then I start driving my own truck, then start my trucking company in 2004. And after that, step-by-step of coming to the business.
Sukhman (01:06): How was beginning life in a new country when you first came to America?
CJ Khattra (01:11): I was missed like few months my parents and all the culture back there and I had a problem to speak English first when I came in. But I was a hard worker. I went to college there so I understand what it was. Only problem to speak.
Sukhman (01:37): What do you miss most about India?
CJ Khattra (01:40): Family. My village.
Sukhman (01:45): How is America different from India?
CJ Khattra (01:48): It's totally different. America is very clean. India has no traffic laws. Even the steering of the cars on the other side.
Sukhman (01:59): Would you ever go back to India to live?
CJ Khattra (02:04): Not sure, but not really want to.
Sukhman (02:09): Why not?
CJ Khattra (02:11): Because there is no rules, no governance.
Sukhman (02:19): America's more sophisticated?
CJ Khattra (02:22): America, you got more rights and I think America is the best country.
---
Asset ID: 2022.32.10
Themes: Immigration, business, trucking, family, education, nationalities, culture, rights
Date recorded: 2013-14
Length of recording: 02:29
File Type: Website/Audio
Related traveling exhibition: Journey Stories
Sponsor or affiliated organization: Texas Historical Association in conjunction with National History Day
More information: https://www.marshallnewsmessenger.com/news/journey-stories/article_d2114c08-8e5d-5416-9d4a-d7652498bc08.html