James's Journey, Texas
As told by Catherine
Marshall, Texas
Story Narrative: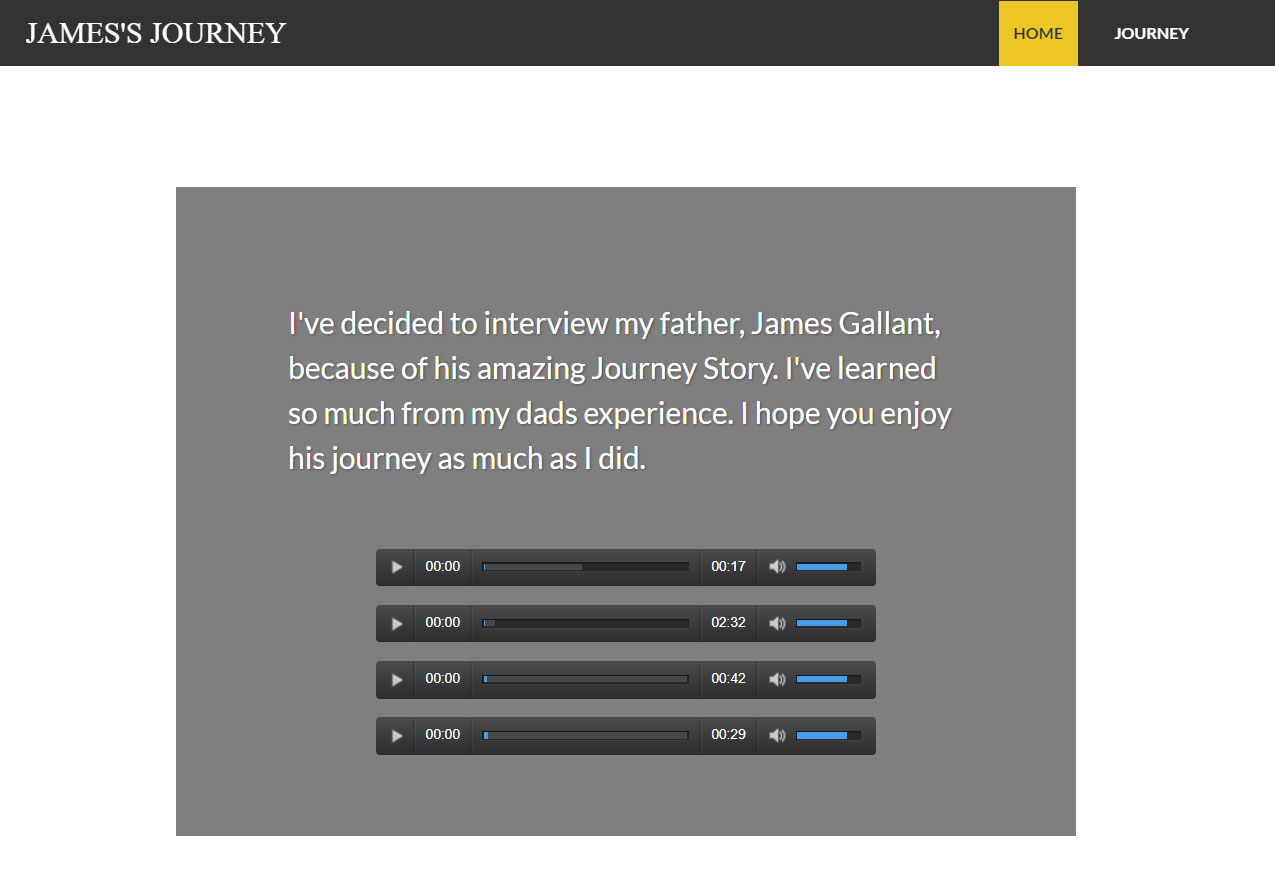 Seventh grade students in Marshall, Texas, worked in coordination with the Texas State Historical Association and National History to create multimedia websites that includes interviews with family, friends, and local residents. The work was supported by Museum on Main Street's Youth Access Grants in 2013-2014. In this project, a student interviews her father and created a companion website about her work.
Of the project she writes, "On October 1st, 1961 James Gallant was born in Reddeere, Alberta. Of course Reddeere, Alberta is all the way in Canada. His parents are James and Dorothy Gallant. James was a family name. His parents both served in the Canadian military. Because his family was in the military they had to move every three years. They started in Reddeere, Alberta then from there moved to Pinhold, Alberta, Winnipeg, Manitoba, Sennetere, Québec, Trenton, Ontario, Chilliwack, British Columbia, and then to Calgary Alberta. James has four sisters and two brothers. He went to many different schools and finally finished high school in Calgary. His job was a flyers route. He didn't have the opportunity to go to college so he went straight to the oil field. As he started his job in the oil field he traveled a lot. He went to Libya, Tripoli, Cuba, and many other places. His travels were based off of his business. James was going to set up businesses in these foreign countries but it its a lot harder to do than to set up businesses here. James work forced to move a lot. He's even had to travel through Europe, Canada, U.S.A, Middle East, and Africa because of his work. The oil and gas business eventually made him move to Texas where he stands today.

James started of in Bullard, Texas with a couple of different companies. After that he moved to Houston for about ten years because of the better market. When he left Houston,James came to East Texas. He opened some business in Jefferson where he lives today. He also built a businesses over in Ft. Worth and in New York State. The oil business is not the only business James was in. He was a newspaper boy, a maintenance man at a steakhouse, a banquet quarter at the four seasons hotel, a French waiter, and many other jobs. The types of companies James has owned are Signature Geophysical, Cupling Corp., Right of Way Land Services, and Mapping Info. James was just basically an entrepreneur finding things to do. He loves technology. his businesses always have something to do with technology. At this point in time James is running companies and raising children. He recently had his first grandchild back in September. James says that Canada is very different from Texas because Canada is very vast. He doesn't necessarily miss Canada but he does enjoy traveling there. James says he doesn't want to move back to Canada because its to cold for him now but he like Texas because of the warmth. I'm very thankful for being able to do this interview on my father. I've really gotten to know about his past and future life. I'm very thankful for him."
Catherine (00:01): What did your parents do?
James Gallant (00:03): My parents were both originally in the military. They served in the Canadian military. They served in Grostenquin, France. They were in Germany, and then back to Canada.
Catherine (00:16): Do you miss Canada?
James Gallant (00:18): I've spent a lot of time in Canada, and I like to travel around the world, so I probably don't miss it. I enjoy taking the girls back there where they can be with their oldest sister and their nephew, but to miss Canada, I've traveled a lot of Canada, there's a whole world left for me to travel, Europe, all the different places. So, I don't really miss any place, because I always moved every three years.
Catherine (00:45): Would you ever move back?
James Gallant (00:47): Probably not back to Canada. The weather is a little colder than I like it now. As I get older, I find I like the warm weather.
Catherine (00:58): So, is Canada very different from east Texas?
James Gallant (01:06): Canada is a vast area. Now when you get to the big cities in eastern Canada, it's a lot like Texas. If you are in Toronto, the big city is like being in Dallas, or New York. If you're in Innisfail, it's like being in Jefferson.
Catherine (01:26): Okay. While you were in Canada, did you travel anywhere?
James Gallant (01:30): I traveled quite a bit while I was in Canada. A lot of the places that it took me, Libya, I used to go to Tripoli quite a bit. I used to go to Cuba, Havana, [inaudible 00:01:44] all the places, and basically my travel, for the most part, was based on what I was doing in business.
Catherine (01:52): So you worked a lot over there?
James Gallant (01:54): I did. We looked at setting up different businesses, different opportunities. It never came to fruition. When you're doing foreign work, a lot of times things don't come to fruition, so you just basically get over there. The experience is wonderful, the people are absolutely amazing, and to see the diversity in cultures is amazing.
Catherine (02:16): So, did your job ever force you to move from somewhere?
James Gallant (02:20): Always. Being in the oil and gas business, you had to always move around. If you weren't moving, you'd run out of work. I've traveled all through Europe, all through Canada, all through the USA, the Middle East, Africa, based on where my job would take me.
Catherine (02:41): Okay, so the oil and gas business made you move to Texas?
James Gallant (02:46): It did. We came down here originally selling an oil and gas deal, but we also had geophysical companies, and one thing led to another, and I ended up in a place called Bullard, Texas, and put together a geophysical company over there. I had one currently running in southwestern Ontario, another one in Ohio at the time.
Catherine (03:06): So Bullard, Texas. How long did you live there?
James Gallant (03:11): We were there for about three years, and I actually had a place over in Tyler, Texas.
Catherine (03:18): From Tyler, did you go anywhere else?
James Gallant (03:21): We went to Houston. We found a better market over in Houston for what we were doing, and spent about 10 years in Houston.
Catherine (03:29): Okay, so after Houston, did you go somewhere else?
James Gallant (03:34): Well after Houston, we went to east Texas and set up shop in Jefferson, where I currently still remain. At the same time, we'd built a business over in Fort Worth, Texas, and I kept a residence there. We also built another business up in New York State in Chenango County, and I had an office up there, another residence up there during that period.
---
Asset ID: 2022.32.03
Themes: Fathers, family, immigration, Canada, military, industry, travel, oil
Date recorded: 2013-14
Length of recording: 03:59
File Type: Website/Audio
Related traveling exhibition: Journey Stories
Sponsor or affiliated organization: Texas Historical Association in conjunction with National History Day
More information: https://www.marshallnewsmessenger.com/news/journey-stories/article_d2114c08-8e5d-5416-9d4a-d7652498bc08.html