Issues that Brought Me to the Polls: Chiara Benato, Maryland
As told by Chiara Benato
Salisbury, Maryland
Story Narrative: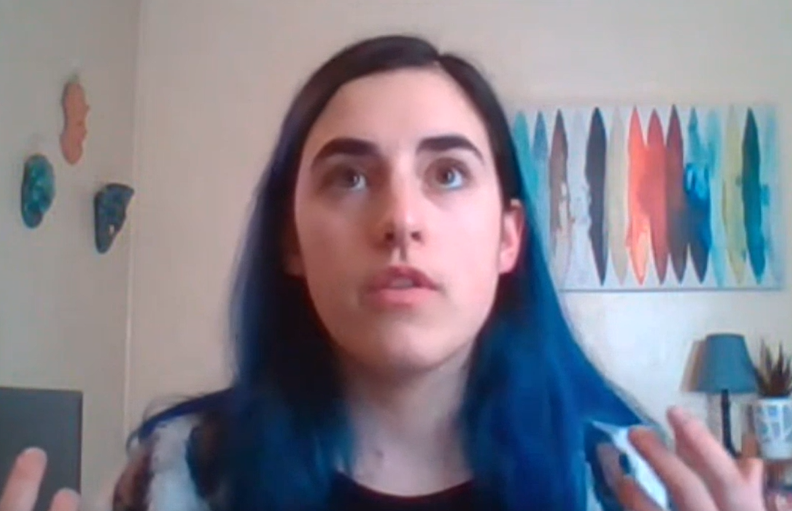 This snapshot was gathered in conjunction with the Maryland Voices initiative at Maryland Humanities, specifically to supplement the "Voices and Votes: Democracy in America" traveling exhibition from the Smithsonian's Museum on Main Street program. This collection, made up of stories of first-time voters between the ages of 18 and 24, showcases the experiences of young people as they wrestled with the 2020 presidential election, issues around social justice, the environment, immigration, and the pandemic.
Chiara Benato (00:00): I'm Chiara Benato. I'm originally from New Jersey. I moved to Maryland almost three years ago now permanently. I came here originally for school at Salisbury University. I received a bachelor's degree in history and education and continued my education directly after, at Salisbury University again, getting a master's in English literature. I'm also a TA there, so I get to interact with undergrad students and still get to pursue my passion for teaching there.
Chiara Benato (00:35): When I was voting a lot of the things, a lot of the passions that I have revolve around the environment. Personally, there's a rundown of how much time we have left before we run out of resources, or we deplete our resources as a globe and the environment is a big thing that I have been researching. I've been passionate about for pretty much my whole life, but more in depth over the past I want to say five years.
Chiara Benato (01:12): I went on a trip to Canada with a few friends. We got really, really close and we ended up becoming, my mom ended up calling me she's like, I'm a modern hippie. Because it's not like peace and love it's, "Please listen to us. The planet's going to die." And when I was voting, hearing all of the things that were said concerning that, definitely influenced my vote and who I voted for. Another concern that I have is equal rights. That includes for people of color, for women, transgender, LGBTQ+, all those varying different people.
Chiara Benato (02:02): No one should be restricted based on who they are as a person and by the color of their skin. Again, a big factor is that I took into account when I was voting. Do I believe I picked the right candidate? I believe I did for my beliefs. And is there things that, that candidate has done that they could improve on or as we can improve on as a country and continue to improve on? Yeah. But that's why, we evolve we don't stay stagnant.
---
Asset ID: 2021.03.07.i
Themes: Gen Z, issues, concerns, LGBTQ, environment, climate change, voting, polls
Date recorded: January 29, 2021
Length of recording: 02:48 m
Related traveling exhibition: Voices and Votes: Democracy in America
Sponsor or affiliated organization: Edward R. Nabb Research Center, Salisbury University, in partnership with Maryland Humanities
More information: https://www.mdhumanities.org/programs/museum-on-main-street/2021-2022-tour/