Hopeful for the Future of America: Reeve Kennedy, Maryland
As told by Reeve Kennedy
Frostburg, Maryland
Story Narrative: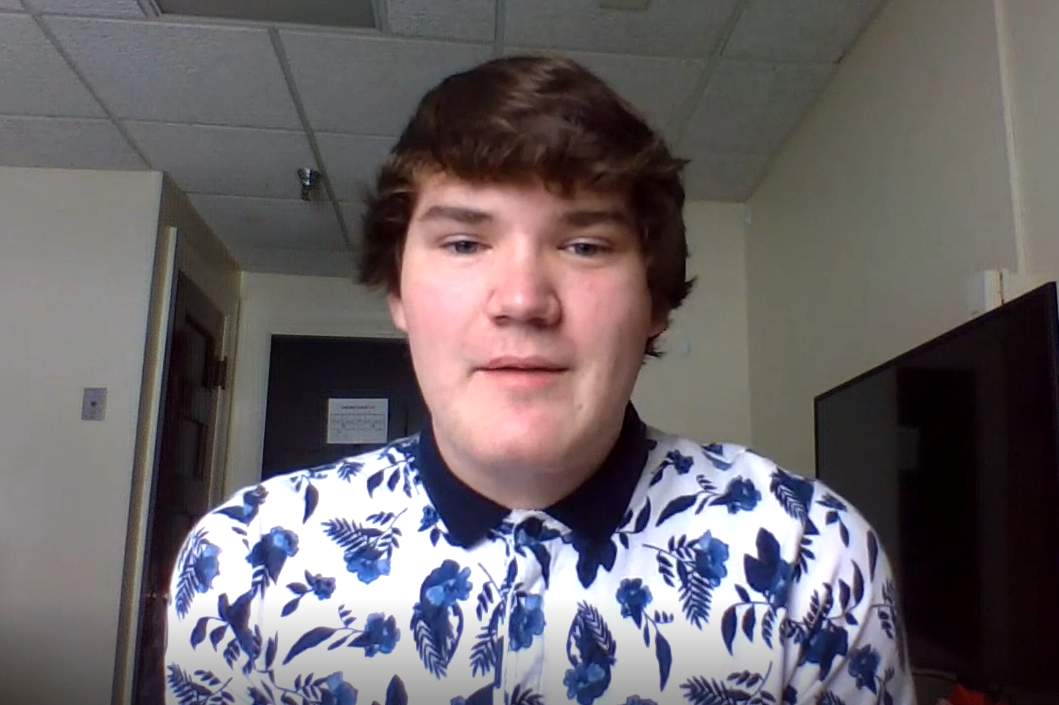 This snapshot was gathered in conjunction with the Maryland Voices initiative at Maryland Humanities, specifically to supplement the "Voices and Votes: Democracy in America" traveling exhibition from the Smithsonian's Museum on Main Street program. This collection, made up of stories of first-time voters between the ages of 18 and 24, showcases the experiences of young people as they wrestled with the 2020 presidential election, issues around social justice, the environment, immigration, and the pandemic.
Reeve Kennedy (00:00): I'm Reeve Kennedy. I'm 18 and I go to Frostburg University. I have a double major in English with a literature focus, and law and society with a legal studies focus. Democracy and voting is kind of my thing, really.
Reeve Kennedy (00:14): I genuinely am hopeful for our country. I plan to work for the ACLU moving forward. I plan to be a lawyer for them, as well as a public defender in courts, with the eventual hopes of being a judge. I think it's one of the most hopeful for our country careers that could hold. But in general, I'm very hopeful because I just think there's so much good that can come out of it. And you can only move up. Once you get too low, you have to move up at some point. And our new generation, like I mentioned, we're truly striving for that.
Reeve Kennedy (00:45): That's why I think one of the things that annoys me the most is with Donald Trump, when the left would be like, "Oh, we don't like him as a president," well, then leave the country. Why would we want to leave a country that we would like to work towards and fix? I'm proud of my country, no matter whether I'm proud of the leader or not. I am proud of it. It's a democracy. I know that I would not have supported that leader and I didn't vote for that leader, but I'm still part of our country and still so hopeful for it to move forward.
Reeve Kennedy (01:10): I wouldn't want to leave just because of one leader. The same with people on the right with Joe Biden now. I hope that they wouldn't leave America because they don't like Joe Biden. I hope that they'd want to stay and they'd want to work with the left and still shape their ideals because we all have to live here together anyways. So therefore, all of our opinions really do need to mesh together. If we have a 50/50 split, we're not really going to get anywhere, are we?
Reeve Kennedy (01:32): That's truly, what makes me hopeful in general is that like we can just fix things. And some of the challenges definitely are, like I mentioned that 50/50 split, there were 74 million Americans who voted for Donald Trump. And that, I don't want to say scares me per se, but it definitely is a challenge moving forward. We have someone new in office and people aren't willing to let that go. We just had that entire coup last month. And that's definitely something we're going to have to work on. We'll have to come together as a nation once again. And that's really important.
---
Asset ID: 2021.03.14.d
Themes: Elections, voting, Gen Z, hope, collaboration, dialogue, polarization, division, unity, Joe Biden, Donald Trump, politics
Date recorded: February 1, 2021
Length of recording: 02:03 m
Related traveling exhibition: Voices and Votes: Democracy in America
Sponsor or affiliated organization: Allegany Museum, in partnership with Maryland Humanities
More information: https://www.mdhumanities.org/programs/museum-on-main-street/2021-2022-tour/