Hopeful for the Future of America: Kacie Cassar, Maryland
As told by Kacie Cassar
Salisbury, Maryland
Story Narrative: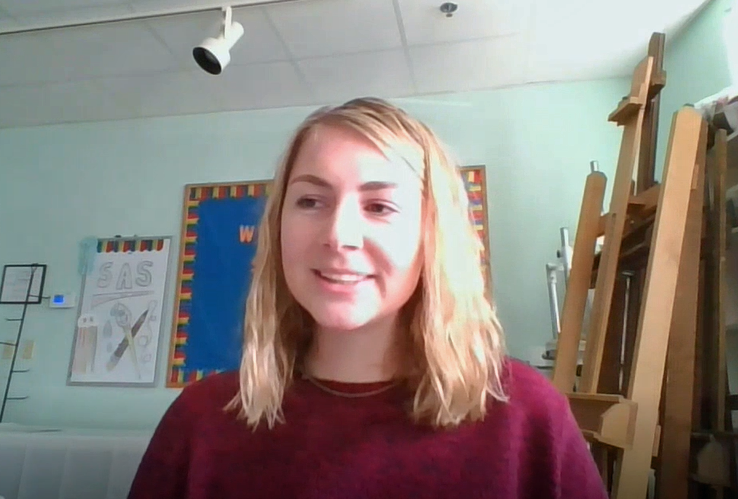 This snapshot was gathered in conjunction with the Maryland Voices initiative at Maryland Humanities, specifically to supplement the "Voices and Votes: Democracy in America" traveling exhibition from the Smithsonian's Museum on Main Street program. This collection, made up of stories of first-time voters between the ages of 18 and 24, showcases the experiences of young people as they wrestled with the 2020 presidential election, issues around social justice, the environment, immigration, and the pandemic.
Kacie Cassar (00:00): My name is Kacie Cassar. I am originally from [inaudible 00:00:03], Pennsylvania. I currently go to school at Salisbury University, down on the Eastern shore in Maryland. I am a current graduate student studying history. My focus is on public history, as well as I am the graduate assistant for PACE, which is our Institute of Public Affairs and Civic Engagement here at Salisbury University.
Kacie Cassar (00:23): We see how extreme an election can get this year; this was one of the craziest elections we've seen, and I'm really hopeful that, with our education systems, and working towards these civic engagements, and building communities that, the younger generations, as they move up, can create more of this balance, and this understanding, more compassion and empathy.
Kacie Cassar (00:49): Until then, I think a lot of older generations are stuck in their ways, and this is the time to help mold, and educate, and provide the information the voters need to realize what's out there, and what can and can't be, and move on from there. Right now, a little pessimistic, but until we are reforming how we educate about being civically engaged and involved, I'm hopeful it can get better.
---
Asset ID: 2021.03.12.d
Themes: Community, civic engagement, compassion, empathy, balance, Gen Z, hope, voting, reform
Date recorded: January 28, 2021
Length of recording: 01:21 m
Related traveling exhibition: Voices and Votes: Democracy in America
Sponsor or affiliated organization: Edward R. Nabb Research Center, Salisbury University, in partnership with Maryland Humanities
More information: https://www.mdhumanities.org/programs/museum-on-main-street/2021-2022-tour/