The History of the Hoff Log Barn, Maryland
As told by Abraham Howard
Westminster, Maryland
Story Narrative: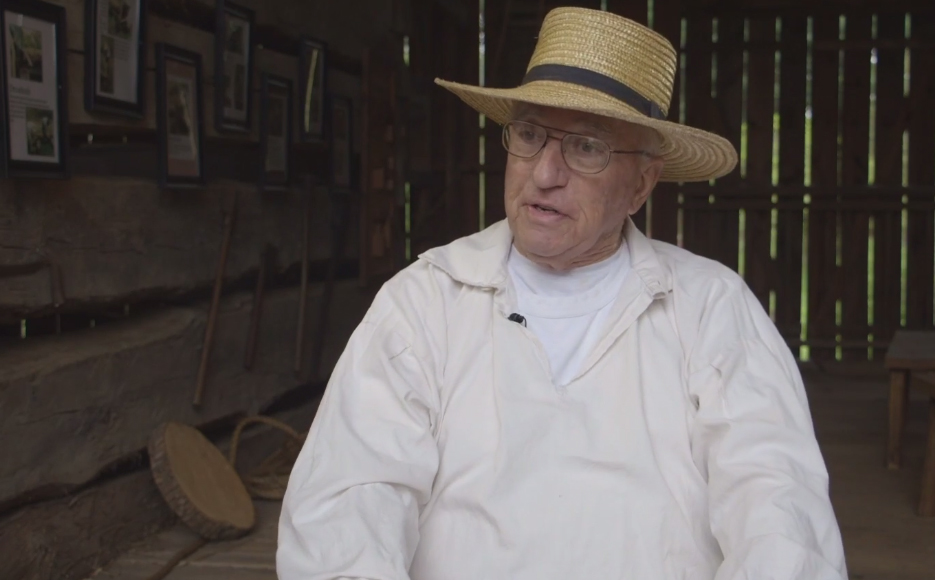 Student Abraham Howard produced this video about the ca. 1792 Hoff Log Barn in Maryland, in collaboration with the Carroll County Farm Museum, Union Mills Homestead, Maryland. The Hoff log barn was built when George Washington was president and stands to this day at the Carroll County Farm Museum. It was donated to the museum by the late Marlin Hoff, a New Windsor dairy farmer. The two-story bank barn was built by farmer Yost Greenwood out of 90 hand-cut and hewn logs and contains no nails.
Bob Shirley (00:11): Hey, it's 1790. George Washington is president, and we want to build a barn.
Bob Shirley (00:26): This is the Hoff log barn. All right. Now, it was, as I said earlier, Yoste Greenwood was a Pennsylvania Dutch fellow, i.e. a German, was the original owner of the land, had the barn built. This is 1790-ish. Then, his family owned this barn until after the Civil War, 1860s, 1870s. The Hoff family bought the barn. So, in 200-plus years, that property and this barn was owned by two families, which I think is a little bit on the remarkable side.
Bob Shirley (01:12): What did the Greenwood family raise on their farm? Well, the main purpose of that farm was to feed, clothe, and shelter the farm family. Much more worried about starving to death than making money. It was largely a subsistence farm. These are, as we look at these logs up here in the top of the barn, they are the original logs. Now, the logs are just stacked. If you look at the joints, you can see that there's no nails. There's no glue. There's nothing holding them in place but those notches and, of course, the weight of the logs. Tornado or a hurricane comes through here, the roof's gone. The siding's gone. The logs will still be here. They're not going to move.
Bob Shirley (02:14): A furniture maker from Washington DC came to Mr. Hoff. He said, 'I want those logs. I'll give you ... ' I've heard 30 and 40 thousand dollars for that barn to get those logs to make furniture from. Luckily for us, Mr. Hoff said, 'No. I'm donating it to the farm museum.' And so, here it sits.
---
Asset ID: 8581
Themes: Crossroads, small towns, agriculture, history, architecture, preservation, living history, museums
Date recorded: 2017
Length of recording: 2:59 m
Related traveling exhibition: Crossroads: Change in Rural America
Sponsor or affiliated organization: Carroll County Farm Museum, Union Mills Homestead, Maryland
More information: See additional stories from Carroll County, Maryland