Helping Each Other in Gentry, Arkansas
As told by Gentry Intermediate EAST Students
Gentry, Arkansas
Story Narrative: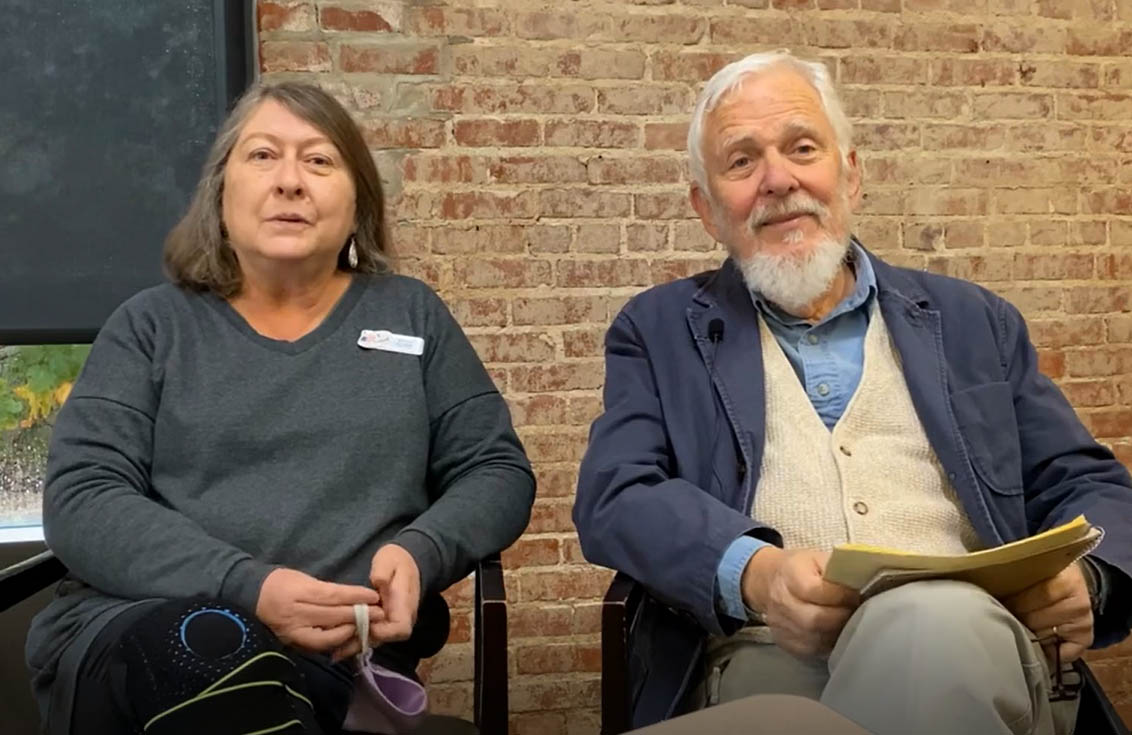 Students at the Gentry Intermediate EAST Students in Gentry, Arkansas, worked with the Gentry Public Library to produce short documentaries about everything from protecting local skies during the 1950s' Cold war-era to supporting the library and feeding hungry families.
Burt Crume (00:05): One of the lasting legacies of community I described about in Gentry, is how citizens rallied to stop a bank robbery.
Janie Parks (00:14): On March 31st, 1923, the First National Bank building in Gentry was held up by the Al Spencer gang. About noon on that day, the bandits drove into Gentry in a new Studebaker car they had stolen in Tulsa. And came into the bank building with their guns a blazing, as some of the newspaper articles said. The cashier at the time, Mr. Covey, and three others were ordered to raise their hands and to give them the money in the bank vaults.
Janie Parks (00:49): Unbeknownst to the Spencer gang is that there was an alarm system in this brand, new bank in 1923. And when the teller hit the button, the whole town rushed out into the streets to see what was going on at the bank. And a shootout ensued in the streets. And the Spencer gang fled over into Oklahoma. Got away. But were later arrested.
Burt Crume (01:19): One of the members of the Al Spencer gang was a guy named Henry Wells. And when I was a kid growing up in Okesa, Osage County, Oklahoma, there was an old man sitting around, leaning on a cane always, like this. But he had big handlebar mustaches. The only picture I could find of Henry Wells is one taken at Woolaroc in about 1927 when Frank Phillips started having the Outlaw Law Man Reunions picnic.
Burt Crume (01:48): Henry Wells did spend five years in McAllister, the state pen, in Oklahoma, that's where he made Al Spencer. And so they planned stuff. People have pretty much decided that Henry Wells wasn't part of the robbery part of the gang, but he did help in the planning and set it out. Don't know what happened for sure, with Henry Wells from when he got out of prison in 1923, until a story in 1946 in the Pawhuska Newspapers saying, "I'm going to retire from the banking business."
Danny Feemster (02:18): Well, it was a tower that had a walkway built up on top of one of the businesses on main street, which was Blacker's Variety for years, I believe around along in there now. It's across from where ACE Hardware was. But it was manned 24/7, and we took volunteers, took time periods. Maybe you'd be there from two or three hours. Any time a plane went over, you'd tell the direction it was going. And whether it was a little plane, a big plane, because we didn't know the makes of all the planes.
Danny Feemster (02:50): But that was what it was for. It was reported, I don't know what it was reported, just as soon as we saw it or what. When I was up there, I had covered an area time reporting, but I don't ever remember calling anything in. So I don't know how that worked. This was back in probably the early 50s.
Marla England (03:09): It had to be around the middle '50s, because I barely remember. I was born in 55 and I barely remember going up there with my parents, because it was such a interesting, sort of scary thing to do.
Danny Feemster (03:24): Well, everybody then thought it was a big deal it was going to get bombed by the Russians or something. In storm season, of course, you were there watching for tornadoes too. It was good view. But I don't think it went on too long. I don't even know, it lasted a year or two or not. But it could have been at the same time, that some conflict was going on somewhere in the world with some country. I don't really remember. We thought it was a big deal, because it was something real different.
Connie Howarth (03:53): It actually started here in the sanctuary. Someone decided they needed to do a canned food, and they had a table in the back corner and they started bring in cans of food. And the pastor decided that we should move it to the Fellowship Hall. They moved it to the Fellowship Hall and it grew into this big organization. Now it's a nonprofit organization all by itself, separate from the church. Of course, it's still housed in the church.
Connie Howarth (04:20): We're very blessed. We have so many dedicated volunteers. Most of them are retired people. And this is what we do. Monday, Tuesday, and Thursday we're here working on the pantry stuff. On Monday, we have a few people that actually have full-time jobs that take their day off to come and help us. We buy food from the Food Bank and the families that are in need, especially due to COVID, a lot of people have come forward and they've lost their jobs and they need food, and we just provide food.
Connie Howarth (04:52): We try to service everybody every 30 days, but we know that it has been harder on people because of COVID. And so we sometimes are lax about the 30 days and we give everybody a certain box of dry foods. We try to give everybody the same thing. And then we get a lot of food from like Simmons and Tyson will give us chicken. We get food from Aldi's. And Come and Go also gives us their day old sandwiches.
Speaker 6 (05:18): Wow.
Connie Howarth (05:18): And we just combine all that into a group. A lot of times the Food Bank will have boxes of dairy stuff, milk, and cottage cheese, and cheese. And we just give as much of that as we can to every family. There is no real qualification. You just need to need food. I have a form from the Food Bank that they have. We have partnered with the Food Bank, and so I log in online and I put in this basic information on every family.
Connie Howarth (05:47): It's not so that they can track that person, it's just that they can track statistics. We average about 250 a month. The first week after COVID we actually had 110 families come in and that's families, not just people. Right now, we average 50 to 60 a week-
Speaker 6 (06:06): That's a lot.
Connie Howarth (06:07): ... families.
Speaker 6 (06:08): Yeah.
Connie Howarth (06:08): Yeah. And that's 200 people a week. It's the look on someone's face when they come in and get all this food. And we give them as much as we can. And sometimes we have a lot of stuff. And so we try to give it all out. And the look on their face, the appreciation that someone does care, that hope is not all gone. We strive to actually be a beacon of hope to the community. We know there are hard times going on, and we want people to realize that there is still hope.
Rachelle Pollard (06:40): So he was diagnosed the summer after his third grade year. And we had a couple doctor's appointments and stuff, and I did a lot of research. The doctor agreed with me. And so we did some blood tests and he came back positive. And so we went to Little Rock to see a rheumatologist, which is a doctor that specializes in connective tissue diseases. And he diagnosed him with scleroderma then. He was nine.
Rachelle Pollard (07:14): And he's going to be 12 next month. So this is our or third year living with scleroderma. So it affects usually women between the ages of 20 and 40. And they're usually African-American women that it affects. So he is the rarest of rare. He's one in one million child that has this disease. So out of a million children, he is the only one that has it. But because he's a boy, he is one in 3 billion boys that has this. There's only one other boy in the United States that has the same disease that he has.
Rachelle Pollard (07:53): Suzette Manon and I were talking about getting some money together, because I wanted to take Jacob to Disney World. It's a lot of walking. And so I wanted to take him while he was younger and he could still walk and not get super tired and worn out, and still enjoy the things that Disney World had to offer. And so she felt like God just laid it on her heart to make it a big benefit. And so she rounded up a bunch of the ladies in our community and they started putting together a very large, exciting party.
Rachelle Pollard (08:37): That's all he thought it was, was a party. But had money donated. And we did it around Halloween. So people dressed up and then they had an auction and Wes Evans sold one of us Gambler cars. They auctioned that off. And then we had a pie auction while we were there. And so the benefit night ended up raising right around $10,000. There was almost 300 people there that night.
Rachelle Pollard (09:08): So it ended up being a very large benefit. All the food was donated. Everybody's time was donated. So the community really came together to raise awareness and raise money for us to take him to Disney, and to support all of his medical travel needs and things like that. He was very surprised.
Jacob Pollard (09:28): I thought it was just a regular party. And then all of a sudden a big humongous ticket comes out. And then I hear behind me, "You're going to Disney."
Rachelle Pollard (09:38): It could not have been as successful as it was without everyone in our community pitching in to help.
Linda Crume (09:44): And so I've had the opportunity to watch how the community has interacted with the library, starting by taking the Carl Hardware Store and turning it into the library. So we have this marvelous old building. And I hear how proud people are about this building. And they should be. It's a wonderful building. So our library was also awarded the American Institute of Arts National Library Award. I'll get the name wrong, but very, very few libraries that have ever had that.
Linda Crume (10:17): And so we have a lot to be proud of here and I think citizens are. And we talk about support. Our library is fully supported by friend's groups, and volunteers. If it weren't for the Gentry Public Library Association, we wouldn't have the books that we have in this library. They make all of the funds available for those, which tells me how much the community wants to support what's happening here.
Linda Crume (10:43): We have had seed exchanges here, which was a lot of fun. And we've brought in master gardeners and master naturalists and all those.
Burt Crume (10:53): And the beekeepers.
Linda Crume (10:54): And the beekeepers.
Burt Crume (10:55): And we can't forget the McKees.
Linda Crume (10:57): Yeah.
Burt Crume (10:57): We're sitting in the McKee Community Room.
Linda Crume (10:57): Yeah. We're sitting in the McKee Community Room and just how much they've supported our summer reading programs and other programs. It's just been a very, very pleasant surprise to see how much the community supports-
Burt Crume (11:14): Right
Linda Crume (11:14): ... what happens here at the library. And of course, then what happens throughout the rest of the community. So, yeah.
Mayor Kevin Johnston (11:22): Every day I see the community helping each other, whether it be a family that has experienced a tragedy, maybe a fire, loss of a loved one. There was a funeral today. And the community always comes together for each of us to help us through whatever it is we're struggling through, whether it's difficulty putting food on our table, a loss of a loved one, loss of a home, loss of a vehicle give someone a ride to work, anything like that. We all come together to help each other.
---
Asset ID: 2022.06.01
Themes: Kindness, volunteers, food bank, generosity, COVID-19, hope, neighbors, community, banking, history, outlaws, civil defense, Cold War, connective tissue disease, public library, pride
Date recorded: 2020
Length of recording: 11:52 m
File Type: Video
Related traveling exhibition: Crossroads: Change in Rural America
Sponsor or affiliated organization: Gentry Intermediate EAST Students, in collaboration with Gentry Public Library, Gentry, Arkansas
More information: