A First-Time Voting Experience: Chiara Benato, Maryland
As told by Chiara Benato
Salisbury, Maryland
Story Narrative: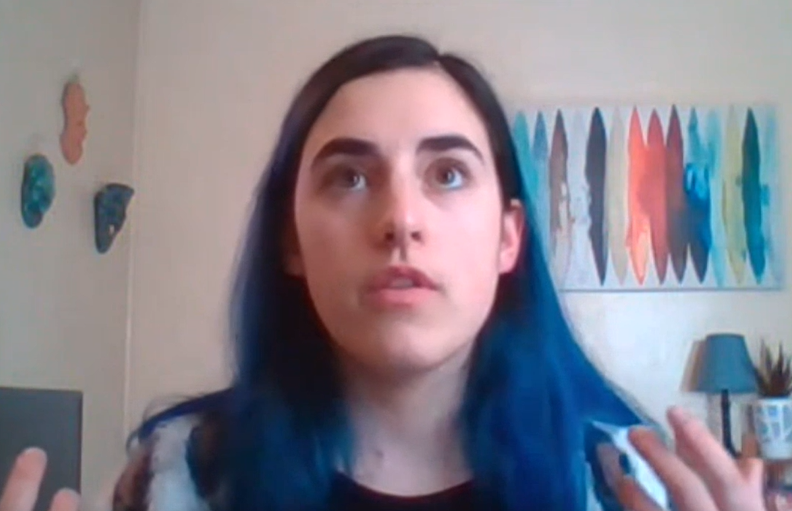 This snapshot was gathered in conjunction with the Maryland Voices initiative at Maryland Humanities, specifically to supplement the "Voices and Votes: Democracy in America" traveling exhibition from the Smithsonian's Museum on Main Street program. This collection, made up of stories of first-time voters between the ages of 18 and 24, showcases the experiences of young people as they wrestled with the 2020 presidential election, issues around social justice, the environment, immigration, and the pandemic.
Chiara Benato (00:00): I'm Chiara Benato. I'm originally from New Jersey. I moved to Maryland about almost three years ago now. Permanently I came here originally for school, at Salisbury University. I received a Bachelor's degree in History and Education, and continued my education directly after at Salisbury University again getting a Masters in English Literature. I'm also a TA there, so I get to interact with undergrads still, and still get to pursue my passion for teaching there.
Chiara Benato (00:35): So, the first time I voted, I was still... It was the 2016 election, and I voted by mail. I did an absentee ballot, because I was at school at the time, it was my freshman year, and I filled out all the paperwork, got my ballot in the mail. It was really easy. It's a lot easier than I thought it was going to be. And I remember a couple of days before the election, I was starting to do research and on all of the candidates, both Donald Trump and Hillary Clinton, and also the third party candidates.
Chiara Benato (01:17): I remember on campus there was a buzz of a mixture of, I want to say excitement, but also not fear, but there was a worry because there was a lot of different rhetoric being brought about by both candidates. I remember sitting in the library that was just built, and it was not finished being built, on the first floor surrounded... I was on the floor.... We on my laptop just searching and doing research in order to pick a candidate to vote for, that I felt aligned with my political beliefs. And sitting on the floor, my friends were all studying, I picked my candidate and I closed the envelope, I put it in my backpack, I went right back into studying for my ancient history test, I think it was on Chinese history, that was the very next day.
Chiara Benato (02:18): Yeah, that was... It was a nice experience because I didn't feel pressured to, or not pressure, but I didn't feel like how had to wait in the line. I got to kind of do things in my own time, which was really nice. After I voted, I felt, the minute I dropped my ballot in the mailbox, well, the mail slot in the university, I felt really good. I did feel a sense of empowerment and I felt that my voice was being heard, because I being a history major, I had heard your voice matters. Being a lover of history in addition to that, knowing that every vote counts, whether someone believes that or not, I believe that. So I felt a sense of doing a civic duty, and also being empowered that my voice was heard.
Chiara Benato (03:19): Now, the candidate I voted for in 2016, did not win, Donald Trump won. And after that, there was a sense of concern. I know that thinking back, I remember speaking to my roommate the next day, and just turning to her and saying, "Donald Trump is our president," and she said, "No way, you're pulling a prank," and I said, "No". But, we had to go to our 8:00 AM class, so we kind of had to deal with it over the past four years.
---
Asset ID: 2021.03.07.d
Themes: Voting, Mail-in ballots, college, university, Hilary Clinton, Donald Trump, president, empowerment, elections
Date recorded: January 29, 2021
Length of recording: 03:50 m
Related traveling exhibition: Voices and Votes: Democracy in America
Sponsor or affiliated organization: Edward R. Nabb Research Center, Salisbury University, in partnership with Maryland Humanities
More information: https://www.mdhumanities.org/programs/museum-on-main-street/2021-2022-tour/