Fidel Sanchez: Journey to America, Texas
Bryan, Texas
Story Narrative: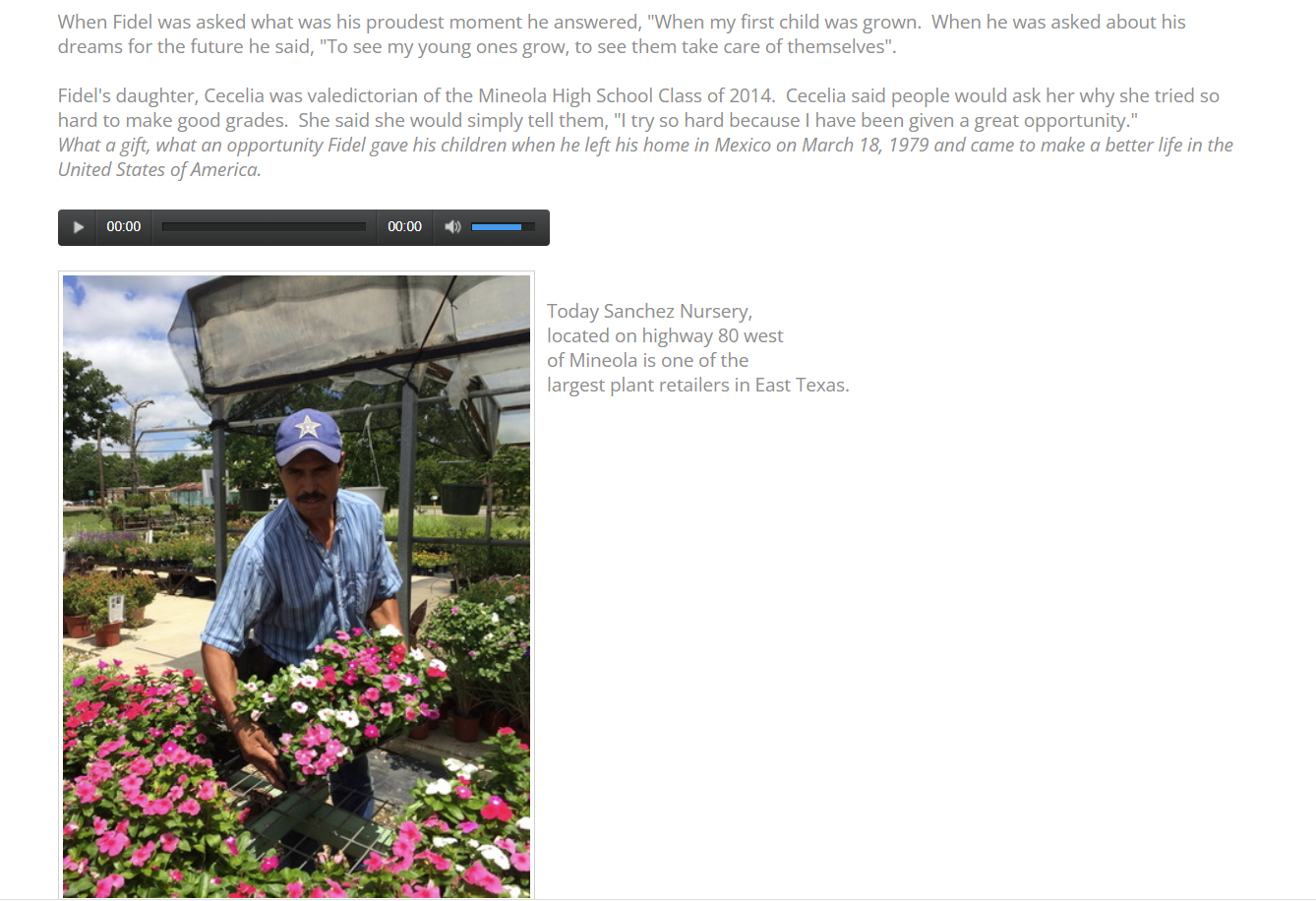 Students at Mineola High School in Texas, developed content-rich websites that explored "journey stories" in their community. Participating students interviewed family, friends, and other local residents as part of their official Youth Access Grant local history projects, supported by Museum on Main Street in 2013-14.
In this example, a student spoke with a Mineola resident who had immigrated from Mexico. The content below is extracted from the student's website. Transcripts for the interview with Fidel Sanchez are included with the media files.
Fidel Sanchez: Journey to America
Fidel Sánchez was born on July 18, 1964 in Cañada Municipio de Tarimoro, Guanajuato, Mexico. He has lived in Tarimoro, Mexico; Raleigh, North Carolina; Madison, North Carolina; Madison, Florida; Madison, Georgia; West Virginia; Van, Texas; Golden, Texas and Mineola, Texas. Mr. Sánchez married Salud Sánchez in 1992. Together they had three children; Ruben Sánchez, Cecilia Sánchez and Hugo Sánchez. The amount of education Fidel received was very little. He only attended his first day of first grade. His work experience includes; yard work, agriculture, farming and farming machinery. His nationality is Mexican. Some of Fidel's interests include seeing his children grow, being outside and enjoying nature.
Fidel's Walk
Fidel first crossed over into the United States at Nuevo Laredo on March 18, 1979 at the age of 14 and ended up first at Levi, Texas. Then he went straight to Raleigh, North Carolina. Fidel rode the bus from his hometown to somewhere near the Texas-Mexico border. He walked for 9 days crossing the Texas-Mexico border. After the cross he was picked up by a coyote and carried to Levi, TX and then on to Raleigh, NC. to work as a farm laborer in the tobacco fields.
Crossings
1st Crossing: Tarimoro, Mexico; Levi, Texas; Raleigh, North Carolina; Madison, North Carolina; Home to Mexico; Other Crossings: Tarimoro, Mexico; Levi, Texas, Madison, Florida; Fruitvale, Texas; Madison, GA: West Virginia; Van, TX; Golden, TX; Mineola, TX.
The Hardest Part
Fidel left behind his parents and family in Mexico to find a better life in the United States.

"They did not look ahead. They looked behind."
He said he was very excited to go to school. The teacher gave him a paper and he finished it in just a few min. It was tracing the letter "T" several times. He proudly ran it to the teacher and she gave him another paper. This time it was tracing the letter "O." This was harder and took more time. He was anxious to go back the second day but his dad had goats for him to feed that day. He can't remember why, but he never returned to school. His older brothers helped him to learn to read and write. He was embarrassed in later years by his lack of education.
Farm Labor
Fidel was hungry for a better life. He heard people "make better" in the United States. Fidel said, in Mexico, "We had nothing." "We had some money, but we didn't know how to spend the money." Fidel's first job was a farm laborer in the tobacco fields of North Carolina. He would sometimes walk, sometimes ride with a friend to the the next farm for his next job. Fidel made many trips back to his hometown of Tarimoro, Mexico to see his mom and dad. He still goes back every year to visit. When asked about his Mexican traditions, Fidel replied, "I live here and I follow the United States traditions because I've spent most of my life here"
Putting Down Roots
In 1984 Fidel's travels began to cease and he put down roots in Mineola, Texas. Fidel and Salud were married in 1992 and shortly afterward they began their family. Fidel worked in the sweet potato fields near Golden, Texas for several years, but his dream was to own his own business. He bought a small push mower and a weed eater and began hiring out for yard work. After many years of saving his money he opened Sanchez Nursery. Today, Sanchez Nursery, located on highway 80 west of Mineola is one of the largest plant retailers in East Texas.
When Fidel was asked what was his proudest moment he answered, "When my first child was grown. When he was asked about his dreams for the future he said, "To see my young ones grow, to see them take care of themselves". Fidel's daughter, Cecelia was valedictorian of the Mineola High School Class of 2014. Cecelia said people would ask her why she tried so hard to make good grades. She said she would simply tell them, "I try so hard because I have been given a great opportunity."
What a gift, what an opportunity Fidel gave his children when he left his home in Mexico on March 18, 1979 and came to make a better life in the United States of America.