Family Businesses in McCook, Nebraska
As told by McCook Nebraska Students and McCook Economic Development Corporation
McCook, Nebraska
Story Narrative: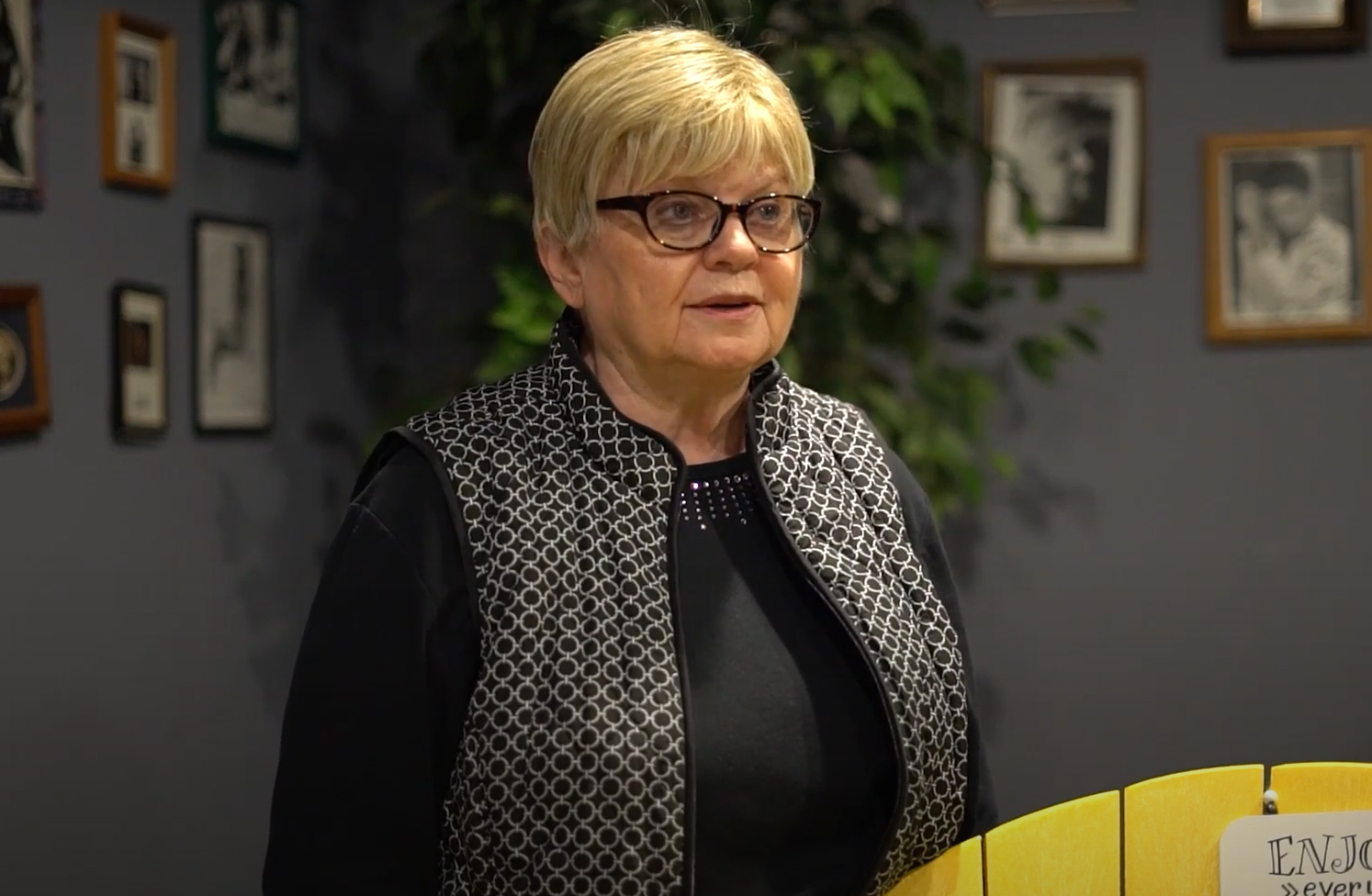 Students in McCook, Nebraska, recorded stories and conducted oral histories in collaboration with McCook Economic Development Corporation, Midwest Assistance Program, Rural Community Assistance Partnership, and Humanities Nebraska for the Museum on Main Street exhibition, Crossroads: A Change in Rural America. The exhibition was on view at the Keystone Business Center from April 8 to May 25, 2022. In this short film, area residents talk about businesses in their town.
Bill Longnecker (00:13): I'm Bill Longnecker and I own Longnecker Jewelry here at 314 Norris Avenue in McCook. I was born and raised here and my family's been here since 1872. We've been a long time family here and I moved away for a while and came back to open a Jewelry store here in McCook.
Linda Taylor (00:29): My name is Linda Taylor and I have lived in McCook all of my life. When I was in high school and went to college, I was just sure I was going to end up in Denver Colorado. Through the years ended up here, never expecting to be in retail, but as it turned out, it's been one of the very best decisions I have made.
Pat Farrell (00:50): Hi, I'm Pat Farrell. I own Farrell's Pharmacy in McCook, Nebraska. It's a retail pharmacy. We also have a Hallmark card and gifts store.
Matt Sehnert (01:00): My name is Matt Sehnert. I'm owner operator of Sehnert's Bakery and Bieroc Cafe. Sehnert Bakery is a longtime family business, so we've been here since 1957, but I'm the fourth generation in the United States and our family history goes back to 1521, so that's our 500th anniversary in 2021.
Bill Longnecker (01:25): We are celebrating our 25th year this year. We do retail, service work, we sell diamond jewelry and stuff like Gemstones. We do a lot of custom design and everybody on my team is a craftsman or an artist.
Linda Taylor (01:38): Retail electronics began about 40 years ago and we began in the castle up on the hill, and we have done three moves since then and have expanded our business into not only electronics, but grills, bedding, furniture, refrigerators, stoves, freezers and soft water heaters. So we just keep growing.
Pat Farrell (02:01): We have been in McCook since "68". We have been at it over 50 years. The mission's always been the same "Take care of the customer", worry about the little things, the details later.
Matt Sehnert (02:15): We have been here a long time. We are big part of the community, we believe that being a part of the community is really important and so we are basically a bakery hangout place, a coffee shop, a sandwich shop, music venue, catering. We do a lot of different things in a small town to make living. We are the only James Beard Award-winning business in Nebraska.
Bill Longnecker (02:43): There is a lot of different things that come into mind when you have a small town business. You are doing business with friends and family and neighbors. That is a big difference because I have sold in the city. Your clientele, you don't know who they are, you don't know what they do but in a small town like McCook you know almost everybody. At least you recognize them and you even know a little bit about their family and who they are connected to and you feel like you are doing business with friends and family as opposed to just trying to make money. I have had thoughts about moving my business to the city, thoughts because I could make literally five to seven times more money in my business than I could here just cause of clientele but I would also give up the quality of life, the connection to family and friends and a quieter life.
Linda Taylor (03:31): This is probably the very best kept secret in the whole United States, that is, being in a small community like this. My very favorite thing is being able to be with other business owners and being able to see the people in McCook. I love to see the high school people that we have hired and see them go on to be citizens in Nebraska that are doing a lot of great things, that is exciting to me. What's really exciting about it, is there are people that the mothers and dads would bring them in their little infant seats and set them up on the counter and they would rent movies and now these are customers that are coming in buying stoves and refrigerators from us today.
Linda Taylor (04:12): I belonged to the Nebraska Retail Association. They, at that time, came out here, saw what we were doing, and they were the ones that said, "You know what? We think this business could win for Nebraska. Well, because of all of the community service we have done, I was really fortunate to win in all expense, paid trip to Washington DC and then to be able to all of the retailers in the nation come out in the top five, we were fortunate.
Pat Farrell (04:41): One thing I look back on is all of the employees that have worked for my dad and myself. I went through a list the other day and my wife said, Oh, I didn't know she worked for one and I said, yeah for 25 years you are in business, not only for yourself, but you are creating jobs, creating community. It's kind of like our extended family, to be real honest that I couldn't do it without my help.
Matt Sehnert (05:12): So my wife, Shelly is really smart. She said in the early years when we moved here that people who have gifts need to give their gifts and so we realized that we had a passion for our community. Sometimes people have asked me, how can we spend so much time working in our community and my question is, at your home, have you ever put up a picture or have you ever painted a room or have you ever bought a chair or a couch for it? That is the same thing that you do, that you put on music in your home because you want to hear it. Well, this is my home and my family's home and my friend's home, and so I want music. So we help start a festival. I want outdoor recreation, so we help with the dog park and different things.
Matt Sehnert (06:13): This is our home and so I want to build a place where we want to live and part of it is financial, but a lot of it is for us has been just giving our time and talent to helping create a community that we want to live in and you can do that in the rural America.
---
Asset ID: 2022.26.01
Themes: Commerce, family, businesses, community, generations, retail, jewelry, bakery, community service, employment, jobs, festivals, home
Date recorded: May 18, 2022
Length of recording: 06:41 m
File Type: Video
Related traveling exhibition: Crossroads: Change in Rural America
Sponsor or affiliated organization: McCook Economic Development Corporation, Midwest Assistance Program, Rural Community Assistance Partnership
More information: https://www.mccookgazette.com/story/2942627.html