Does Your Vote Matter: Chiara Benato, Maryland
As told by Chiara Benato
Salisbury, Maryland
Story Narrative: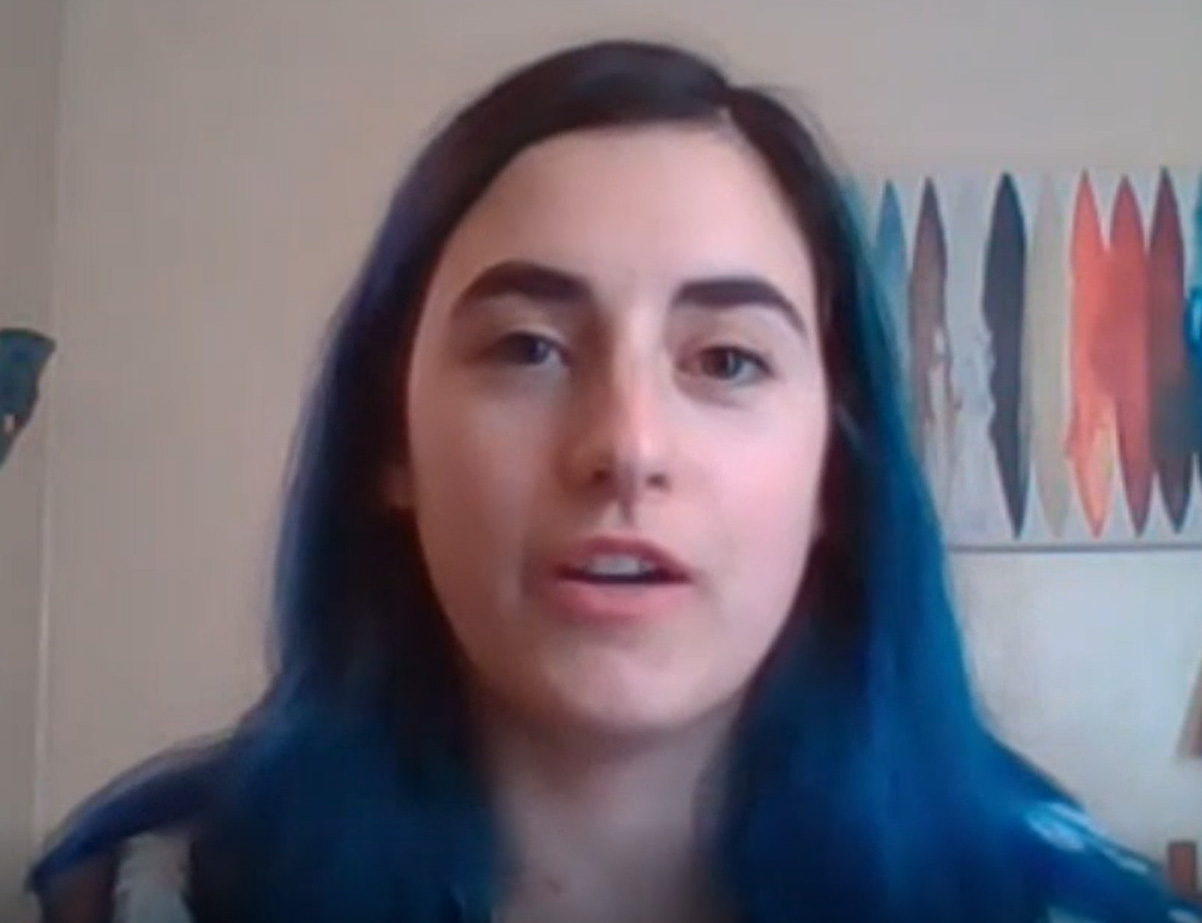 This snapshot was gathered in conjunction with the Maryland Voices initiative at Maryland Humanities, specifically to supplement the "Voices and Votes: Democracy in America" traveling exhibition from the Smithsonian's Museum on Main Street program. This collection, made up of stories of first-time voters between the ages of 18 and 24, showcases the experiences of young people as they wrestled with the 2020 presidential election, issues around social justice, the environment, immigration, and the pandemic.
Chiara Benato (00:00): I'm Chiara Benato. I'm originally from New Jersey, I moved to Maryland almost three years ago now. Permanently, I came here originally for school at Salisbury University. I received a bachelor's degree in history and education, and continued my education directly after at Salisbury University again, getting a master's in English literature. I'm also a TA there, so I get to interact with undergrad still and still get to pursue my passion for teaching there.
Chiara Benato (00:36): In the 2020 election, it was the second time I was voting, which it almost felt like I was trying to be an advocate of your voice and your vote matter. Trying to get as many as my friends as I could go, because we are in a pandemic. We were then, we still are now. Knowing that not everyone can make it to the polls, I felt a sense of urgency to get people to vote, not necessarily vote how I wanted to vote.
Chiara Benato (01:14): But even speaking to my grandmother, who is 93, and getting her to vote between myself and my aunt, there was a bit of like, "You should go vote, you should go vote, you should go vote," because we both understand that every vote matters. Now, she's back in New Jersey, so it's not the same as down here. But voting this time, I felt immensely proud.
Chiara Benato (01:44): I think that's really funny to say, because knowing the stakes to a degree on both sides, for both sides of the political sphere or political standings that we are and as a country right now, voting in general made me feel very proud and, at the same time, worried again, but in a different place.
Chiara Benato (02:14): I remember so vividly, I live very close to Wicomico County, where I live, one of the drop boxes. So I could technically walk, but it was November and it was a cold day when I completed my form. So I drove over after class, and I dropped my ballot in the box, and I walked back to my car and I kind of just sat there. I was like, "I did what I could," and I felt proud that I made sure my voice was heard this time, as I did last time.
Chiara Benato (02:47): In terms of my grandmother voting, she did end up voting, which I didn't actually find out until they'd announced that Joe Biden had won the election. I called my aunt, who was the one who me and her were tag teaming, to a degree, with Grandma. I talked to her and she's like, "Oh yeah, don't worry. She voted." But she worked at the polls when she was younger.
Chiara Benato (03:11): She was very, to a degree, involved in voting. I don't know if she voted in 2016, but I'm sure she voted up until a certain point. She is 93, she is older. I think as her health started to go and she stopped working at the polls, she probably felt out of touch, I would assume, with it, with voting. But she voted this time by absentee ballot, which it made me happy to hear.
---
Asset ID: 2021.03.07.c
Themes: Activism, voting, pandemic, family, grandmother, pride, participation, democracy, Gen Z, worry, mail-in ballots, Joe Biden
Date recorded: January 29, 2021
Length of recording: 03:47 m
Related traveling exhibition: Voices and Votes: Democracy in America
Sponsor or affiliated organization: Edward R. Nabb Research Center, Salisbury University, in partnership with Maryland Humanities
More information: https://www.mdhumanities.org/programs/museum-on-main-street/2021-2022-tour/