Creating Dialogue: Reeve Kennedy, Maryland
As told by Reeve Kennedy
Frostburg, Maryland
Story Narrative: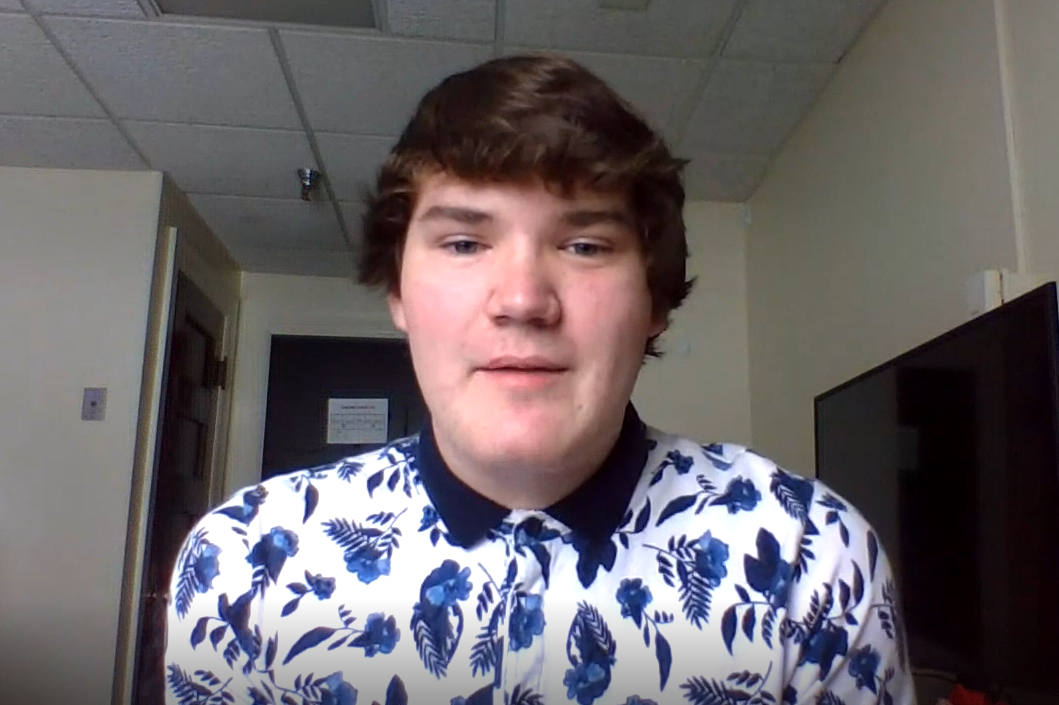 This snapshot was gathered in conjunction with the Maryland Voices initiative at Maryland Humanities, specifically to supplement the "Voices and Votes: Democracy in America" traveling exhibition from the Smithsonian's Museum on Main Street program. This collection, made up of stories of first-time voters between the ages of 18 and 24, showcases the experiences of young people as they wrestled with the 2020 presidential election, issues around social justice, the environment, immigration, and the pandemic.
Reeve Kennedy (00:00): I'm Reeve Kennedy, I'm 18, and I go to Frostburg University. I have a double major in English with a literature focus, and law and society with a legal studies focus. So, democracy and voting is kind of my thing, really. I love having open discussions and dialogues. It's something that I pride myself on. I love being able to see and understand both sides, agree with both sides, that's you can't do that, but I can at least understand and hear you out. I actually, my family, my dad, Trump, I still love, I still love the man. I still live with him. My mother, she voted neutral. She actually wrote in my name, despite that not being a candidate because she doesn't agree with Trump, she refused to vote him, but she also didn't feel confident enough in Biden to cast her vote that way. But she doesn't not want to vote.
Reeve Kennedy (00:47): Our family, we're very firm in the fact that your vote matters. And like everyone, even if you think your votes going to be cast away like hers, that didn't matter. Who else is going to vote for me? It's like that vote did not really matter, per se, but it also did matter. It was her using her voice and doing what she felt was right in that moment. And, I feel like coming together, it's just you have to be able to forgive certain things. You have to be able to handle disagreements, and you just have to not get heated. You just have to let it roll off your back. Some things are going to be said, and at the end of the day, you can't always change someone. You can work through what you need to say, and give them your point say, "This is why I believe this," but not everyone's going to be willing to change. And it's sad, but it's true and it's the world we live in.
Reeve Kennedy (01:35): So, actively just this fall, one of my professors, he voted for Trump. He was a more of a Right wing. It was still professional, it was a classroom setting. But, it's a political science class, that's one of my majors. So, it was like, we're supposed to talk about that kind of stuff, it didn't just come out of nowhere. And he was voicing his opinion for the class. And, it definitely heated me a little bit. It was about LGBTQ stuff, so I'm like, "Oh, that's something, all right. So, rather than just getting mad or walking out or something like some people have done, I've seen people do that, even in high school. It was just like a, "Hey, this is why what you said is wrong. This is what we need to do as people," and he was just like, "Okay, yeah, that makes sense."
Reeve Kennedy (02:19): And that's what's important about voicing it calmly. If you're rash or you're angry about it, that makes sense or, "Okay, I get that." That's not going to come out of it. They're going to be heated in return. It's just going to become an argument. And while argumentation can be healthy and good, it may not always lead to a good outcome. Whereas, if you approach it in more of a calm manner, just like a, "Hey, this is why I feel this way. I hope maybe you could change your beliefs on it," you might get a different outcome. You're not guaranteed it, but like in that instance, he never spoke on it again, and he was respectful. Whether he actually changed in heart, I couldn't tell you that. But, in public, at least around that class, he didn't voice those opinions.
---
Asset ID: 2021.03.14.a
Themes: Politics, elections, voting, division, polarization, university, dialogue, family, father, mother, unity, LGBTQ
Date recorded: February 1, 2021
Length of recording: 02:58 m
Related traveling exhibition: Voices and Votes: Democracy in America
Sponsor or affiliated organization: Allegany Museum, in partnership with Maryland Humanities
More information: https://www.mdhumanities.org/programs/museum-on-main-street/2021-2022-tour/