Conversations about Race: Jessica Thayer, Maryland
As told by Jessica Thayer
Frostburg, Maryland
Story Narrative: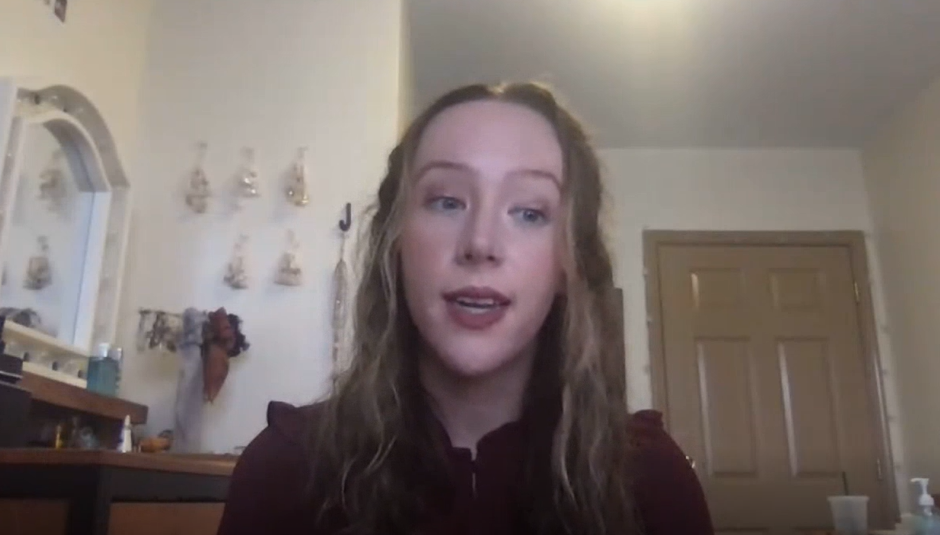 This snapshot was gathered in conjunction with the Maryland Voices initiative at Maryland Humanities, specifically to supplement the "Voices and Votes: Democracy in America" traveling exhibition from the Smithsonian's Museum on Main Street program. This collection, made up of stories of first-time voters between the ages of 18 and 24, showcases the experiences of young people as they wrestled with the 2020 presidential election, issues around social justice, the environment, immigration, and the pandemic.
Jessica Thayer (00:00): My name is Jessica Thayer. I'm a senior studying law, philosophy at Frostburg State University. I'm the Vice President of the Student Government Association and the founder and president of our university Debate Team.
Jessica Thayer (00:14): As a white person, we've seen race come into the discussion of politics probably now more than ever, which is incredible. It should have happened a very long time ago, but I think that white people around the nation are starting to wake up and just realize the role that we have in dismantling the system that we are a part of. We have been given the upper hand since the beginning of the creation of this nation. And I think that they are ingrained in the systems, have run our country.
Jessica Thayer (00:55): And so to be able to effectively make change and to be somebody who is open to creating inclusiveness and to providing opportunities for others, you have to check in with yourself and ask yourself those hard questions, ask your family members those hard questions.
Jessica Thayer (01:17): You see something racist on Facebook or a family member says something abhorring, you have to stand your ground and say, look, this is not the way that things are. You cannot just be saying things anymore. You have to realize the power that you hold in society and the role that we all have to start dismantling those racist systems, because that's the only way that we're ever going to actually make progress.
Jessica Thayer (01:46): Unfortunately, I think that it's been so ingrained into our society that it is going to take a lot of people to stand up to the same things that give them that same power and ask themselves, is this worth it? Is putting people down, is continuing an oppressive system, is continuing inequity conducive? Or is it time that we change the way we're thinking?
---
Asset ID: 2021.03.11.b
Themes: Race, dialogue, politics, diversity, inclusion, systemic racism, change, opportunity, inequity
Date recorded: January 26, 2021
Length of recording: 02:17 m
Related traveling exhibition: Voices and Votes: Democracy in America
Sponsor or affiliated organization: Allegany Museum, in partnership with Maryland Humanities
More information: https://www.mdhumanities.org/programs/museum-on-main-street/2021-2022-tour/