Changes in Johnson County Agriculture: Interview with the Dieckgrafe Family, Nebraska
As told by Students from JCC Striv
Tecumseh, Johnson County, Nebraska
Story Narrative: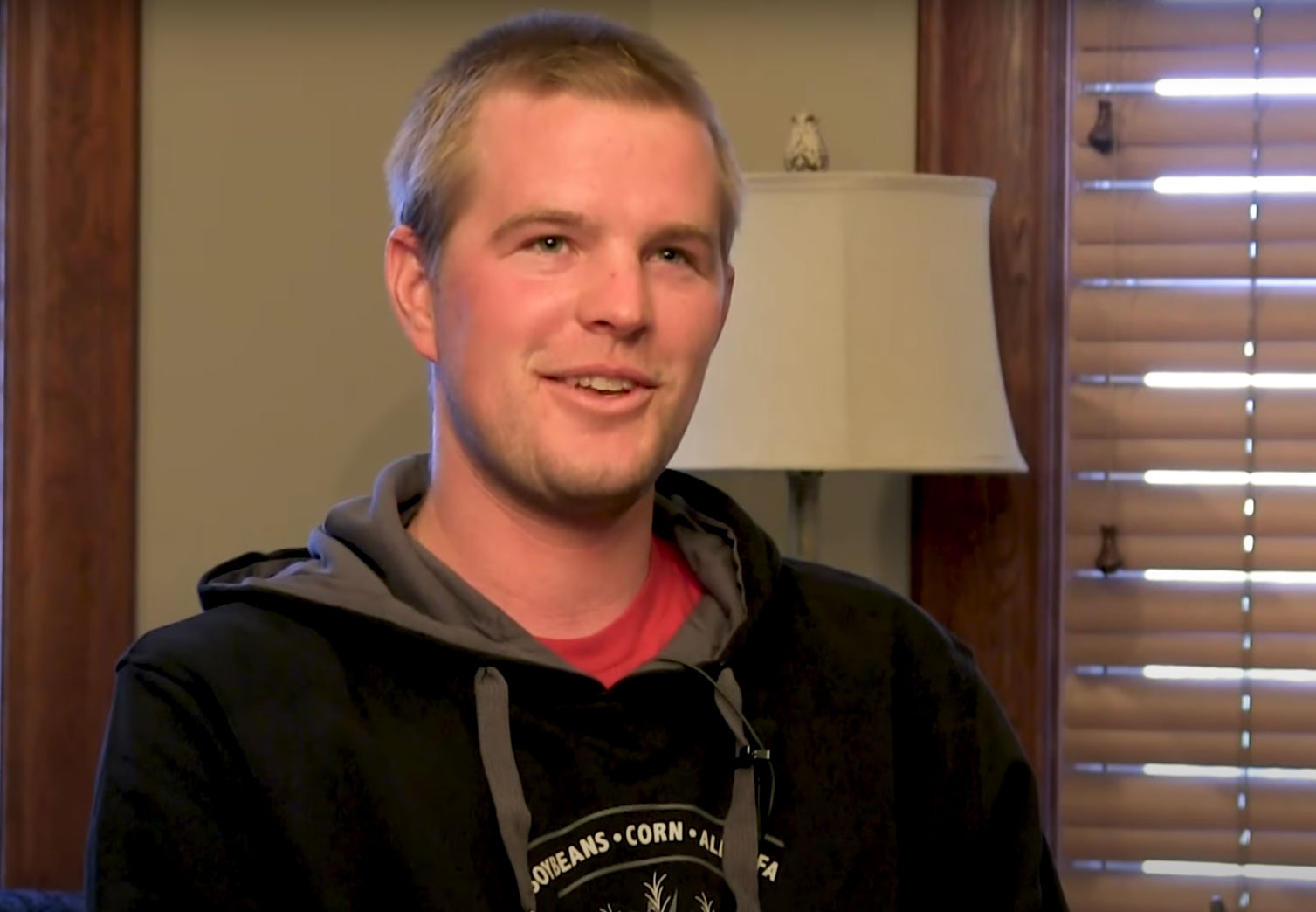 Johnson County Central High School's FFA (Nebraska) and Striv students received a grant from Johnson County Nebraska Historical Society for local students to record stories and conduct oral histories in conjunction with the Museum on Main Street exhibition, Crossroads: A Change in Rural America. The exhibition was on view at the Historical Society from October 8 to November 12, 2021. In this interview, Jim and Kyle Dieckgrafe talk about their long-standing family farm in Nebraska.
Jim Dieckgrafe (00:08): My name is Jim Dieckgrafe, D-I-E-C-K-G-R-A-F-E.
Kyle Dieckgrafe (00:14): And I am Kyle Dieckgrafe, Jim's son, same last name, same spelling.
Speaker 3 (00:25): Meet Jim and Kyle Dieckgrafe, a son and father duo from a multi-generational farm family. They are from rural America, and they have a family of four. Both Jim and Kyle continue the farming legacy, and they give some insight into the farm and lifestyle.
Kyle Dieckgrafe (00:44): You have to like to gamble. That's what it is. It's a gamble.
Speaker 3 (00:50): For most farmers in rural America, it is a gamble. You have to put a seed into the ground. You have to persuade it to grow. It has to withstand drought, hard weather, and harmful insects. Amongst all that, the farmer has to be in good health, equipment has to be up and running, and water has to be available. They have to prepare for next year while still caring for the current year's crop. They also have a family to care for.
Jim Dieckgrafe (01:17): You got to love it. If you don't love this occupation, you're in the wrong occupation.
Speaker 3 (01:24): The Dieckgrafes discuss life as a farmer, along with the upsides and the downsides that come included with being one.
Kyle Dieckgrafe (01:32): I think some people wonder how we live out here and how we farm in the middle of nowhere and while there's nobody around and nothing to do. But what people don't realize is there's always something to do.
Jim Dieckgrafe (01:41): And it's actually pretty nice that there's nobody around-
Kyle Dieckgrafe (01:44): Yeah.
Jim Dieckgrafe (01:45): ... sometimes.
Kyle Dieckgrafe (01:46): And it's freedom.
Jim Dieckgrafe (01:47): Yeah.
Kyle Dieckgrafe (01:48): You own the land. You farm the land. You can go for a walk for 10 miles if you want to, or you can get on your ATV and go drive around.
Jim Dieckgrafe (01:57): A lot of people think, being your own boss, you can do whatever you want. And that is true. You can. But there is still a lot of responsibility with that. If you just want to take off every day for the next month, yeah, you can do that, but you won't be farming long, because work has to be done. Yeah, you have a lot of freedom, but, really, you don't.
Speaker 3 (02:20): As time rolls on, farming has changed substantially and it's grown into more of a business, making it tougher on small family farms because of the powerhouses of the big business farms.
Jim Dieckgrafe (02:32): Years ago, my dad and his cousin used to get together and talk. And it was amazing, all the people that used to live around here. Every corner had a family on it. A lot of times, an 80 did, and sometimes even a 40 acres would have a family on it.
Speaker 3 (02:51): There are less people farming, but more land is being used by the farmers. The Dieckgrafes say that the average size for a farm in this county is 1500 acres.
Kyle Dieckgrafe (03:00): And precision farming has really made a difference, especially with auto shutoffs on both the planter and the sprayer. You don't have near the overlap on end rows. You save seed. You save chemical. You're not putting on excess. You're not putting on too little. You can dial that in to your exact amount. We're growing crops so much more efficiently.
Speaker 3 (03:28): We asked the Dieckgrafes how diverse their farm was, and they continue on to talk about how they used to ship hay out to Pennsylvania, but have stopped because of our humid climate.
Jim Dieckgrafe (03:38): We're not real diverse. We're basically a corn and beans and sometimes wheat farm. It used to be a lot more diverse. We used to do alfalfa for dairies and stuff.
Kyle Dieckgrafe (03:54): We shipped a lot of it out to Pennsylvania for horses. But the problem came in is we're so humid. And if that hay got a little bit of brown to it...
Jim Dieckgrafe (04:05): They didn't want it.
Kyle Dieckgrafe (04:06): ... they didn't want it. It didn't matter how well your hay tested as far as quality. They wanted color.
Jim Dieckgrafe (04:12): Looks.
Kyle Dieckgrafe (04:12): Right.
Jim Dieckgrafe (04:12): It had to look good.
Kyle Dieckgrafe (04:13): They wanted it bright green, perfect.
Jim Dieckgrafe (04:19): Price wise, it's all probably relative to a certain degree. Machinery wasn't that expensive back in the day. I know my dad, when he first started farming, he helped my grandpa, his dad, for probably five, 10 years. And my grandpa, if I remember the story right, he gave my dad a thousand bushel of corn for helping him all them years. And my dad got two dollars and 30 cents for that corn. And he bought a new tractor, plow, and cultivator with that money.
Kyle Dieckgrafe (04:56): It's very volatile though. You can have huge moves in one day.
Speaker 3 (05:01): Running a farm is a pretty big task. But overall, it has its benefits. Even though life can be unsure at times, the future remains well for the Dieckgrafes, and they are excited to see how the farming lifestyle will change over the years across rural America.
Jim Dieckgrafe (05:17): Life is pretty decent out here. It has its challenges, like everything does. A couple generations, I don't know what's going to be ... Just what I've seen in the last 50 years, the amount of change I've seen has been phenomenal. And I think that's going at a faster rate than when it did in my time. So, wow. I don't know. I'd like to see what the future looks like, obviously.
Kyle Dieckgrafe (05:49): It's a good life. It really is.
Jim Dieckgrafe (05:52): It has its struggles. You definitely have to like it to do it.
---
Asset ID: 2022.25.01
Themes: Farming, family, generations, water use, commitment, rural life, freedom, technology, farming equipment, volatility
Date recorded: May 18, 2022
Length of recording: 07:15m
File Type: Video
Related traveling exhibition: Crossroads: Change in Rural America
Sponsor or affiliated organization: Johnson County Central High School (JCC) Striv, in collaboration with Johnson County Nebraska Historical Society
More information: https://www.farmprogress.com/farm-life/traveling-smithsonian-exhibit-looks-rural-life-ag