Casey Ashley: The "Reel" Story of a Bass Master Champion, South Carolina
As told by students storytellers in Anderson County District 2, South Carolina
Belton, South Carolina
Story Narrative: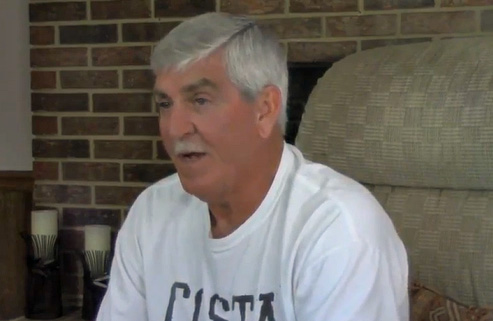 Students from Anderson County School District #2 worked with the Belton Area Museum Association in South Carolina to produce this documentary featuring oral history interviews related to the Smithsonian traveling exhibition Hometown Teams: How Sports Shape America, which toured South Carolina in 2016 and was on view in Belton.
Danny Ashley (00:26): Everybody likes Casey. He's just so kind and humble. He smiles all time. He's nice to people.
Speaker 2 (00:32): How did a small-town boy become the best fisherman in the world?
Danny Ashley (00:36): Casey's fishing history goes way back. As Casey grew up as a kid, he loved the outside. He was always interested in fishing, probably from four years on. He's dedicated a lot of time to fishing. From the very early start, even through school, through high school, playing sports, he continued to fish on the weekends and he has worked very hard at it and he has become very successful with it.
Speaker 3 (01:07): Casey Ashley has always been passionate about the outdoors.
Speaker 2 (01:10): He dreamed of becoming a professional from an early age.
Danny Ashley (01:13): I'll never forget the last day at that tournament at Lake Russell. Casey was 10 years old and we were, me and him and his mama, were coming home for the weigh-in, and he was sitting in the seat between me and his mom. And he looked up at his mom and he said, "One day, you'll see me on that stage." So from 10 years old, he's had it in his mind what he wanted to do. He's worked hard at it. He never put it aside. I mean, every spare moment he had, he was fishing.
Speaker 2 (01:44): In pursuit of his dream, he spent as much time on the water as he could.
Speaker 3 (01:49): He won his first fishing tournament at age 18.
Danny Ashley (01:53): The first tournament that Casey won was at Santee Cooper. And I'll never forget that day. It was stormy. Tornado warnings. And if you've ever been to Santee Cooper, it can get awful nasty. That day, the waves were eight, 10 feet tall. Boat filled with water. It knocked the cover off his boat. He had a motorcycle helmet on. The waves knocked the helmet off of him. But, anyway, he had, I think, 23 pounds and he won the tournament. So that was his first tournament that he won.
Speaker 2 (02:21): After years as a rookie, Ashley became a professional angler in 2007.
Speaker 3 (02:26): Although under terrific stress during tournaments, he retains a calm strength.
Danny Ashley (02:31): He works very hard. He loves what he does. When he lived at home, if he did bad in a tournament, he would come home, go to his room, get his guitar and play his guitar for two or three hours. He said that just helped relieve the stress, but he never gives up. It's just like this year at the classic. He never showed no stress. I mean, he's just all smiles. I mean, that was a pretty big tournament to win and the whole world watching and he never buckled.
Casey Ashley (03:01): Yeah. The emotions will come out after it's all said and done.
Speaker 2 (03:05): Without sponsorships, Ashley would never be able to achieve his dream.
Danny Ashley (03:10): Everybody seemed to think he's loaded with money and got plenty of money, but no, he don't. He spends a lot of money. You got hotels, you got food. So the expenses are very high and sponsors are great to have and if it was not for the sponsors, Casey would not be able to do that to this day. And we're thankful for all of them.
Speaker 3 (03:28): Family and fan support has always been an important element to Ashley's success.
Danny Ashley (03:34): At the classic, I guess the whole town of Donalds was probably there. Probably all the 10,000 people in the stadium seemed like they were pulling for Casey. But, yes, fan support is very big and means a very lot to us.
Casey Ashley (03:49): The best thing I've found is surround yourself with good people. And that's what I've done. Even my friends, family and my sponsors.
Speaker 2 (03:57): Many long hours went into preparing for the Bassmasters tournament.
Casey Ashley (04:01): My confidence is high. And I feel like that I know where the big ones live. It's just a matter if I can make them bite. Just making good decisions on the water, that's a lot of it. You just don't fly around by the seat of your pants. Every decision that you make, every move that you make, it needs to count.
Danny Ashley (04:19): This is the bait that I made for Casey. I made him up two dozen, put them in a Ziploc bag, carried him to his house and I hand them to him and I says, "You know, it's going to be pretty cool when you win the Bassmaster Classic on bait your daddy made for you."
Speaker 5 (04:31): 20 pounds, 3 ounces.
Casey Ashley (04:31): I get to win the Bassmaster Classic is one thing. To win it on your home lake in front of your home crowd, all your friends and family, everybody that's rooted for you ever since you started, I mean, it's very special. It's something I couldn't have drew it up any better.
---
Asset ID: 2022.23.08
Themes: Sports, fishing, angler, bass, childhood, outdoors, hard work, determination, tournaments, boating, water, sponsorship, fans
Date recorded: November 2016
Length of recording: 05:41 m
File Type: Video
Related traveling exhibition: Hometown Teams: How Sports Shape America
Sponsor or affiliated organization: Anderson County School District #2, in collaboration with the Belton Area Museum Association, South Carolina
More information: https://www.southcarolinapublicradio.org/show/walter-edgars-journal/2015-05-08/on-walter-edgars-journal-hometown-teams