Caroline Wood, Pep Squad: Arkadelphia High School, Arkansas
As told by Arkadelphia High School students and Mattison Griffin
Arkadelphia, Arkansas
Story Narrative: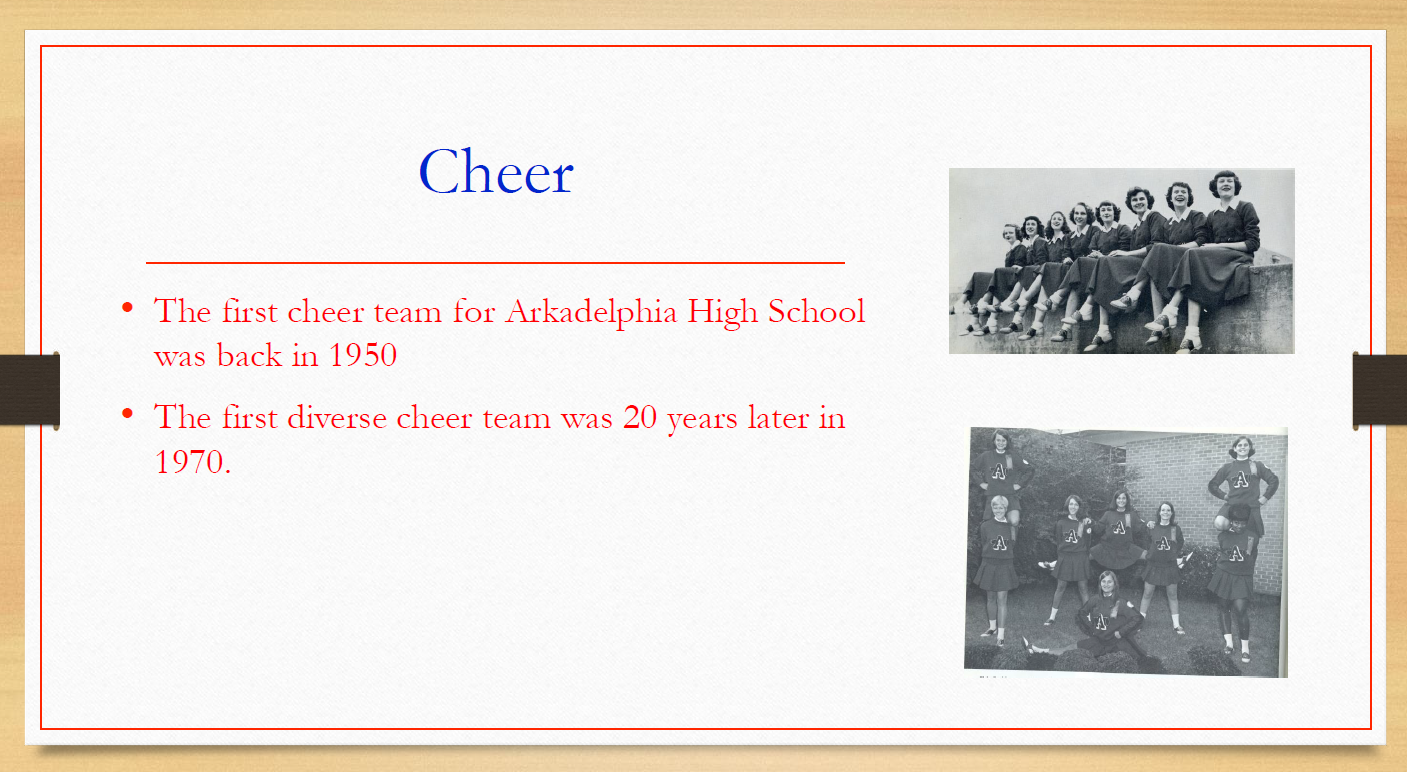 Students at Arkadelphia High School collaborated with Mattison Griffin, a student in the Public History program at Ouachita Baptist University, to explore the history of the high school's athletic teams and supporting organizations. They located many photographs and conducted oral history interviews with former students like Caroline Wood.
Speaker 1 (00:02): Okay, so your name is?
Caroline Wood (00:04): My name is Caroline Wood.
Speaker 1 (00:06): What years did you go to high school?
Caroline Wood (00:07): 1962 through '64.
Speaker 1 (00:10): So you graduated in '64?
Caroline Wood (00:11): Yes.
Speaker 1 (00:12): Okay, and what years were you on the pep squad?
Caroline Wood (00:16): I was on from the time I was a seventh grader through my senior year.
Speaker 1 (00:20): Okay, and can you explain what the pep squad was?
Caroline Wood (00:24): It was a combination of a drill team and a cheer team. We assisted the six cheerleaders. There would be three from the junior class in high school and three from the senior class. And then in junior high it goes, so we had three from eighth grade and three from ninth grade. So they appreciated the help that our squad could give them, to help keeping the cheers up and marching on field during the halftime and things like that.
Speaker 1 (00:57): And how do you feel like the spirits squads have changed throughout the years?
Caroline Wood (01:04): Well, I think they've gotten better and better from what I observe at the games and I'm really proud of all of you that work so hard. You really keep the people in the stadium pepped up and that cheers up your teams, and it's just a great thing.
Speaker 1 (01:22): Thank you.
---
Asset ID: 2021.09.02.b
Themes: Hometown Teams, sports, cheerleading, drill team, pep squad, high school, school spirit, pride, small-town life
Date recorded: 2017
Length of recording: 01:24 m
File Type: Audio
Related traveling exhibition: Hometown Teams: How Sports Shape America
Sponsor or affiliated organization: Arkadelphia High School, Arkadelphia, Arkansas, in collaboration with the Public History program at Ouachita Baptist University
More information: https://arkansashumanitiescouncil.org/hometown-teams-exhibit/