Analyssa Flores: Grateful for the Vote, Arizona
As told by Analyssa Flores
Phoenix, Arizona
Story Narrative: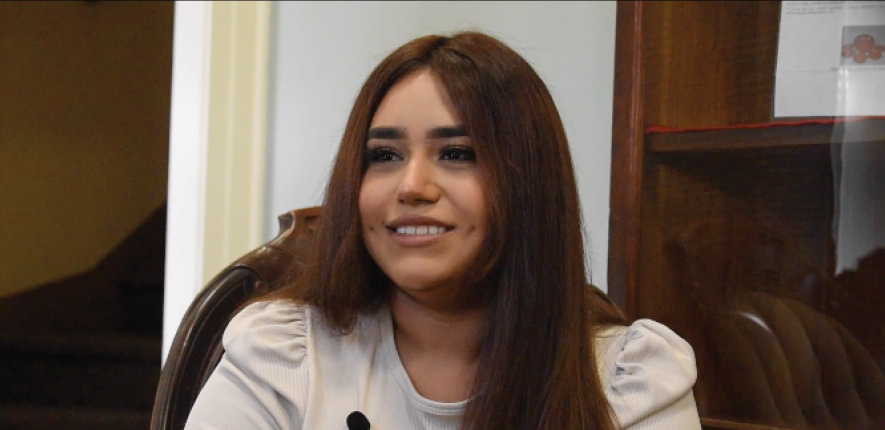 In early 2020 (just weeks before the pandemic), Smithsonian staff and their storytelling partners at the Peale, Baltimore, traveled to multiple states in the U.S. to ask residents of those states about voting experiences, the current state of American democracy, what issues brought them to the polls, how they made a difference in their communities, and what Americans' civic responsibilities were, among other complex questions.
Analyssa Flores (00:00): So my name is Analyssa Flores. I come from the West Phoenix area. My community is generally lower class, lower middle class, and majority of Latino community. A big factor that comes in is seeing all the suffrage I see every day. All the discrimination I see. And being a college student, going to a college that is predominantly white, it is kind of a night and day situation of, "Okay, I come from this community, but now I'm going to this," and having that shift of how I am as a person, and how I need to face reality almost.
(00:52): So in my community, there is many people who don't have that opportunity, who are immigrants and fear every day of their life of, "When could I possibly be caught and be deported?" And one of my close friends is undocumented, and she constantly is advocating for voters to vote. And even though she personally vote, she works with an organization to go and register unregistered voters. One time she met a girl who did have the opportunity to, and she simply said, "I don't want to register because I don't want to have ..." What did she say? She didn't want to get called for court duty. That was her excuse for not wanting to register. And with such rage, she was like, "How, for that simple little excuse, are you not going to vote? I can't vote, and I wish I could. And you have that blessing, and you don't take advantage of that."
(02:14): It almost made you want to cry, because she is so passionate about laws and political science in this country, because there's so many laws that are right, but there's also so many that are wrong. So she does that every single time there is elections. So I'm very grateful that she gave me that insight.
(02:34): To respond to someone who believes that their vote doesn't matter, I would first show them the statistics of all the people that don't get the opportunity. And there is a very big percentage of people who don't vote and have the opportunity too. I believe it's around 30% of the population who can vote, don't. And I would show them that there are so many people that don't have the opportunity and wish they could. And it's something as simple as going to the polls. And if they don't want to go to the polls, there's something as simple as mail in ballots. It is not that hard to just get it mailed in. You're at your kitchen table, just marking in what are you vote for, and then sending it back. It's not something so torturous. It's something very simple, and making sure that that person is informed of what they can do for this country.
---
Asset ID: 2022.34.01.a-b
Themes: Voting, immigration, undocumented residents, youth, Gen Z, college, university
Date recorded: January 25, 2020
Length of recording: 0:03:36 m
Related traveling exhibition: Voices and Votes: Democracy in America
Sponsor or affiliated organization: Arizona Humanities
More information or related assets: https://azhumanities.org/smithsonian-exhibition-voices-and-votes-democracy-in-america/