Addison Shoe Company, Arkansas
As told by Wynne Intermediate School EAST students
Wynne, Arkansas
Story Narrative: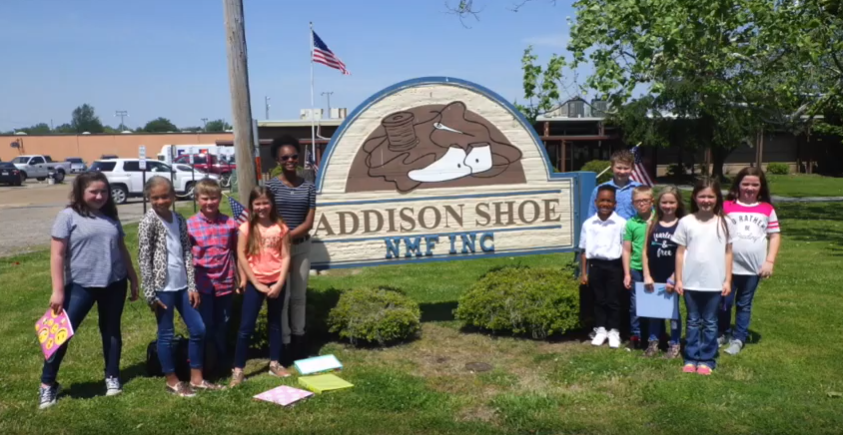 Students conduct interviews with employees to understand the importance of the Addison Shoe Company in Wynne, Arkansas, from it's beginning to how it's changed today. They also find out what it takes to make shoes! Watch the project trailer and the company's history below. With many more stories to tell, stay tuned to see what else students publish from their interviews.
These budding storytellers are part of the Wynne Intermediate School EAST program who use their technical expertise to document their community for Stories: YES, made possible with internal Smithsonian funds through the Youth Access Grants Program.
Speaker 1 (00:21): For as long as I've been here, for over 40 years. This is elastic in, it's got what we call an insole on it. This insole has a ply rib that we cement to it. Later, we'll come in, we'll patch it up to the ply rib.
Speaker 1 (00:31): This is what we call a shank, to give you arch support inside the shoe. This is plastic, this is steel, and this is fiberglass. That's some of the shanks we use.
Speaker 1 (00:53): What this man here does, he'll take a shoe and he'll pull this plastic glass out of it. This is the place where we pull them out.
Speaker 1 (01:10): Lily...
Speaker 1 (01:10): Like this is Timberland, [inaudible 00:01:12], Frye, Thursday Boot, Vans, Red Wing, just some of the different customers.
Speaker 2 (01:18): Are you [inaudible 00:01:18]
Speaker 3 (01:20): So you all make some for Vans?
Speaker 1 (01:21): Yes ma'am.
Speaker 3 (01:21): So you all make the boots for Timberland?
Speaker 1 (01:26): Some of them, not all of them. This is a Timberland shoe or boot. This is waterproof.
Speaker 3 (01:34): Is that the only style you make in Timberland?
Speaker 1 (01:36): Uh...we've made these for Timberland, which are really different.
Brinda Shae (01:50): Hi my name is Brinda Shea. In 1986, I was Brinda Stevenson. I worked for Addison for about five months, between college semesters. I worked in an office, so I was doing the paperwork. Things ready to be shipped. It was quite different then, because we did it all by hand. I enjoyed my work there, and I'm glad to see that Addison is still going...um. Many people in Wynne have worked at Addison.
Speaker 1 (02:26): [inaudible 00:02:26]...way too many customers right now. We have about 116 employees this year. Way back in the hay day we 650 people employed. Back then we made 35 to 45 a [inaudible 00:02:39] a week. Now we pack 550 to 600 pair a day.
Speaker 4 (02:41): So long have you worked at Addison?
Speaker 1 (02:45): In June, it'll be 44 years.
Speaker 4 (02:53): Okay, and did you start at one place? Like what were the different areas you worked in?
Speaker 1 (03:00): I hired in on quality and control, and I'm still in quality and control.
Speaker 4 (03:04): Okay.
Speaker 1 (03:05): Because my 10 years old, ring behind ears?
Speaker 4 (03:07): So what, what was it like being compared to now with the factory coming into Wynne, cause have you been in Wynne your whole life?
Speaker 1 (03:16): No.
Speaker 4 (03:17): Okay, you haven't, so what was it like with the factory coming into Wynne just over the years? How do you think it benefited the community or...?
Speaker 1 (03:24): Oh, it greatly benefited the community. It gave people employment, raise children. Myself, I was 19 years old, I'm married. I got married. I raised a family. I didn't send them to college, they didn't want to go to college. So you know, I had a roof over my head, as you can see plenty to eat. So it benefited me greatly and a lot of my coworkers, I know their families their children, both my children have worked here. My wife has worked. It's just a family atmosphere you guys see.
Speaker 4 (03:54): Okay. Alrighty. Thank you.
Speaker 1 (03:54): If anybody wants a job, we're hiring.
Kids (03:54): (laughs)
Speaker 7 (03:54): (end credits)
---
Asset ID: 2021.10.01
Themes: Industry, manufacturing, work, plastic, business, shoes, boots, jobs, economy
Date recorded: 2018
Length of recording: 04:17 m
File Type: Audio
Related traveling exhibition: The Way We Worked
Sponsor or affiliated organization: Wynne Intermediate School EAST program, Arkansas
More information: https://museumonmainstreet.org/blog-node/students-document-manufacturing-wynne-arkansas